So you've been diligently spending your ad budget, posting frequently to social media, and you're even getting more traffic — but you're not getting more leases signed.

What gives?

Well, for multifamily properties, all traffic is not created equal. When promoting your property to potential residents, getting clicks and engagement from someone halfway around the world is not going to help you sign leases. In fact, attention from the wrong places could have a negative impact on your marketing locally, diluting your efforts.

Below, we'll show you six tips to make sure you find success in a hyper-local apartment marketing campaign.
1. Take Advantage of in-app location features that aid local marketing
Whether it's Instagram, Twitter, Facebook, or TikTok, you have location features at your fingertips — use them!
Here are just a few examples that work across many social media platforms: 
Create a location tag for your business.


On Instagram, for example, you can ensure there is a specific location tag for your property, instead of simply putting the city. Why is this useful? It's great advertising for your apartment community,

and

it's an easy way to see all user-generated content in one place by clicking the tag.

When creating your location tag, try this format "[Apartment Complex Name – Location]."


For example, Station 40 Apartments in Nashville puts "Station 40 – Nashville Luxury Apartments." This is important because if someone new to your property sees the tag, they won't necessarily know where you're located unless they click the tag and try to figure it out from the map. Simplify it for them by placing the city in the tag itself. Also, having those additional keywords is always good!

Another bonus to having a location tag is that others will use it, and you can easily find all the user-generated content in one place by clicking the tag.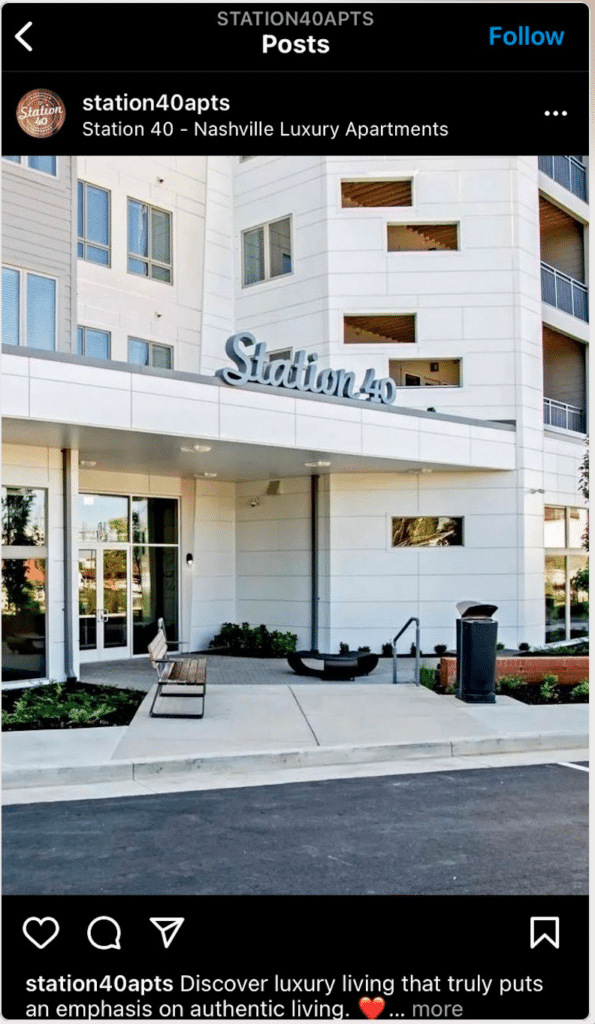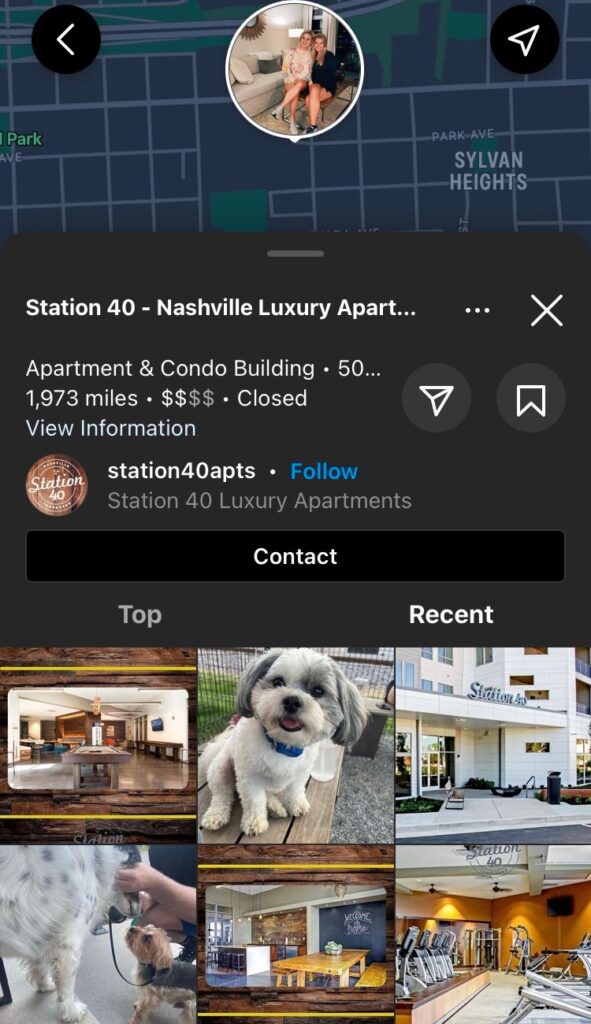 Add location to your photos.


Using

the location tag is an

easy way to utilize hyper local marketing

 

whenever you can

to make it easier for people looking for apartments in that area to find you. If they see a friend post a photo from your property's awesome pool party, for example, you want them to be able to quickly see where you're located in case they're looking for an apartment community with fun events like that.
How to create a custom Location Tag on Instagram and Facebook
Log in to Facebook via the mobile app (this process only works via mobile)

Tap "create new post"

Select check-in (location must be turned on)

Under search, type in the name of your community as you would like it to appear (we recommend "[Apartment Complex Name – Location].")

Tap search

Scroll to the bottom and tap "Add [name you just typed]"

Choose a category for your community

Select the community location

Complete the remaining information

Tap create
Include location in your bio.
Be sure to include your city and state in the actual bio. Those keywords are useful in helping your account get found when users type search terms in the social media platform.


For example, Allegro Apartments is located in DC, but you can't tell that by the name alone. Instead, the apartment complex takes advantage of multiple ways of indicating location in its bio: It has the location field filled out, it adds "DC" to its handle, and it includes the neighborhood name (Columbia Heights) in its bio, making it more likely that someone searching Twitter for apartment options in this area will find this account.
Use location-based hashtags.
This is particularly useful on TikTok, Instagram, and Twitter.

For example, the hashtag #austinapartments is a fantastic way for local apartments to get discovered on TikTok, with 3.9 million total views on that hashtag alone:
Peruse your tagged photos for local collaboration opportunities.
On Instagram, for instance, you can click on the Tagged tab to see all the photos other Instagram users tagged you in. You just might find a few gems.

For example, a resident with a substantial following might tag you while they're working out at your fitness center, or a visiting influencer might tag you if they were attending an event held at your building. These are great opportunities to use user-generated content and reach out and see if you can collaborate with the person who posted that content.
2. Choose your collaborations carefully
Just because a business is local doesn't mean its audience is. Collaborating with micro and macro influencers and partnering with other businesses can be a great way to drive more qualified leads your way. But, before you commit to a collaboration, vet its audience to ensure the demographics align with your location.

For example, an influencer may live in the city where your apartments are located, but that doesn't mean their audience does too. So how can you be sure? First, definitely ask the collaborator to share the demographic breakdown of their audience.

Second, to do your due diligence, consider investing in influencer analytics software. These platforms can often run an audience report. HypeAuditor, for example, can assess an Instagram account's audience demographics, including their city.

Ensuring that your collaboration will reach relevant audiences in your area is crucial to making the collab successful.
3. Dive into the nitty-gritty of ad targeting
When running ad campaigns, double-check the location targeting features to ensure you're only serving ads to people who are in your area.

In Facebook Ads Manager, the default setting under "Audience" is the United States and "People living in or recently in this location." To get the most relevant results, change that to "People living in this location," and select your specific city and the radius you want. 

That way, you don't waste precious ad dollars on people who live a thousand miles away from your properties.
4. Find the local angle for all of your content
Whether sharing on your blog or Instagram, focus on local content. Not only will this make it more likely that a prospective tenant will find you, it's also more engaging for your existing tenants.
Which would you rather see? Another generic "Happy Earth Day" post, or an Earth Day post that gives you actionable tips for making a difference in your local community
Catalyst Apartments in Chicago does an excellent job finding the local angle for national and international events.
Catalyst Apartments promoted a Green donation on Earth Day.

For National Wine Day, Catalyst Apartments included a local restaurant suggestion.

Put a local spin on your content, and you'll attract local people!
A common error in hyper-local marketing relates to SEO strategy. You may find, for instance, a fantastic keyword with low competition and high volume, but it's too broad, such as "apartment hunting tips." While you certainly could write a fantastic post that ranks well for that keyword, the people who will end up searching for that phrase and landing on your blog post are most likely not living in or interested in living in the city in which you operate your properties. In that way, all that traffic will be wasted.

Instead, find ways to localize your content. With the above example, you could modify it to "apartment hunting tips chicago" if your properties are based in Chicago. Now, not only have you increased your chances of ranking for this more narrow keyword, but you've also ensured that your audience is local to your business area. Win-win!

But to think that keywords are limited only to Google and other search engines is a big mistake! Keywords are crucial on social media too. For example, Instagram has updated its platform so that you can search for keywords, not just hashtags and account names.
You can now search beyond usernames and hashtags for interests on Instagram. This is now available in English in a handful of countries and we'll share more updates as we go. pic.twitter.com/zKkGXTe0wn

— Adam Mosseri (@mosseri) November 18, 2020
This is significant because it means that the words in your Instagram caption matter.

For example, if someone searches "Seattle apartment" in the Instagram search bar, the following post by @stefanisloma appears, even though it has no hashtags with that complete term in it. Instagram is now reading the caption itself, which has "Seattle apartment" in it, and Instagram is showing it in its search results.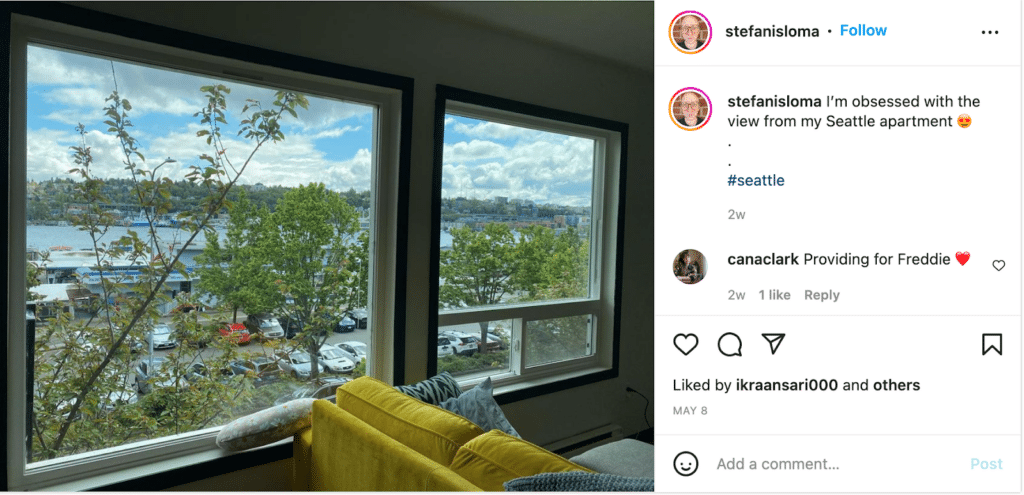 That means that including local-focused keywords in your captions is more important than ever to your hyper-local marketing for your apartments.
6. Get a Google Business Profile
We can't talk about hyper-local marketing without bringing up Google. It's a major driver of traffic and qualified leads for any business—but it doesn't just happen naturally.

If you have not already, make sure you create a Google Business Profile for your apartment community. It's free, and it comes with these hyper-local marketing benefits:
Add your apartment layouts and options to your Google Business Profile, such as what

The Woodward Building Apartments

did here ➡️

Respond to reviews to engage and build trust with existing and potential customers.

Receive direct messages.

Answer frequently asked questions.

Post business hours. 


Make it easy for people to book a tour with you. 

Post updates like rental specials, amenity updates or events.


Get data insights on calls and reviews, as well as find out what keywords people use to find you.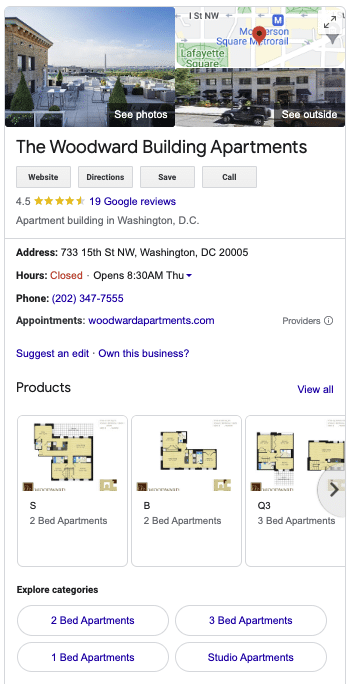 By taking advantage of all the personalization features of a Google Business Profile, you can give your local online marketing efforts a big boost.
Make your next hyper-local apartment marketing campaign a success
Each time you spend your budget and energy on a new initiative without taking hyper-local marketing into account, you waste precious resources.
By being intentional about local online marketing, you can ensure that the people who land on your social media or website are actually relevant to your business. Follow these hyper-local marketing tips, and you're bound to get more prospects in the door and more leases signed. Learn more about how Respage can help with Social Media Management
For more help with local SEO, reach out to our of our experts by clicking the button below.