Whether you're a social media novice or a Facebook, Instagram, and TikTok maven, you might be missing one fantastic platform for connecting with residents. Nextdoor.
Nextdoor is a popular social media platform used in nearly one in three households in the United States. It connects people in local communities by grouping them into user-defined "neighborhoods." Users communicate with other users in their neighborhood or in surrounding communities by creating and/or responding to posts. Nextdoor's focus on fostering local community relationships through these conversational posts makes it a great way to connect with residents.
Nextdoor was founded in San Francisco in 2008 and launched in 2011. It began as a small platform, but its daily usage increased more than 80% during the COVID-19 pandemic, as people looked for more virtual ways to stay connected to their local community.
In 2021, Nextdoor went public, valued at $4.3 billion, and closed the year ahead of its expected revenue. With plans to continue to expand their reach in 2022, Nextdoor has become a major player in the world of social media advertising.
What Makes Nextdoor Unique?
Unlike larger social media platforms like Facebook and Instagram, which connect users worldwide, Nextdoor focuses on the user's local community. Users enter their real name and address to identify their neighborhood and then connect with people who live in their neighborhood and surrounding areas.
Users can choose just to see posts from neighbors, which can be anything from "have you seen my pet weasel?" to "I really need to get rid of this couch, takers?"
These local discussions create a sense of community, help newcomers acclimate to their new neighborhood, and give neighbors the opportunity to review and recommend local businesses.
The Power of Local Recommendations
This hyper-local focus is Nextdoor's superpower, and it's why this platform is ideal for promoting your apartment properties to Nextdoor users.
Today's consumers are overwhelmed with choices, including choosing a place to live. In a world of information and advertising overload, personal reviews and recommendations are simply… better. People trust their neighbors, not advertisers. A positive review on Nextdoor can be worth a dozen advertisements – provided it's about the right property.
To interact with local customers on Nextdoor, you need to create a Business Account. This allows you to create free posts as well as paid, sponsored ad content. Both types of posts have merit, and you can use both to help promote your brand and your properties.
Can I Advertise Rental Properties on Nextdoor?
No. At least, not directly. Although Nextdoor allows property owners to list single-family homes for sale, it currently does not allow rental or commercial properties to be listed.
Although apartment management companies can't directly advertise their units on Nextdoor, they can use the platform creatively to solicit apartment reviews and recommendations, promote their brand, and create positive relationships with their tenants and the wider community.
How Businesses Use Nextdoor
With a business account, businesses interact with local communities similarly to the way individuals interact with their neighbors: by creating some posts and responding to others within specific zip codes.
Businesses can post using the free account or can create paid, sponsored posts. Both types of posts are valuable tools in creating brand recognition and engaging Nextdoor users.
Creating Your Nextdoor Business Account
Creating a business account on Nextdoor is free. Listing a complex on Nextdoor will ensure it is seen by members of that neighborhood, as well as users in surrounding areas.
Your business will need to use a local address to be considered part of the "neighborhood" of your properties. So, if your management company is headquartered in Florida, but the property is in New Jersey, you'll want to use your New Jersey business address to market to that location. Therefore, if you have properties in multiple areas, you'll need to create multiple accounts.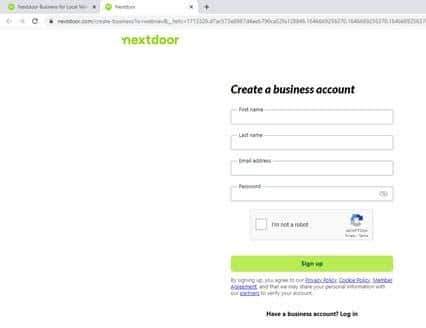 When setting up your account, be sure to use all the customization features. Go to your Business Profile Dashboard to do the following:
Upload your 500 x 500-pixel logo image.
Upload a high-resolution picture of your apartment property as your cover image. Nextdoor recommends that this image should be 1156 x 650 pixels.
Share your business' story: describe your property, highlighting its features, location, and amenities.
Complete your contact information with your business phone number, apartment website, email, and office hours.
Add pictures of your properties to your photo gallery, including exterior and interior images that show your property at its best.
Make sure that your business information is detailed and stays current so that users can reach you easily.
Generating Apartment Reviews and Recommendations on Nextdoor
The next step after creating your account is soliciting recommendations. Reach out to your happiest tenants and ask them to "like" your business account and write about their positive experiences. (By the way, if you need to know which of your residents are cloud nine, and which are fuming, we have a solution for you.)
You need at least three recommendations before your business will come up in searches on Nextdoor, which, as you might imagine, is kinda important. The more the better.
Posting with Your Nextdoor Business Account
Businesses can post twice a month for free in addition to sponsored (paid) posts. Free and sponsored posts both help you engage with your residents. While neither type of post can directly advertise individual properties, this is a great way to make people feel connected to their neighbors.
Which means the next time that lease renewal comes up, they might be a little more inclined to sign on the dotted line once more.
Now, there are three basic types of free posts that businesses create on Nextdoor: tips and advice, conversation starters, and posts that engage the local community. All three types are excellent opportunities to promote your apartment properties to Nextdoor users.
Share Expertise with Tips and Advice Posts
As a business, you can share your expertise on issues that affect your tenants and their community with short informative posts, such as "what to look for in an apartment complex" or "apartment decorating trends."
Tips and advice posts can also share information that is fun and timely. For example, with spring around the corner everyone is selling spring plants and potting soil. Local businesses can take advantage of this by sharing patio garden tips or giving away seed packets. Think of fun, relevant ways to share advice, tips, and inexpensive freebies with your property's community.
Answer Questions with Conversation Starters Posts
People come to Nextdoor to "talk" to their neighbors, rather than merely consume information. Start a conversation by offering to answer frequently asked questions they may have about your apartment properties, such as size, features, options, price, and amenities. Conversation starters provide sample questions that Nextdoor users can click on to engage with your business and learn more about your properties.
Engaging the Community with Surveys and Event Announcements
Engaging your community through posting is a fun way to create positive interactions with Nextdoor users.
Short, fun surveys are a popular and easy way to engage the community, especially if you can use them to highlight your property's features. For example, if your property has amenities such as tennis courts and swimming pools, you could post a short poll at the beginning of summer asking, "What's your favorite summer activity?" and highlight these amenities in the list of choices.
Even smaller properties can create fun posts. With the summer activity example, they could ask people to vote on their favorite ice cream flavor or vote whether they'd rather camp or go to the beach. As with the sharing expertise posts, the point of these posts is to engage the community in a positive manner, rather than necessarily directly advertising the properties themselves.
You can also engage the community by posting about events that your company is sponsoring, including promotional events, such as move-in specials and open houses.
Join the Nextdoor Conversation
Creating posts is just one way to engage the Nextdoor community. Another is monitoring the Neighbors Comments section and looking for opportunities to offer help or advice. For example, you can search for relevant keywords that relate to your business, such as "apartment" or "condo" or "rental." See what people are talking about and join in.
For example, if someone asks for advice in finding a local place to rent, you can chime in with a friendly (and slightly biased) response. Nobody is going to know your properties better than your team, and prospective residents are going to appreciate that deep well of knowledge and the neighborhood.
Also: keep an eye on your inbox and reply to private messages in a timely manner.
Advertising Your Apartments through Local Deals
As with other social media platforms, sponsored posts on Nextdoor appear more frequently than free posts when users check their "News Feed." You can use these ads for any of the three types of posts listed above, or you can create more traditional ads for promotions and specials. Although you can't list individual properties, you can advertise promotions through sponsored ads on Local Deals.
Local Deals is Nextdoor's advertising feature, and you can use it to target specific neighborhoods. The average cost for posting a Local Deal is $75, although the price varies according to how many people you target and how long you run the ad.
How to Create a Nextdoor Local Deal Promotion
Creating a promotion on Local Deals is quick and easy if you follow these steps:
Select Create a Local Deal from your Business Account menu.
Add a title and a brief description.
Add details about your business and the promotion you're advertising.
Determine how long you want the ad to run. Promotions can run between 7 and 30 days.
Link to your apartment website and add any relevant terms and conditions.
Add an image. Nextdoor recommends images without text that are about 1156 x 600 pixels.
Choose your audience according to neighborhood and/or price.
Add payment details if this is your first ad and submit your order.
Track Your Engagement with Neighborhood Reach Metrics
To see how well your apartment's posts and advertisements are working, you can use Organic Neighborhood Reach tracking tool. This tool shows you who is engaging with your posts and where they live. This can help you choose target areas for your sponsored posts and learn what posts receive the most engagement.
Using Nextdoor to Maintain Resident Relationships
In addition to attracting new tenants, Nextdoor is also a valuable resource in maintaining good relationships with your current residents by sharing vital information and responding to their inquiries.
Emergencies can happen to any community. Whether it's a snowstorm, an earthquake, or a dangerous wildfire, people seek reliable sources of help and information during an emergency. And when people need help, they need it close to home.
Nextdoor is an excellent tool for assisting your residents during difficult times: from posting emergency announcements, to letting residents know how to reach you if your office is forced to close temporarily, to offering help during times of crisis, you can use your business profile to demonstrate to your community that your management company is a reliable source of information and assistance during troubled times.
It's equally important to monitor complaints and concerns that may arise, either in responses to your business posts or in neighbor conversations. Maintaining good relationships with your residents is key to reducing resident turnover.
By keeping an eye on how community members are talking about your business, you can deal with problems more quickly and proactively and show your tenants (and the community) that you are dependable and responsive. Or you could check out Resident Surveys.
Nextdoor might not seem like a first choice for rental property owners since they don't allow you to directly list your properties. However, their growing audience, emphasis on local community, and free business accounts make them a cost-effective option for management companies looking for new ways to attract and keep quality residents.
Psst…We have experts who specialize in social media marketing. Need more help? Click the button below for more information.