The word around the multifamily block is AI is kind of our thing. 
Which is why we're excited to announce yet another AI-powered feature to our growing platform of solutions—AI Review Response. Plus, a major update to our social dashboard, and a new integration partner has been added to our Res-family.
Here's a taste of what we've been working on:
Whether it's finding the right tone, expressing the right amount of empathy, or even following appropriate corporate guidelines, responding to reviews can be tricky. 
Or at least it was. Now AI Review Response can take the guesswork out of responding to reviews by generating a perfect reply based on recently approved responses, property-specific details, and a prompt directing the appropriate tone and context. You can review and edit each generated response before posting, and adjust the AI prompt and context to suit your property's unique needs. 
For example, you can provide information about amenity repairs in a Custom Context section which will help the bot generate a more specific response if a review mentions something like a pool closure. The AI review bot will refer to the context to draft a polite response assuring the work is being done promptly, or when the pool is slated to reopen.
AI Review Response also ensures a consistent public message for your property or region with the ability to provide corporate-approved language to the Custom Context so your PR and branding always stays on point.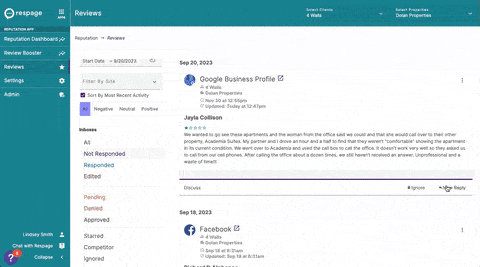 Speaking of keeping your branding on point… the Respage Social Media dashboard now makes it easier than ever to manage your social media.
Upgraded social media dashboard experience
We're really trying to stay hip with Gen Z (and we have the embarrassing TikTok dances in our drafts to prove it). So we decided that our social media dashboard needed a glow-up.
The upgraded social dashboard organizes your most recent posts on an easy-to-navigate homepage, and our new social posting flow makes it easy to plan, schedule, and edit posts for Facebook, Instagram, Twitter (err.. X?), and TikTok. 
The new Asset Library allows you to upload images and gives you easy access to your most-used assets, logos, graphics, and other corporate-approved branding. When editing your posts you can view the image and link previews, and edit captions for each platform, making batch scheduling content a breeze. 
Plus when used with our integrated social calendar, you can schedule and execute an engaging social media strategy at a single property, or portfolio wide.
Optimized PPC landing pages
A landing page is often a prospect's first impression of a community, making it an essential piece of marketing and lead generation. Our new PPC landing page design has been optimized and refreshed to have a more modern feel and provides greater customization control to properties.
Used in both pay-per-click campaigns and as a landing page for ResMate's lead nurturing, our newly optimized landing pages feature a simple and elegant design that appears like a fully-built website. This crafty, yet easy-to-maintain design is why some users have begun utilizing our landing pages for properties that do not have a website, or those who wanted an updated option for their under-performing site.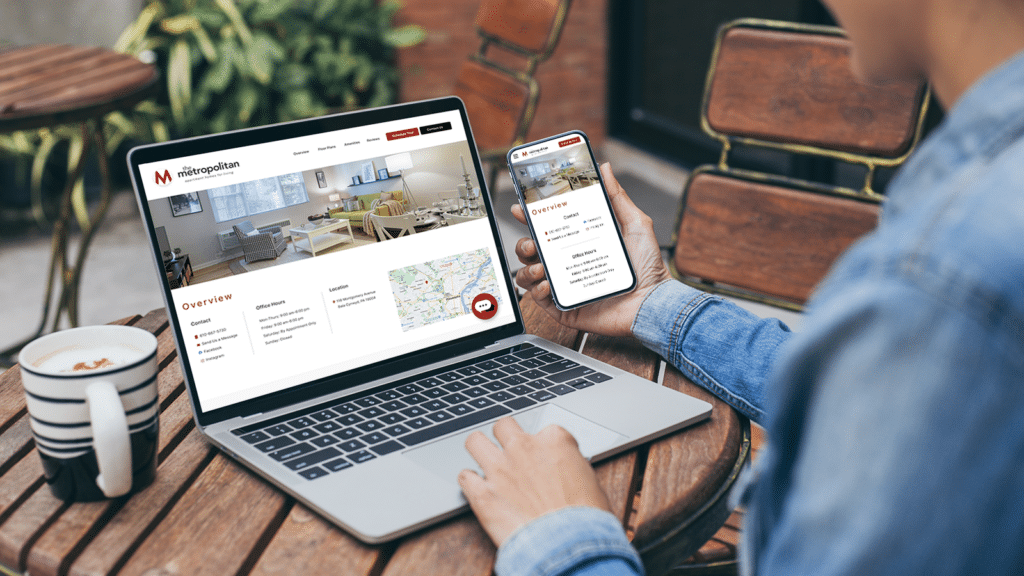 Welcome to the Res-Party, AppFolio! We're so excited to welcome our new integration partner to the family. And we're even more excited for all of the new features available to AppFolio Property Management Software users!
Now that the Respage integration with AppFolio is complete, users can expect more frequent resident and availability updates, and access more data to enhance other Respage features throughout our platform.
Previously AppFolio users had limited access to some of our most popular products—like ResMate AI leasing assistant, Smart Leasing Platform CRM, Surveys, Signup, and Review Booster—but now all of our products and services are available to properties utilizing AppFolio PMS.
To see which Respage products and features are now available (and enhanced) by the completed AppFolio integration, check out the checklist below.
Are you ready to fully embrace AI?
AI isn't just a buzzword anymore. And the industry is quickly finding ways to adopt more technology to improve processes and increase profitability. So stay ahead of the curve by adopting a platform built with AI and automation at its core.
Have questions about our latest features, or want to learn more about our AI leasing and marketing platform? Click below to schedule a time to chat!