Have you been wondering how you can manage your apartment social media without juggling multiple different platforms, accounts, and analytics reports?

Well, lucky for you we've been working hard to offer a new streamlined approach to multifamily social media management with the Respage Social Calendar. 

Planning and building out social campaigns just got a whole lot easier. Let's take a closer look:
Plan, create, schedule, & track social media campaigns
The Respage Social Calendar is an all-in-one social media tool that allows your team to collaborate, plan, create, schedule and track social media campaigns for your properties. With connections that allow you to automatically post to Twitter, Facebook, Instagram, Google Business Profile, and WordPress, your communities will stay connected without taking time away from your busy leasing staff. 
Do you manage multiple properties? No problem. The Respage Social Calendar allows you to manage your entire portfolio at once. The streamlined calendar view provides clear markings to determine the status of your posts for all of your properties, and filters allow you to view which properties need attention, making it easier than ever to identify gaps in your social planning.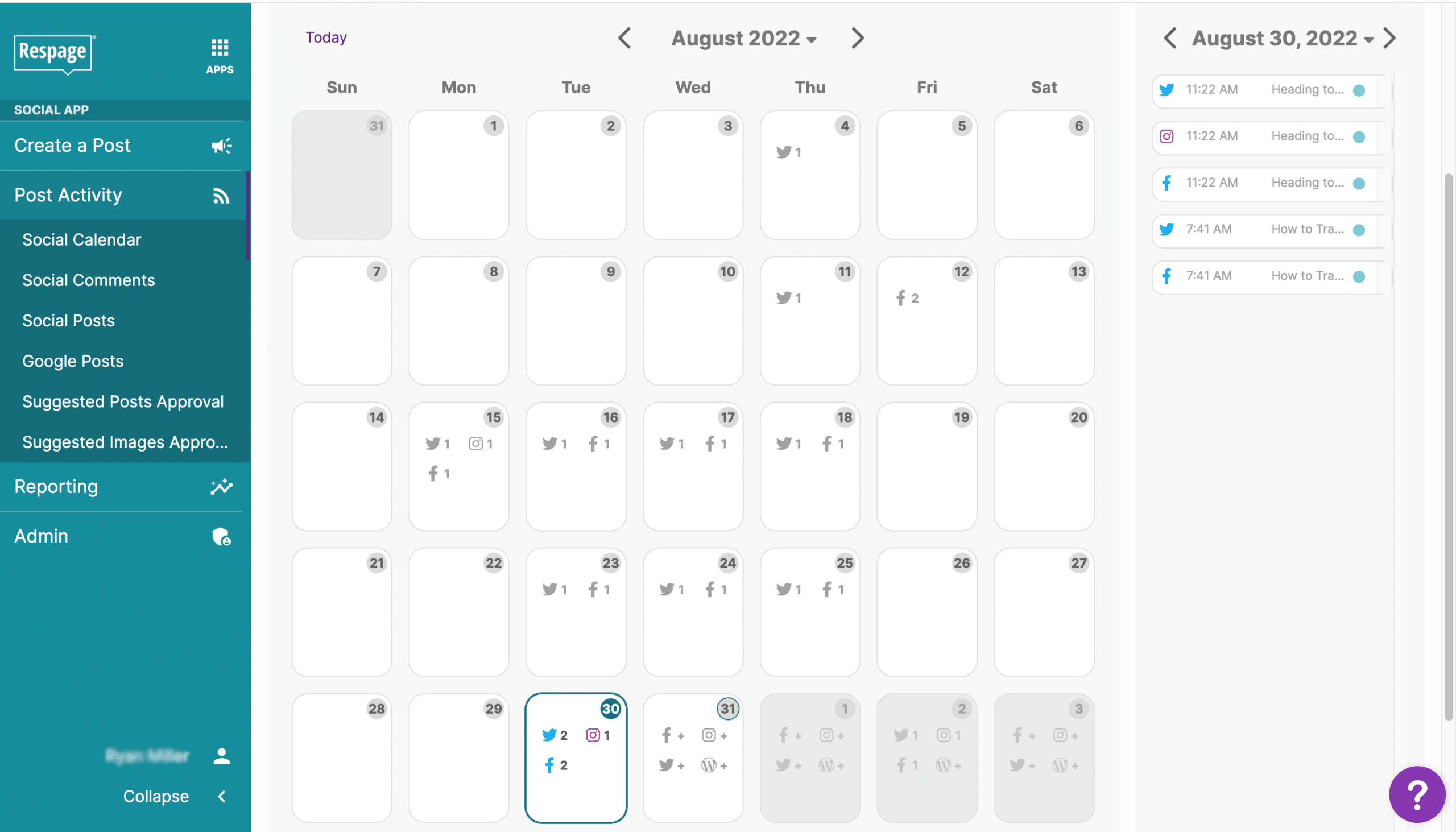 Speaking of planning, you can move those social tracking spreadsheets and Google Docs to the recycling bin. Now, you can plan and track your property campaigns in the Social Calendar view without having to keep up with countless, confusing spreadsheets (let's face it, those planning docs are never as organized as you want them to be anyway).
After you've scheduled your content, you can shift over to the Respage Social Insights report to analyze and track your Facebook, Instagram, and Google Business Profile campaigns across your entire portfolio. No more switching between platforms to view your insights.
Team collaboration made easy
With the Respage Social Calendar, your entire team can review and comment on posts in the queue. The all-in-one dashboard provides a clear view of all posts, whether they are scheduled, pending, published, or have been denied and need review. 

You can also keep your personal social media to yourself as the Respage Social Calendar is directly connected to your property account, allowing your team to create posts and respond to comments using only the Respage social tools.

Beyond management and insights
Our new Social Calendar will be a game changer for busy leasing teams who aim to increase their online reputation through social media. 
Don't just take our word for it. Click the video below for a tour of the new Respage Social Calendar, and see for yourself!
Want to learn more about our new features? Reach out to support@respage.com to walk through our updates and find out how we can help.