Is your advertising budget shrinking? You're not alone. A May 2023 Gartner survey found that 71% of CMOs don't have the budget to fully execute their strategy this year.
So what's a multifamily marketer to do when faced with budget cuts and an impending recession? Is pay-per-click advertising (PPC) the only way to get seen on Google and generate more leads for your properties?
Thankfully, the answer is no. We'll show you how you can harness the power of the Google Business Profile and search engine optimization (SEO) to get more interested prospects in your pipeline—even when your organization has to curb its spending.
Google Business Profile (previously known as Google My Business)
Claim and fill out your Google Business Profile
Hands down, the lowest-hanging fruit if you want to get seen on Google is to claim your free Google Business Profile (GBP) and fill out as much detail about your business as possible. 
In the 2023 Whitespark Local Search Ranking Factors Report, GBP signals were the most significant local ranking factors, with the top two GBP ranking factors being the primary category you select, and the keywords you put in the business title—so pay special attention to these.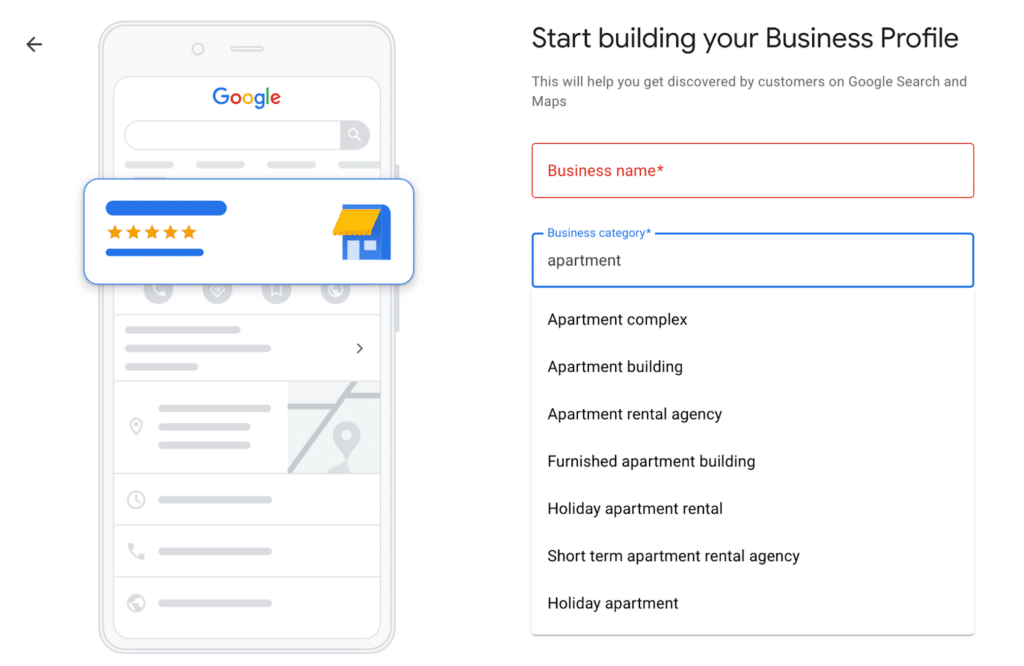 As you fill out your profile, think about "GBP SEO," or the keywords that your ideal prospects are typing into Google (such as "dog-friendly apartments in Chicago" or "one-bedroom apartments downtown Tulsa"). Weave those keywords tastefully throughout your profile to help you rank better in local searches.
Encourage and respond to reviews
Do Google Reviews really matter? Yes! Here's proof:
1. Positive reviews help you rank better in local searches.
When people leave reviews on your Google Business Profile, it influences your local SEO (how well you show up in searches for your area). Google uses three factors to determine local ranking:
Relevance

Distance

Prominence

Reviews fall under "prominence." As Google explains: "Google review count and review score factor into local search ranking. More reviews and positive ratings can improve your business' local ranking."
2. Keywords in reviews help you rank in local search too.
When residents leave reviews of your property, Google uses keywords from their reviews to help your business rank in local searches. It even pulls those keywords out specifically and bolds them. 
Here's an example of that happening for a Google search of "dallas apartments with pool:"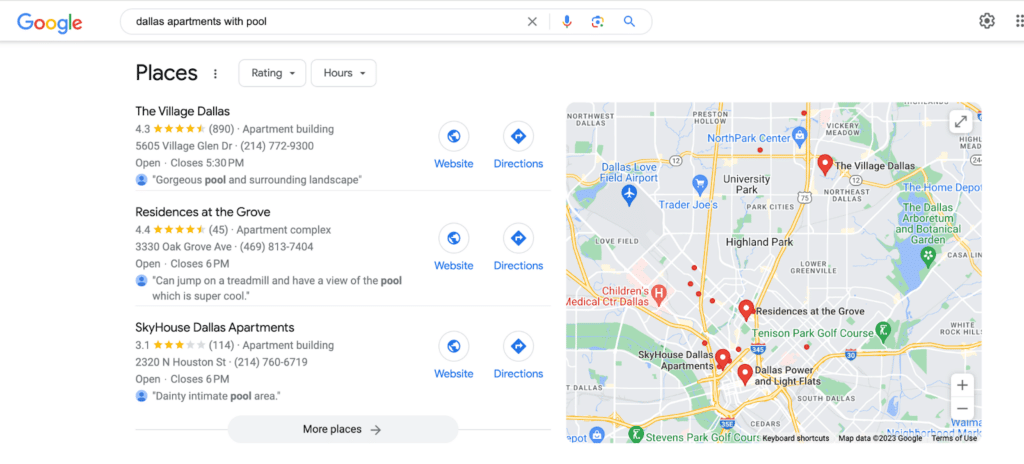 Notice how the word "pool" in each apartment's review is in bold because it's a keyword from the search bar.
Sure, you can't control what renters write in their reviews (nor should you try to!), but one way you can improve your odds of getting those precious keywords is to make sure your residents know about and use your amenities! So, for example, if you want to show up for "apartments with pools" in local searches, be sure to highlight how awesome your pool area is and host events there for residents. The next time one of those renters decides to leave a review, it's more likely they're going to remember to mention your sweet amenities.
3. Responding to reviews helps business visibility.
Yep, Google wants you to respond to reviews! In a Google Business Profile help article titled "How to improve your local ranking on Google," the search engine giant writes: "Respond to reviews that users leave about your business. When you reply to reviews, it shows that you value your customers and their feedback."
How to get more reviews without breaking Google's rules
Though Google explicitly prohibits businesses from incentivizing customers to leave reviews, it's perfectly fine to ask customers to leave reviews. For instance, you shouldn't host a giveaway where customers must leave a review to be entered to win a gift card. But, you can definitely post a link on your website for residents to leave a review without breaking Google's rules.
The quickest way to ensure more Google reviews is to sign up for a service like Review Booster, which will automate your review solicitation, saving you time and helping you boost your business' visibility and reputation.
How to remove a negative Google review
Unsurprisingly, Google doesn't allow you to delete reviews simply because you don't like what's in them. After all, the company wants to create the most helpful search engine out there, and that means publishing honest results so customers can make informed decisions.
That being said, you can ask Google to remove a review if the review violates Google's policies, such as if it contains hate speech, misinformation, or profanity. To do this, click the three dots to the right of the review, and select "report review."From there, you'll reach a page where you must select which policy the review violates. After you click "Submit," it can take several days for Google to determine a verdict.
For more information about how to fight back against fraudulent or spam reviews, check out this blog.
Enable Google Business Profile chat
Another free way to turn Google visitors into your property's newest residents is to enable the chat feature on your Google Business Profile. When chat is activated, users who visit your business on Google Maps on mobile can chat with you in real time. This is the perfect way to quickly capture leads who are on-the-go, before they get distracted or lose patience and leave your profile.
Because of its real-time nature, with GBP chat, it's crucial that you respond as quickly as possible. If you don't reply to a chat message within 24 hours, Google will deactivate that feature for your business.
It builds better trust and increases conversion rates when you respond within minutes or seconds, but many leasing team members are too busy to respond to every chat message even within 24 hours. For time-strapped staff, the best solution is an AI leasing assistant that can respond automatically in a human-like manner—saving you time and snagging prospects' info before they abandon the chat.
Search engine optimization is a smart way to generate leases at a very low cost. SEO can convert well because it targets people who are already out there Googling phrases that show they're interested in renting. And when they do, you want them to see your property's website at the top of the search results.
SEO can be complicated if you've never done it before, but here are some simple places to start:
Include keywords in your website copy
Keywords are the phrases that your ideal customers are typing into Google, and when they search these, you want them to find your business. The best keywords to target are "long tail," meaning they contain more words and are more specific. 
To illustrate this point, let's pretend you work for an apartment complex in Tampa, Florida. You don't want to try to rank for "tampa apartments"—that's way too broad a search term, meaning higher competition and lower chances of ranking. Instead, you'd want to try to rank for something more specific, such as a unique amenity your property has (e.g., "tampa apartments with sauna") or the neighborhood you're in (e.g., "hyde park apartments tampa").
You want to then sprinkle these keywords throughout your website, with special emphasis on important tags, including:

Publish relevant blog posts
Google loves to see fresh, relevant, and helpful content published frequently. That's where having a blog with a solid content marketing strategy in place can serve you well. Blog posts allow you to expand beyond one long-tail keyword and snag multiple relevant search phrases. So instead of ranking just for "tampa apartments with sauna," you can rank for keywords that people interested in moving to Tampa might be searching for, such as "best neighborhoods to live in tampa" or "affordable moving companies in tampa."
By having a content marketing strategy, you can support your SEO efforts by helping Google see that you're an authority on all things related to moving to and living in your area, allowing you to generate leads and nurture them until they sign those leases.
Get backlinks
Getting backlinks is a slightly more advanced SEO strategy that's easy to mess up, so we do recommend hiring professionals on this one. Backlinks refer to when other websites link to yours, but the quality of these backlinks matters a ton. Essentially, every backlink is an "upvote" for your website; it's like a colleague going to Google on your behalf and saying, "Yes, this is a high-quality website that I can vouch for." 
For that reason, you don't want to spam every unrelated website and ask them to link to you. An effective link-building strategy requires expertise and a targeted approach to ensure you don't get penalized by Google. 
If all of this SEO talk sounds like a foreign language to you, don't worry. You can always hire apartment SEO specialists who can do all of this (and much more!) for you.
Improve page speed 
Of course, you could do everything right but still struggle to rank well in Google if the technical aspects of your site are not optimized. One ranking factor that can trip up even the best SEO efforts is page speed, which refers to how quickly your site loads. If your site is sluggish, visitors will quickly leave. 
You'll also want to ensure that any plugins or connections are not bogging down your page speed. If you have an AI leasing assistant, for example, it may be harming your SEO if it has a slow response time. 
You can see from the PageSpeed Insights report that the Respage Chatbot scored a 99 in performance. And with a 1.6 second speed index, ResMate responds nearly 3 seconds faster on mobile than other multifamily chatbots.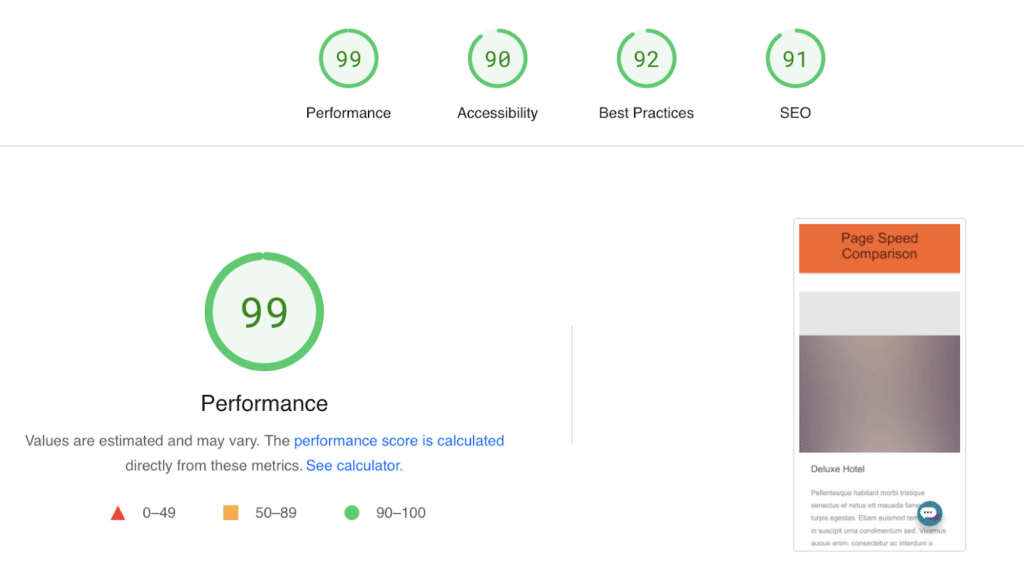 Get more leases signed without blowing your budget
Multifamily lead generation has never been easy, but in this economy, it's tougher than ever. Thankfully, even if your marketing budget is smaller this year, you can use Google Business Profile and SEO to get seen by prospects, book more tours, and ultimately, get more leases signed.