A one-star review can ruin anyone's morning. And if you've noticed a recent uptick in fraudulent or spam reviews, you're not alone. 
As consumers continue to put more trust in reviews to make their purchasing decisions, the more review sites and businesses open themselves up to potential fraud by way of spam reviews and one-star ratings. 
These can include review scams, like ones that targeted restaurants and small businesses last summer, creepy messages from "singles" hoping to make connections, or spam messages from Crypto financiers promising fool-proof investment opportunities.  
Recently a similar trend has hit the multifamily industry, with communities facing an influx of ratings from people who have never lived in their community. While these reviews can be easy to identify, it is still a major problem as apartment communities work to improve their reputation to attract more prospects this leasing season. 
If your community has been affected by fraudulent or spam reviews, here are a few ways you can fight back.
How to spot a fake review
Most of these reviews are not that clever, and are typically pretty easy to spot. 
Are they offering Crypto or Bitcoin advice? Most likely a bot. Have they included a WhatsApp number? Probably a scam. 
Unfortunately many of these scam posts will accompany a five-star review, which may help increase your overall star rating but won't do you any good in the eyes of your prospects. It is best to report them (even if you're hungry for those five stars).
Unusual grammar or misspelled words could also indicate the review is fraudulent. While it's not necessarily a dead giveaway, many content farms posting fraudulent reviews tend to have very poor spelling and grammar. Also, keep an eye out for a burst of reviews in a short period of time. While this could mean you simply have a lot of happy residents, it could also point to something more suspicious.
So, now that you know how to spot fake reviews—what can you do about them?
1. Report or flag fraudulent or spam reviews immediately
If you're actively monitoring your review sites, you should be able to quickly flag or report fraudulent, abusive, or harmful reviews. You can flag fake reviews as inappropriate to signal the site to investigate the fraudulent report, or depending on the site, you may report a review and select the violation type.
But keep in mind each website has different criteria for what they consider suspicious or fraudulent. For example, Google will only remove reviews that violate its content policy, and will not get involved when a review is about a disagreement on facts or a customer service issue. While it may seem unfair that reviews with false claims and alternative facts may be deemed acceptable by review sites, the best course of action in these situations is to respond promptly and work with the reviewer to resolve the issue offline. 
2. Try a review response service to monitor your reputation
Keeping up with review response can be time consuming, especially if your property is connected to multiple review sites. And the added threat of spam and fraudulent comments makes review monitoring and response all that more important. 
If you're struggling to keep up with review response, hiring a multifamily-specific service may help ease the burden. Our Reputation Management service includes daily monitoring of up to 10 different review sites, where our team will monitor and respond to new reviews and report suspicious reviews and activities. Our review response team is Fair Housing-trained, and each response will be submitted to your property for approval before posting to the public channel to ensure proper action is taken. 
By leaning on a service provider to keep an eye on your reputation management, you can sit back and watch your star rating increase with the comfort of knowing that multifamily professionals are monitoring your property with a safeguard against spam and fraudulent activity.
3. Disable reviews on low-traffic, spam-targeted websites
Take a moment to think about the last time you checked the reviews for a new restaurant or a small business in town. Where did you go first? I'll bet you a million dollars it was Google. (If it wasn't, you can come collect my Monopoly Money any time.)
Most customers will check Google reviews before any other review site—if they check them at all. 
This is a good thing, as Google is incredibly proactive about stopping spam comments from hitting your community Google Business Profile. In fact, last year Google updated its machine learning technology to more accurately identify patterns of potential abuse among reviews. As a result, Google removed more than 115 million policy-violating reviews (a 20% increase from 2021), with a majority of spam reviews caught before they landed on a public profile. 
Other sites (ahem, Meta) are not so successful. If you've spent much time on Facebook recently, you've likely noticed a few questionable comments and reviews from spam bots or hacked accounts. And if you monitor your community Facebook page, you've likely seen a few reviews and comments like the ones below.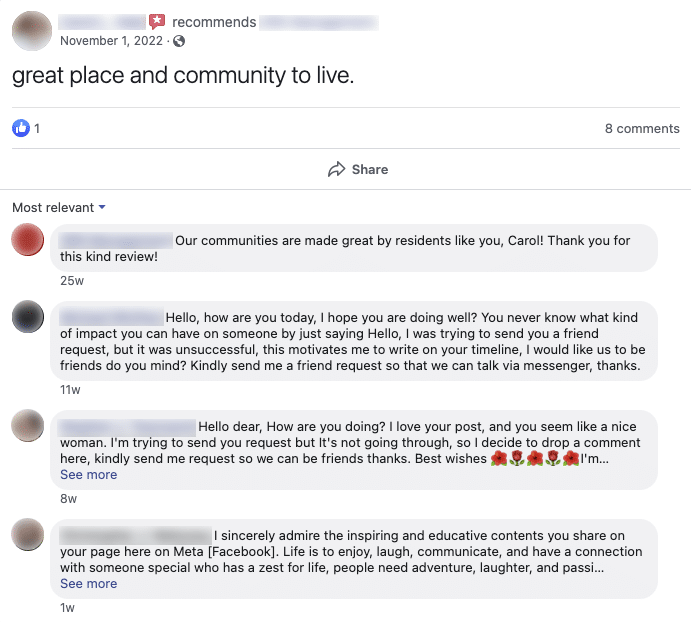 As you can see from the second example, one person's recommendation has been targeted by multiple spam comments. 
These comments and spam reviews are easy enough to spot and report, but for many communities, these are some of the only recommendations they are seeing on their profile. 
Despite Facebook's large user numbers, very few utilize the Facebook recommendation tool as intended since Google has taken over the space for consumer reviews. With that in mind, it may be beneficial to consider turning off the review function on Facebook if your community is inundated with spam reviews instead of genuine customer recommendations.
By turning off this function, you allow your team to focus on review monitoring and response on websites that are more likely to catch prospects' attention and have a large impact on lead generation.
Turning off reviews will not harm your profile's organic reach, but will simply hide all recommendations and remove the option to recommend your community on Facebook. If you change your mind, you may reactivate the recommendation function and all of your previous reviews will reappear.
Don't let spam get in the way of a glowing reputation
Reputation management is tedious enough without having to dodge spam comments. By taking a proactive approach to review response you can help defend your community reputation against spam bots, improve your star rating, and attract more prospects. 
If you want to learn more about our reputation management services, click the button below.