Ready for a vocabulary lesson? The verb google (with a lower-case g) was entered into Webster's dictionary in July 2006, cementing the search engine as the world's go-to public reference site just five years after its launch.

Flash forward 16 years and Google has become an invaluable resource for marketers, from search engine optimization and paid search advertising, to the crème de la crème—Google Business Profile (GBP). 

With such a powerful (and free) tool at your disposal, there's no question that marketers hoping to increase their conversion rate in 2023 must utilize all of the features of their Google Business Profile. 

Luckily, we have some little-known tips and tricks to increase your conversions on your GPB. So let's dive in.
Before you scroll away—trust us. Seriously. Go Google your community name + city.

While you're there take note of the following (we will dive into some specifics later):
What is the first search result? Your website? An ad? A competitor?

Do any Google sitelinks appear under your website? (If not, that may be a sign you need to enhance your website SEO)

What's your star rating on Google Business Profile? How many reviews?

(More tips on GBP reviews below)

Check the images. Make sure your logo, cover image, and property photos are uploaded correctly, and do not look pixelated. 

See if there are any unanswered questions (and answer them!)

Check the address, hours, contact number, and website link. 

Are all of your social media profiles linked?

A quick Google search to learn what prospects see when they search your community is a simple, yet valuable step for property managers to increase your conversion rates. According to Google, visitors who click on a completed (and updated) Google Business Profile are 70% more likely to visit your business and 50% more likely to consider purchasing.

Tip: Take this one step further and search "Apartments + your city" and see which communities pop up. How do competing properties match up to yours? Is your property listed in the GBP 3 pack for your area? Is there anything your competition is doing that you can implement and improve? By searching other communities on Google you can learn about their strategy and see how you can manipulate your own profile to rank above competing properties (don't worry—we won't tell).
2. Repeat that search in Google Maps
Once you've done some digging via Google search, it's time to check out your profile using Google Maps.

Hang on—we know what you're thinking. Aren't they the same thing?

Google search is the default for most users. In fact, people turn to Google at least three times per day on average. So it is likely that a prospect will begin with a Google search before narrowing their apartment hunt down to a specific neighborhood or location. 

Enter Google Maps.

Google Maps helps users search in a specific location, and provides a more robust look at your business' Google Business Profile. 

Here are a few things to note when viewing your Google Business Profile on Maps:
Is the first review listed favorable? 

Filter your reviews to 'most recent'. Is there a trend among recent reviews? If so, how can you address it?

Are there any reviews left unanswered?

Do your review responses seem genuine?

Most consumers (89%) say they are 'highly' or 'fairly' likely to use a business that responds to all of its online reviews. Proactively responding to reviews (the good, the bad, and the ugly) is a vital part of reputation management. If not properly addressed, bad reviews or poor responses could send prospects to another competing community (and hurt your conversions).  

Reviews are a perfect way to leave a good first impression to prospects. Even if you have a bad review come in, you may be able to sway any prospects that see the review by responding professionally and attempting to solve the problem. 

Tip: Note that most prospects will be searching on a mobile device. Keep this in mind when performing your Google search + maps audit.
3. Turn on 'Chat' function in Google Business Profile
No matter how polished your Google Business Profile is, prospects may still have questions. Turn on your GBP chat function to interact with your future residents and answer questions in real time. Google allows you to set up an automatic welcome message, frequently asked questions, and view notifications and transcripts directly through your Google account.

Studies show that adding a live chat feature can typically lead to a 20% increase in conversions, and visitors are 2.8 times more likely to purchase a product after engaging with a live chat.

But if the inquiries become overwhelming and you can't answer them all, you can turn your chat off during non-business hours or…
4. Integrate a chatbot to your Google Business Profile
If you have a chatbot on your apartment website, then you know the power of having a 24-hour responder. But did you know you may be able to integrate that chatbot to your Google Business Profile chat function? 

A recent study shows 79% of customers who reach out on social media expect a response within 24 hours. By including a custom chatbot like ResMate to your GBP you ensure no lead goes unanswered—even if they never make it to your community website. 

Not only does this guarantee each GBP prospect is answered immediately, ResMate's lead-nurturing functionality provides a better experience for renters and can help increase your lead-to-tour rate by up to 200%. 

Tip: Not all chatbots are created equal. ResMate is the only multifamily chatbot available for Google Business Profile that offers lead nurturing AND natural language processing. Plus, you can keep all of your property communications in one place—no need to run to your Google Business Profile to check notifications.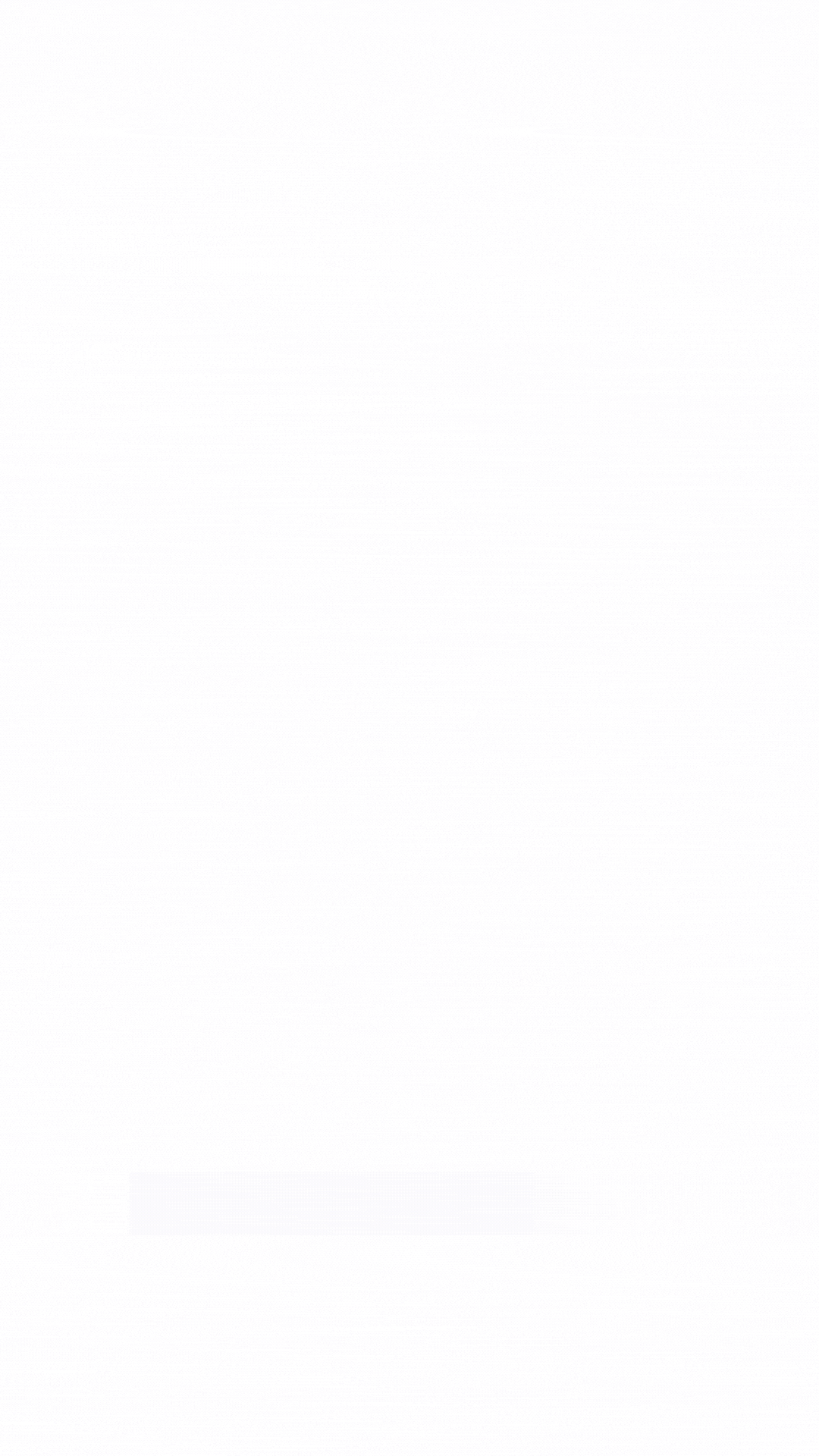 5. Upload "product" images of your available floorplans to Google Business Profile
Google Business Profile allows you to upload product photos—and while you're not directly selling goods, you can upload images of your floor plan so visitors can browse right in your Google Business Profile. Keep this section up to date with your latest vacancies and rental specials to attract more leads.

Tip: Save time by automating your Google Business Profile posts. Respage's platform can automatically pull available units from your property management system to post directly to your community GBP so prospects have the latest information on and up-to-date pricing. 

Speaking of posts—In addition to updating your available floorplans, you should also be posting to your Google Business Profile like you would social media. Adding fun, authentic posts to your GBP gives prospects a glimpse into what it's like to live in your community. You can include posts advertising community events, amenity updates, move-in specials, and other announcements.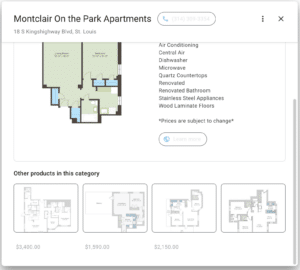 6. Keep up with conversion tracking using GBP analytics
We know Google Analytics is a powerful tool for marketers, but Google Business Profile also provides a host of its own analytics and tracking tools to analyze the performance of your business profile. 

Typically, Google Business Profile insights provide a closer look at more qualified leads that interact with your GBP compared to cooler leads that find your website from other marketing efforts like social advertising or PPC.Metrics like total searches, users who have viewed your profile, directions and call CTA button clicks, website clicks, and product views can be incredibly helpful in optimizing your business profile.

Here are a few to pay special attention to:
Searches: Google provides a list of search queries each month, detailing what kinds of searches people performed to find your community. Are prospects searching your name specifically? What is the most frequent search query? This can be helpful to understand how people are finding your community, and what they are searching for.

Tip: Use this data to improve your SEO.


Chat history: By toggling on the chat function and implementing a chatbot to your Google Business Profile, you can immediately begin collecting conversation data. What is the most frequent question asked by a prospect through Google Business Profile? Is there something you can add to your Google Business Profile to answer those questions? With ResMate, all chat history is stored in our dashboard, allowing you to view individual conversations and prospect journeys for a better understanding of what is most important to renters.


Product views:

Once you've automated your product posts to automatically display vacant units and rental specials, you can use your Google Business Profile to track the number of views on specific units over a selected period. This can help you determine the popularity of specific apartment layouts, specials, and price points. 
It's hard to believe this is free…
Google Business Profile is such a powerful tool for businesses and marketers that it's hard to believe it's free. Make the most of your GBP (and your marketing budget) by optimizing your profile, and get more conversions. 

If you have some extra room in your budget and you really want to maximize lead generation on Google, check out our most recent webinar to learn how to navigate Google Ads and increase organic traffic.