When prospects are considering your apartment community, they're inevitably going to do a Google Search. When they do, the first thing they'll see is your Google Business Profile.

Are you prepared to 'wow' them?

Google says that customers are 70% more likely to visit your business if you've completed your GBP profile, so that's all the more reason to ensure you're using all of its features—including posts.

Here at Respage, we've built thousands of GBP posts for properties. One property saw a 57% increase in calls and a 28% increase in website clicks after we posted more frequently to their GBP in a two-month span.* Below, we're sharing 11 post ideas that'll help you craft content that encourages prospects to book tours.
How does posting on Google Business Profile work?
Think of the Google Business Profile as another social media platform: You can create "updates" (posts) in your GBP dashboard. When you post to GBP, the content lives on the results page of Google Search and in Google Maps.

Unlike on other social media platforms (such as Twitter or Facebook), viewers cannot "like" or comment on your GBP posts. They can only click the link you include in each post, which is part of what makes them such ideal channels for driving traffic and leads: Since there is only one action that a user can take on each post, they never get distracted by other engagement options.
What makes a good GBP post?
Include a photo or video.
While it's possible to publish text-only GBP updates, posts with a photo or video attached are more eye-catching. Even better, enhance the usefulness of the photo by overlaying it with informational text using a free design app like Canva.


Use up the full real estate.
Google Business Profile gives you 1,500 characters for your post descriptions, so take advantage of that. Keep in mind, however, that it truncates posts at around 239 characters—so be sure your most important messaging comes before that "…" because not every user will click "More" to see the rest.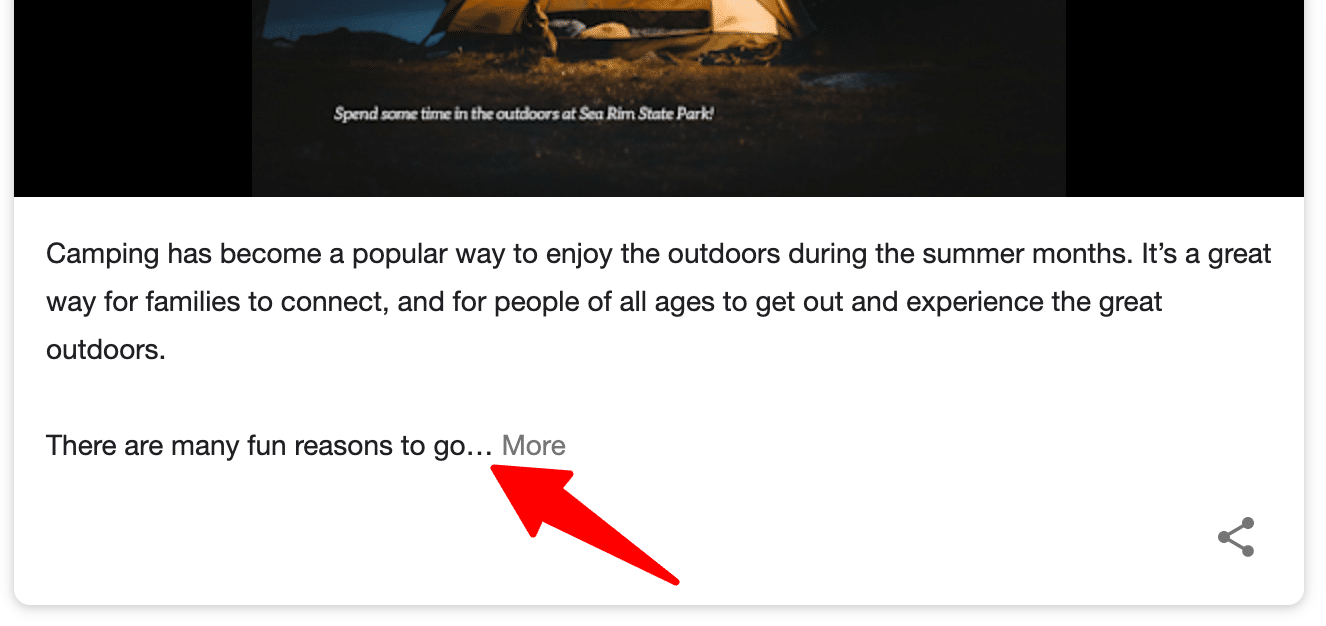 Take advantage of buttons.
GBP allows you to choose a "button" for your post, which is hyperlinked text encouraging users to click. Take advantage of this as a way to drive traffic to your website or to get people to call and book a tour.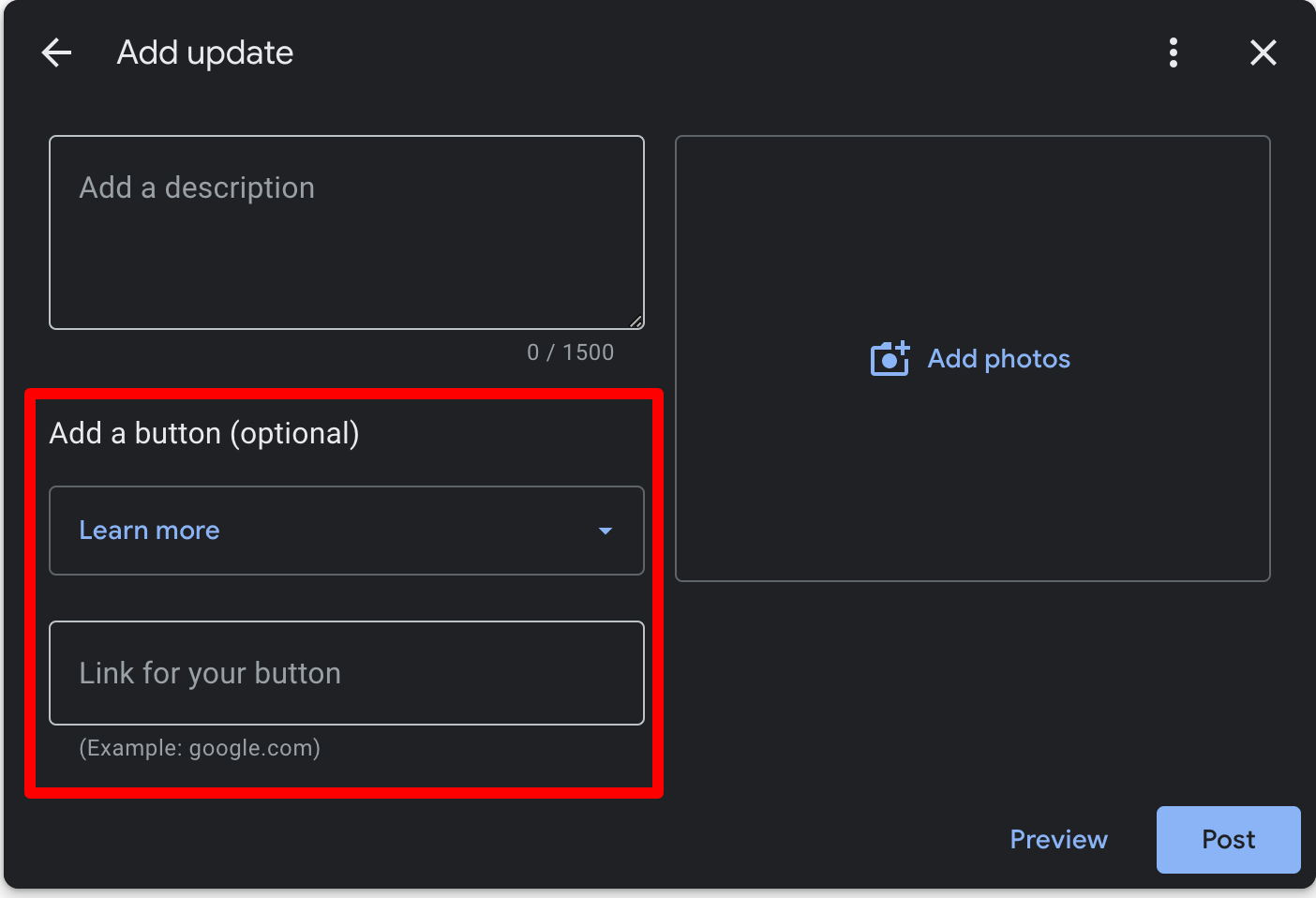 Write a clear call to action in the description.
Remember, users can't interact with your post in any way except to click a link (if you choose to include one). Because of this, you need to make it clear what you want them to do. Include a clear call to action, such as "Call us now to book a tour."


Find the local angle.
Because apartment complexes are so reliant on finding local leads, it's crucial that your posts have a local angle—otherwise, you'll be wasting your efforts on people who may not be in your area or interested in your area. 

For example, Oktoberfest is a German festival, but the Hamptons of Cloverlane Apartments in Ypsilanti, Michigan, tied it into a local Oktoberfest event being held a few miles away in Saline, MI.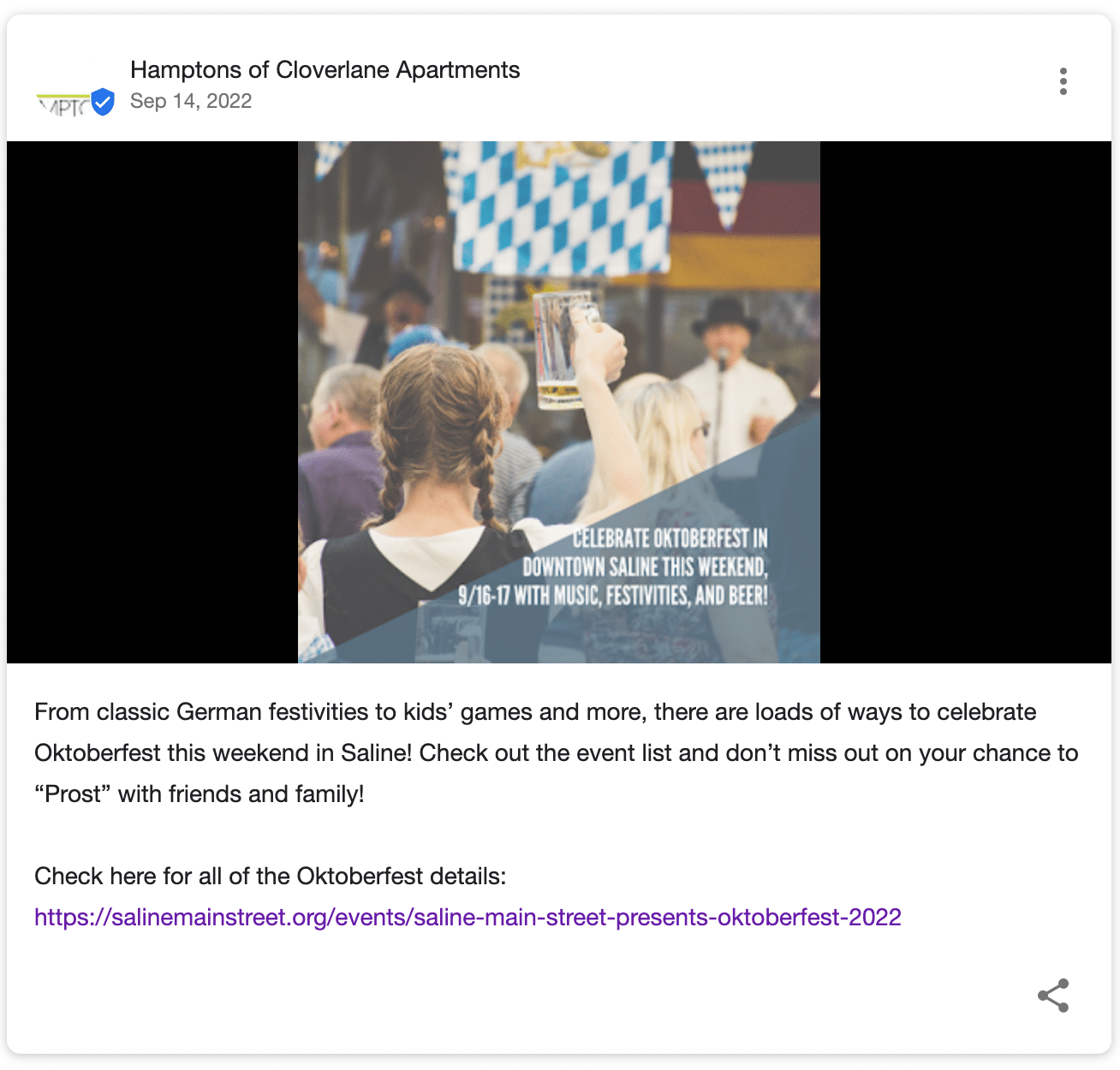 11 real-life examples of excellent GBP posts
Now that you've seen the top tips for creating great GBP posts, let's see them in action. Below are 11 real-life examples of what to post on Google Business Profile to attract more leads.


1. Suggest fun local event ideas.
Just like any other social media, your GBP posts shouldn't always be about you. Social media is about encouraging connection and being useful. Keep your residents up to date on fun things to do in your area, like 2111 Holly Hall in Houston did here: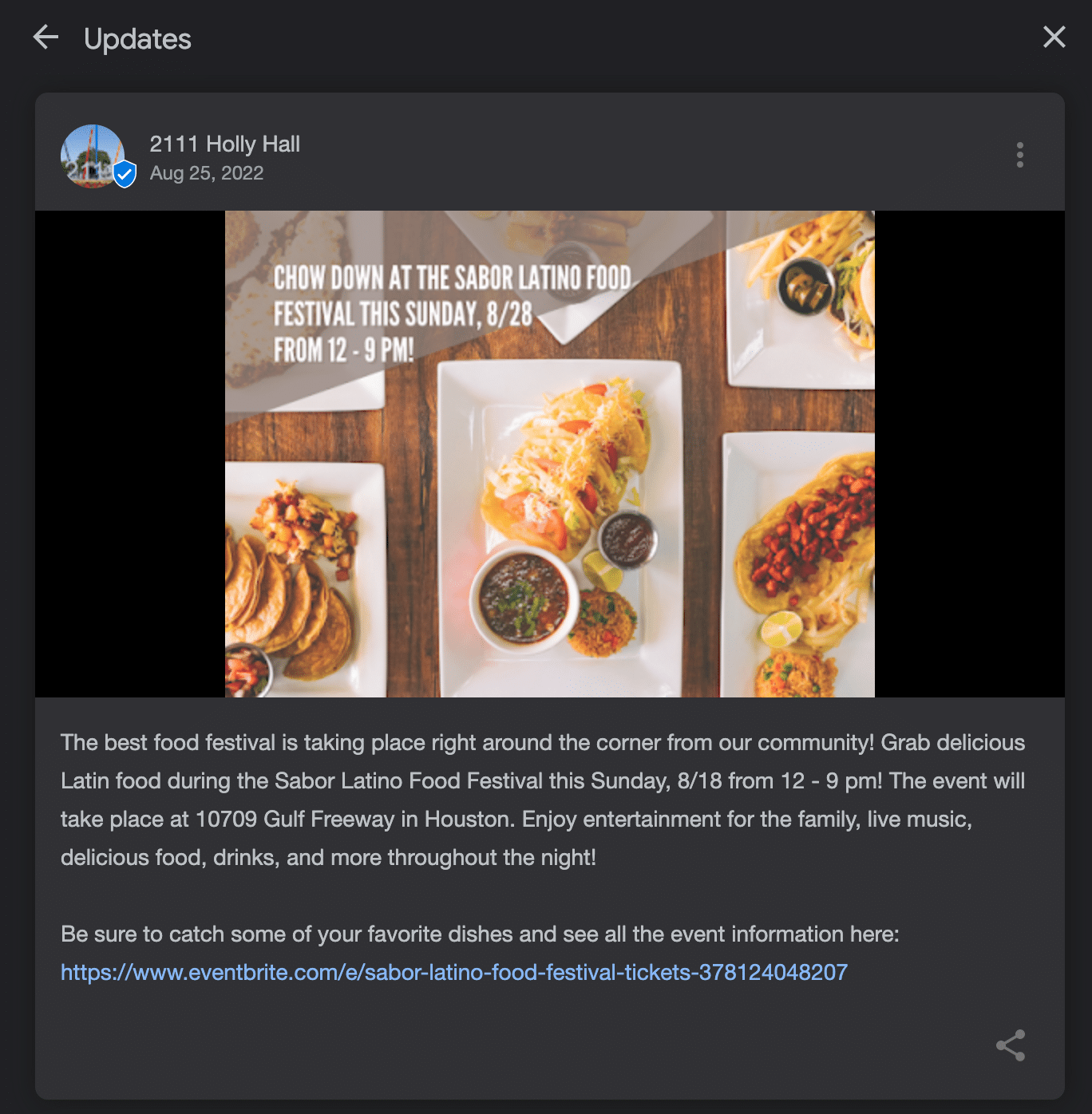 Notice how 2111 Holly Hall includes an engaging photo with helpful text overlay. They also make sure users know that the event is nearby ("right around the corner from our community") and include the exact address. Lastly, they close with a CTA and the URL for users to purchase tickets to the festival.

2. Promote special move-in offers.
The Brix at Midtown Apartments took advantage of GBP's "add offer" feature to promote a limited-time move-in special. This allowed them to include the dates that the offer is valid, as well as include a hyperlinked "View Offer" button that allows users to redeem the special. Including an eye-catching photo of their lounge area seals the deal in this post.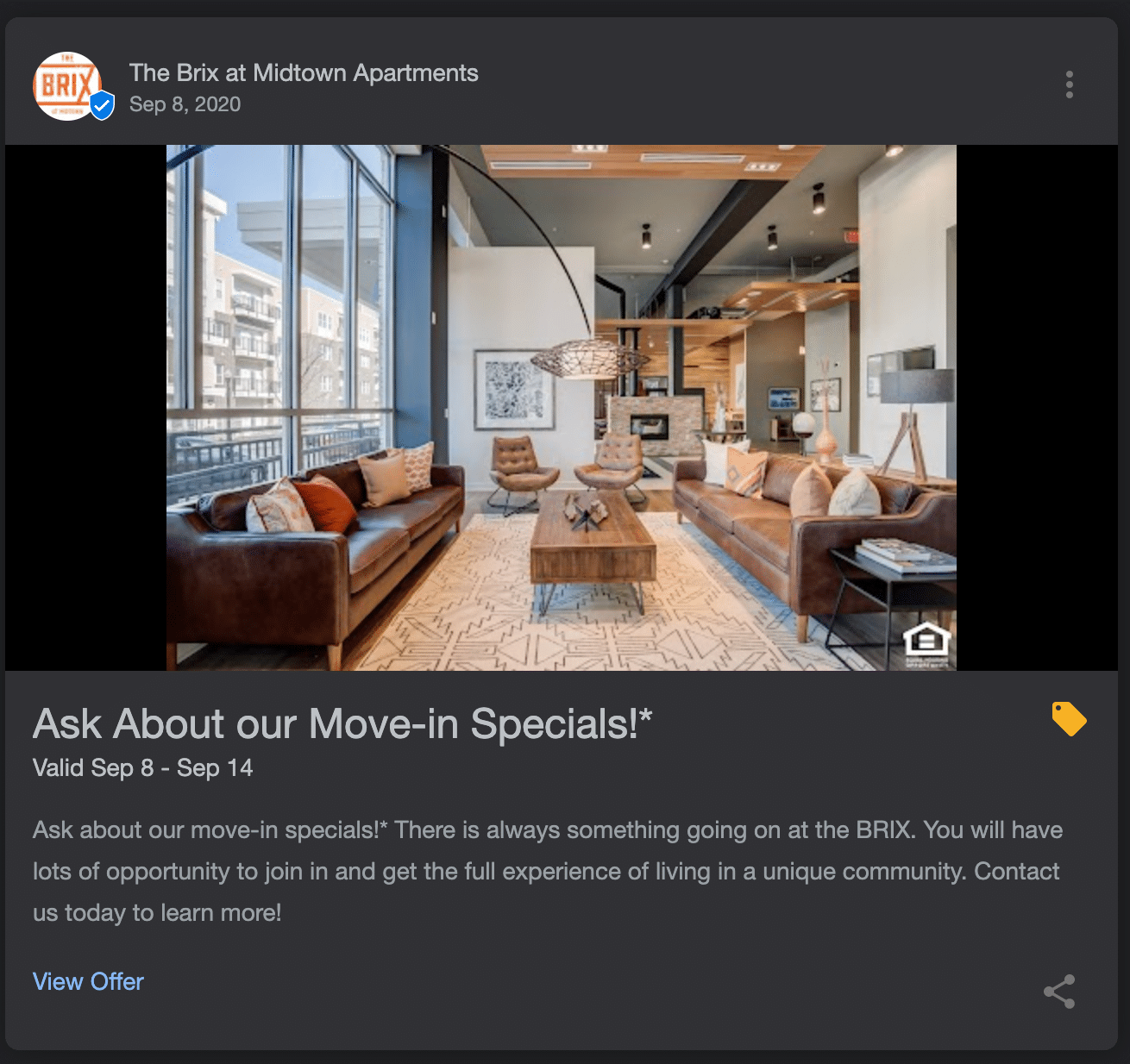 3. Show off your amenities.
The best marketing helps the user envision themselves using a product. Encourage prospects to imagine what it would be like to live in your community (and remind current residents what they're missing out on) by posting about one of your amenities. 

The Ridges of Geneva East accomplishes this with a compelling photo with text overlay highlighting the best parts of their pool area (a heated swimming pool and a tanning deck). They also use descriptive language like "cool down on a hot day" and "swim laps or hang out with family and friends." It's not just a pool—it's an experience!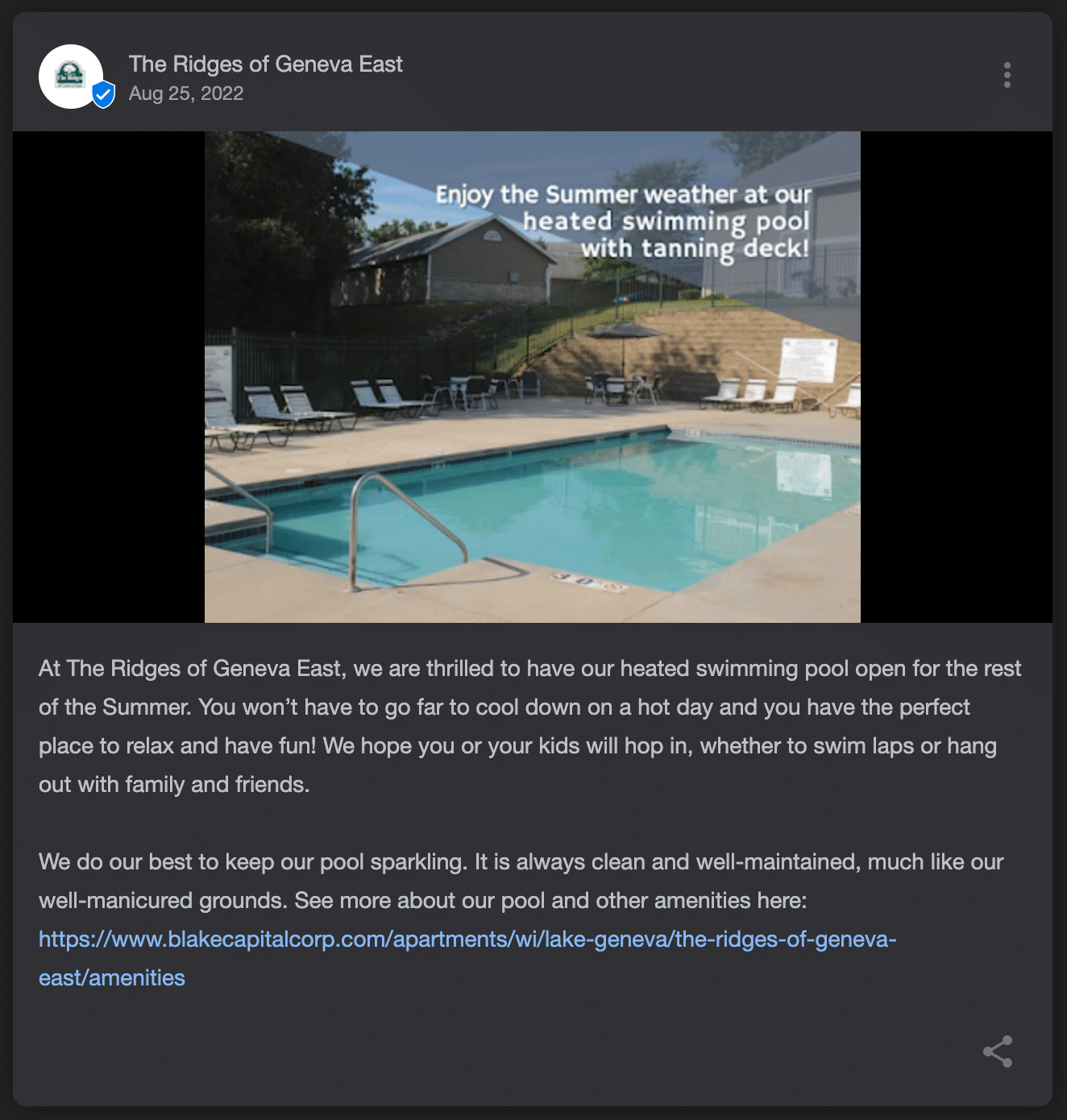 4. Invite them to tour a specific available unit.
For marketing to be effective, it can't be generic. Instead of a broad, sweeping statement like "Come tour our apartments," zoom in on a specific one that's available for rent. Briarwick Apartments nails this post by highlighting a specific 1-bed/1-bath unit that's available and includes a graphic with a list of the apartment's features and its layout.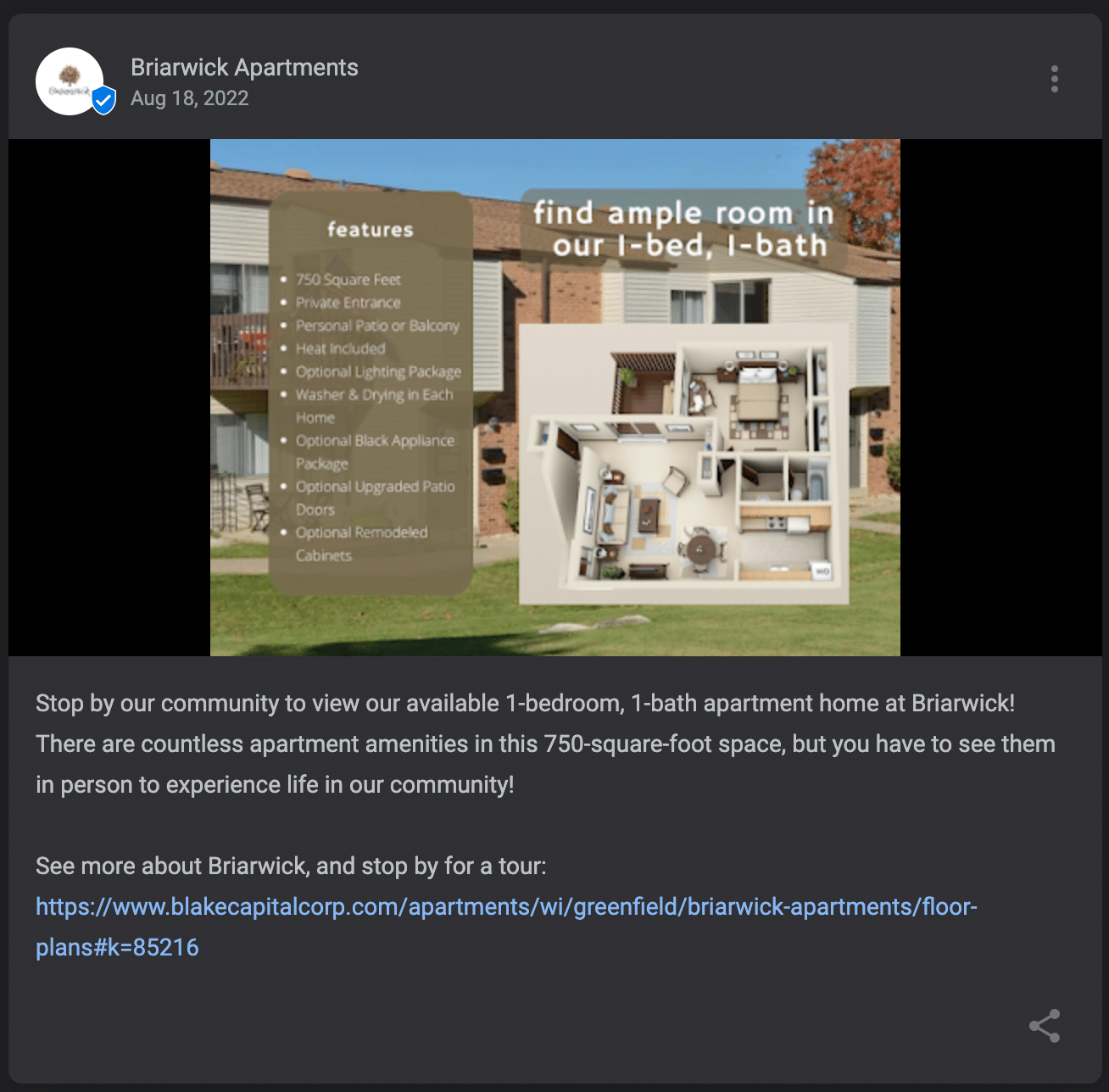 5. Introduce the pets of your community.
If you're a pet-friendly community, play to this strength by introducing furry friends. The Aventine at Oakhurst North pulls this off with cute photos of pets, along with humorous descriptions. The point of these types of posts is not to drive traffic but to warm up prospects by showing your community's pet friendliness and flair.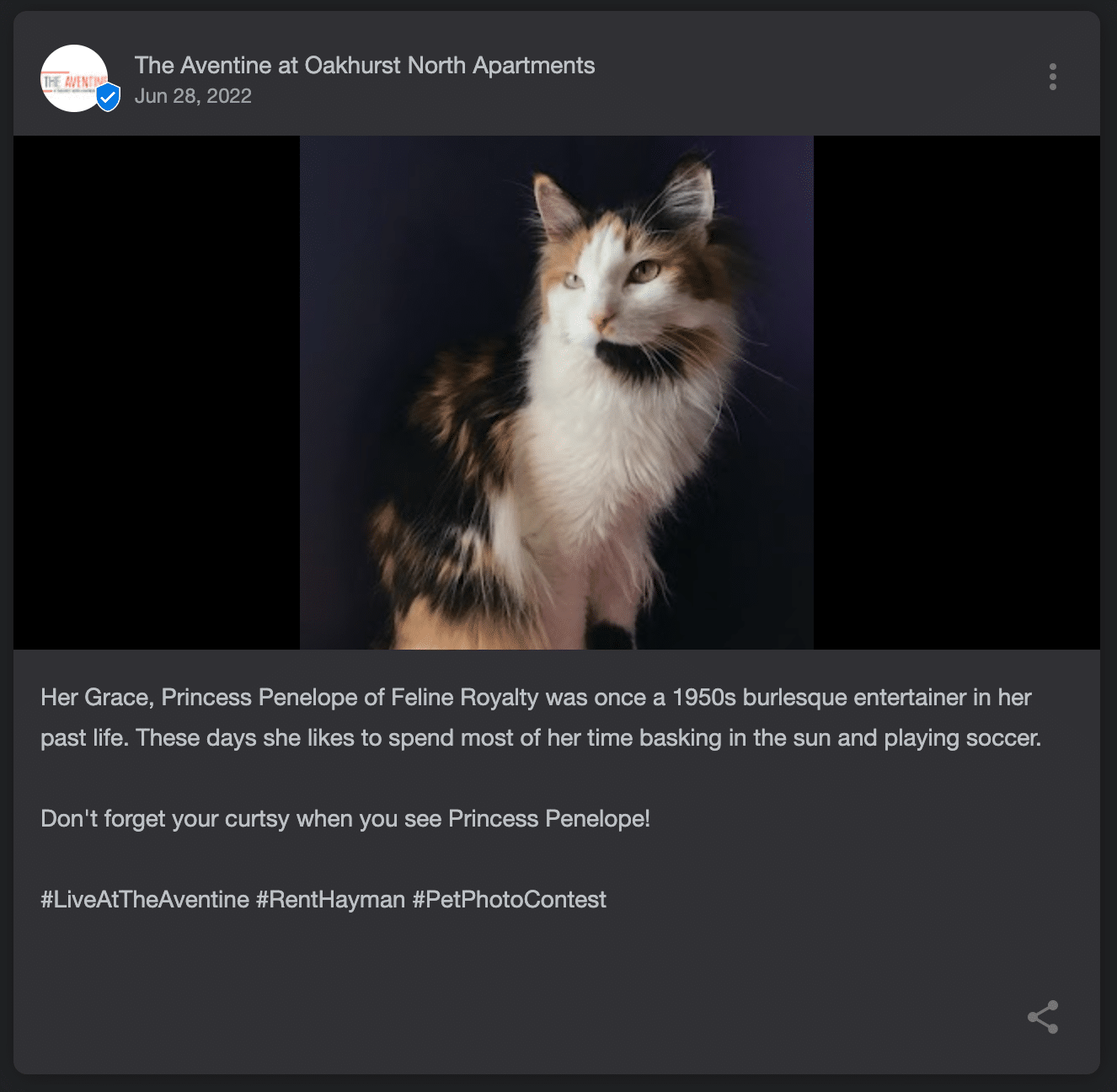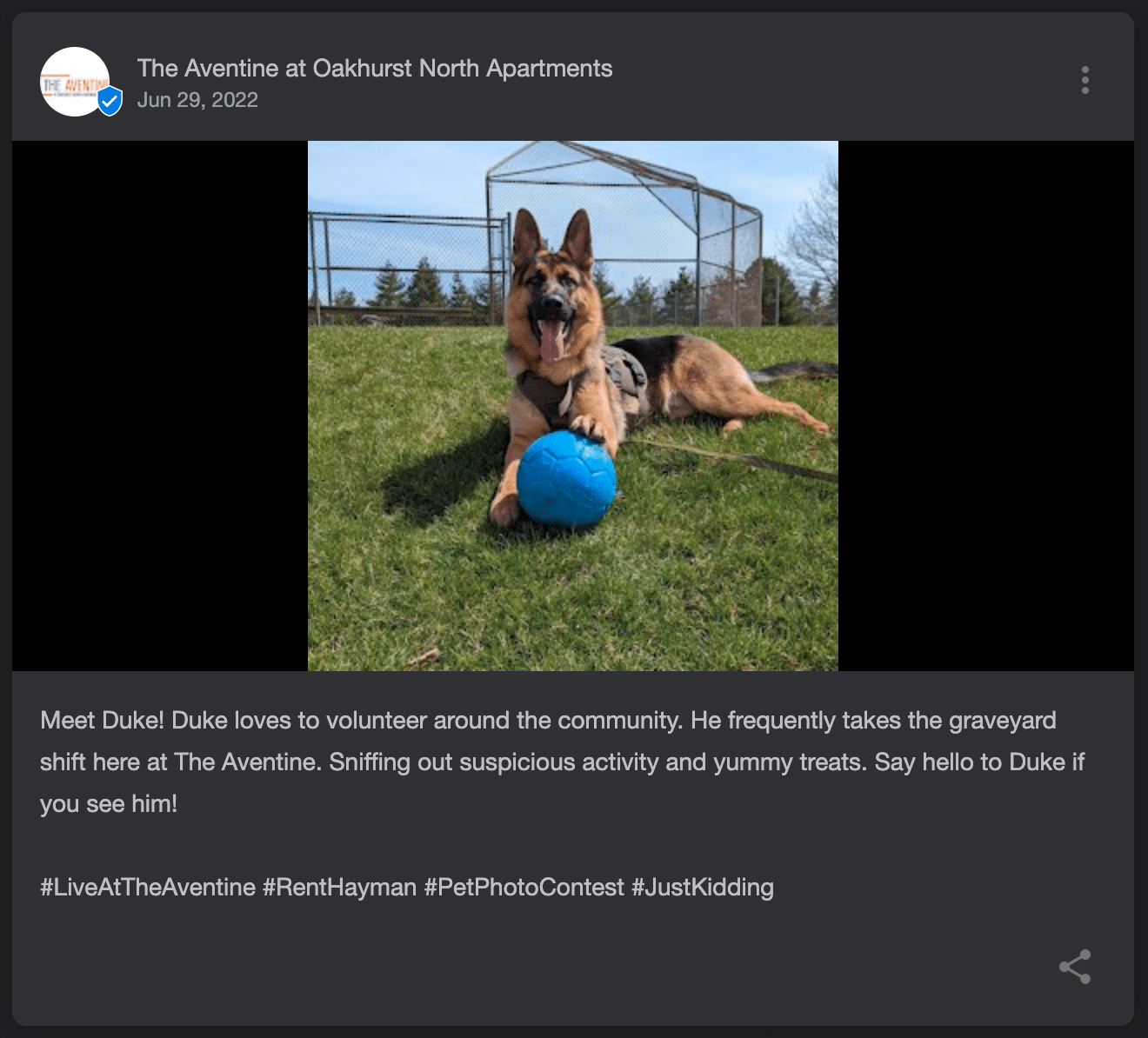 6. Give them a video preview.
Mix it up by posting a video every now and then, which GBP supports. An excellent way to attract more leads and get them to book a tour is to give them a sneak preview of your community. The Aventine posted this one-minute teaser showcasing highlights of its apartment complex, and ends it with a strong call to action and "call now" button that links directly to their phone number.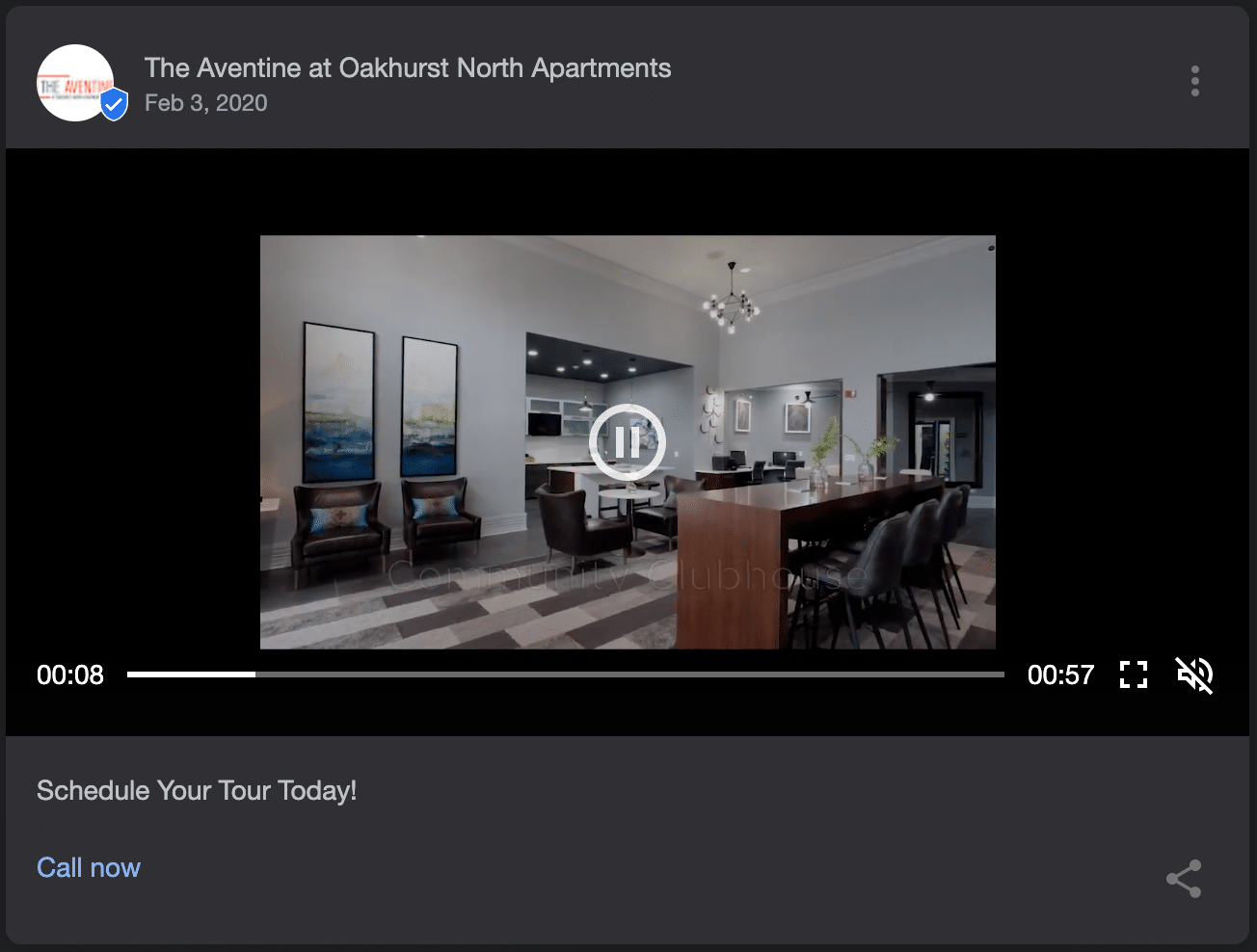 7. Offer tips for a healthy home.
Another Google Business Profile post idea that provides useful content to users is home-related tips. It's related to your industry but doesn't directly promote your business, allowing you to position yourself as a trustworthy source for apartment hunters seeking their next home. Sturbridge Square Apartments offers eco-friendly cleaning solutions in this creative post.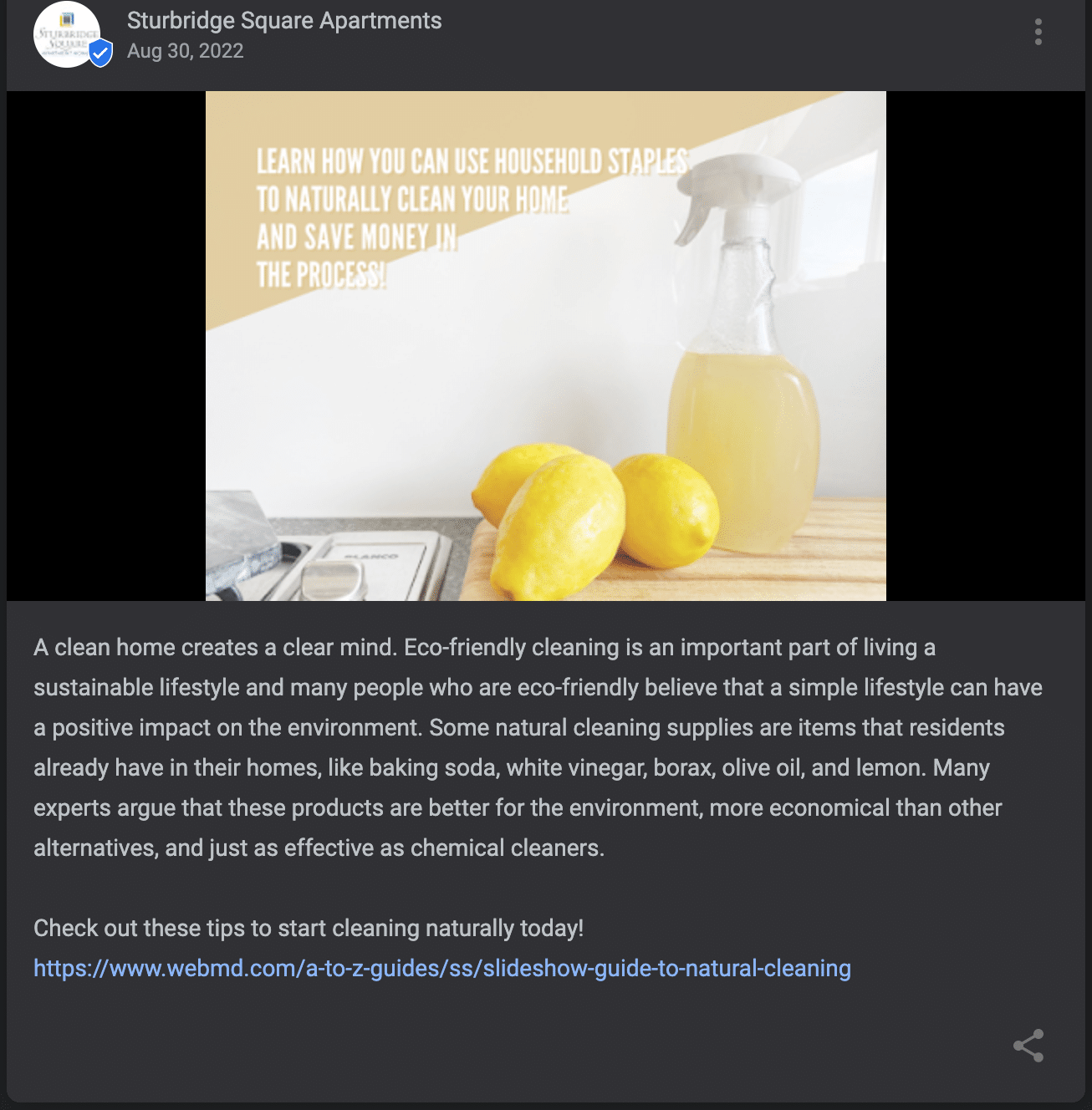 8. Post about a local take on a fun celebration.
There's a reason social media managers love these "National ____ Month" celebrations—they're a fun, simple way to come up with timely content to share. City View at the Highlands achieved this by using National Golf Month to share a local attraction. Notice how they specifically call out that the Lombard Golf Course is nearby. This is a fun way to highlight what their community's location has to offer.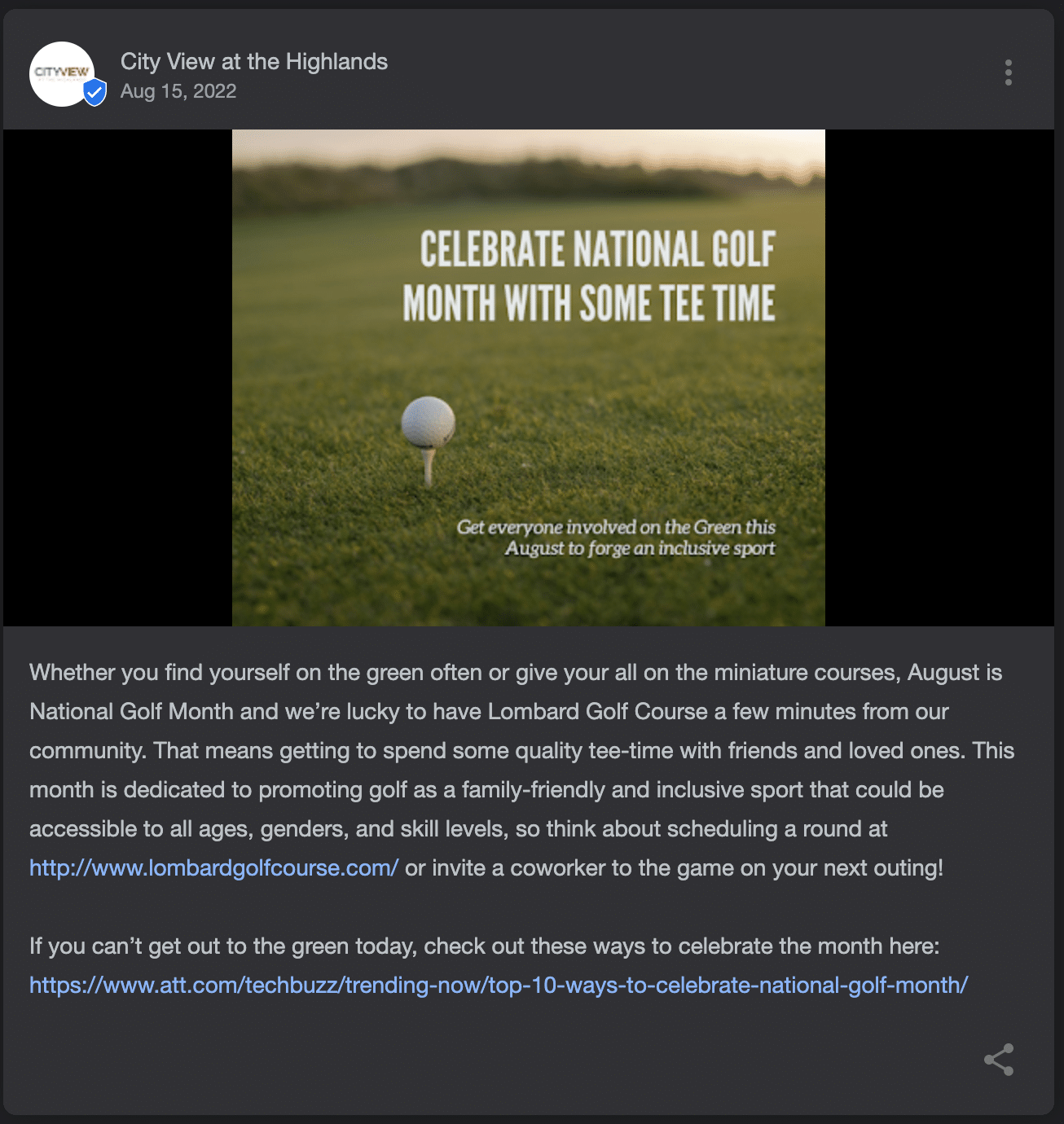 9. Promote your community events.
Of course, you should take advantage of Google Business Profile to promote your own community events! The Pines of Cloverlane Apartments did a great job of including a graphic with text overlay as well as a short description detailing when and where the pizza party would be held.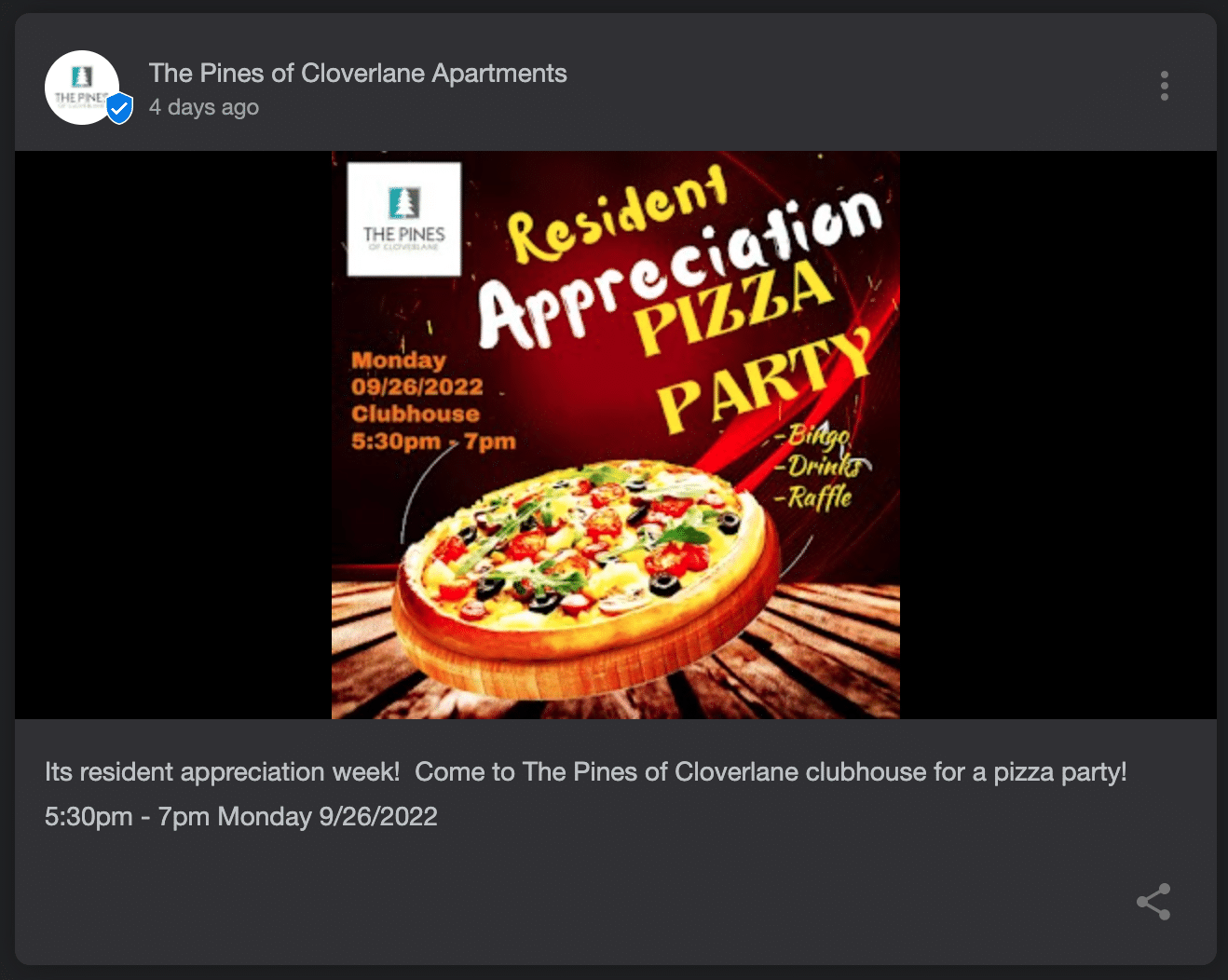 Even better, try using the built-in GBP feature of "Add event," which is made for posts like these.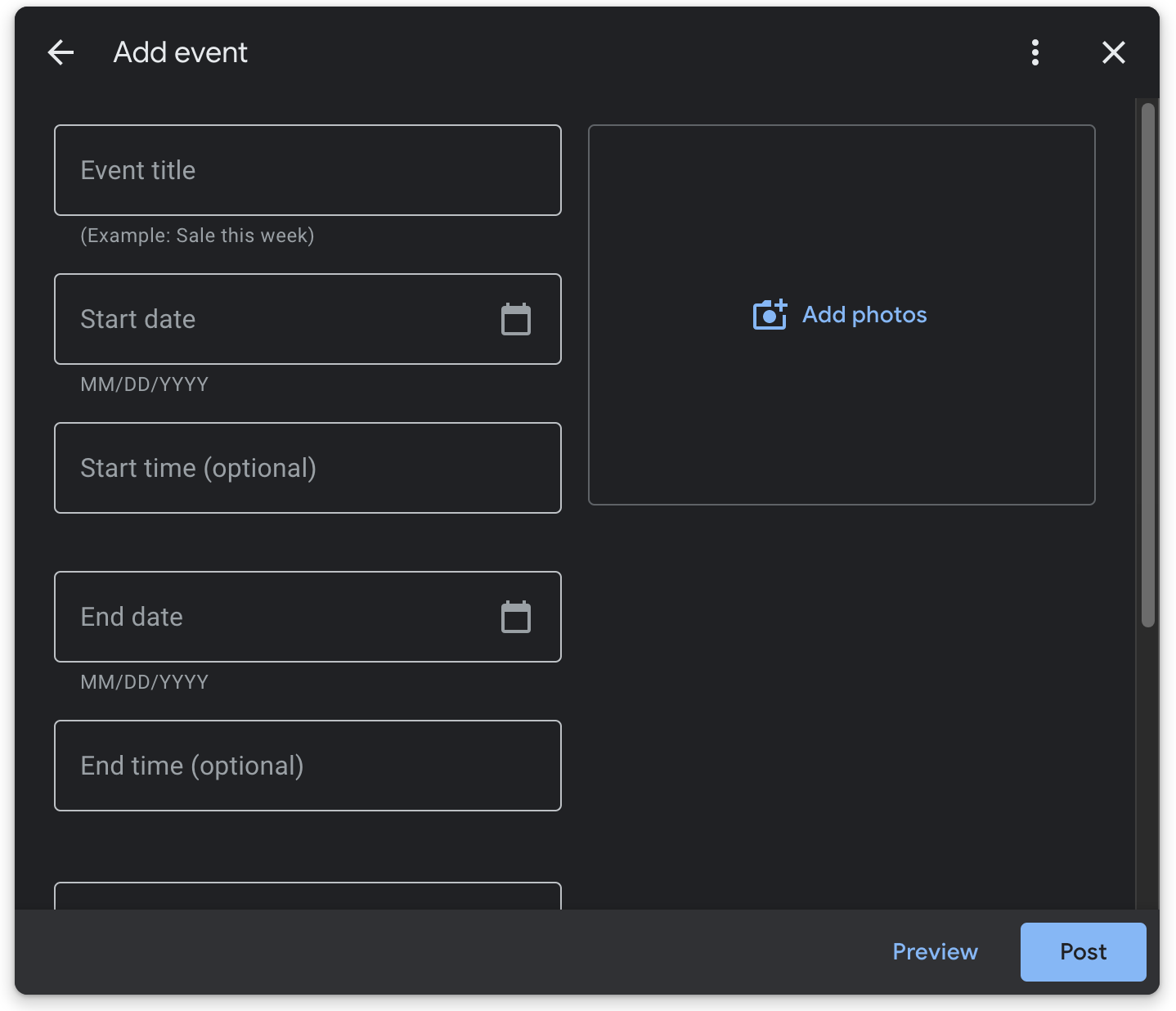 10. Post helpful tips that are relevant to your residents' lives.
Queenston Manor Apartments published this timely and relevant GBP post in August for all those headed back to school. Consider your resident demographics for posts like these. A back-to-school post is very fitting for communities with lots of college students or parents with school-aged children.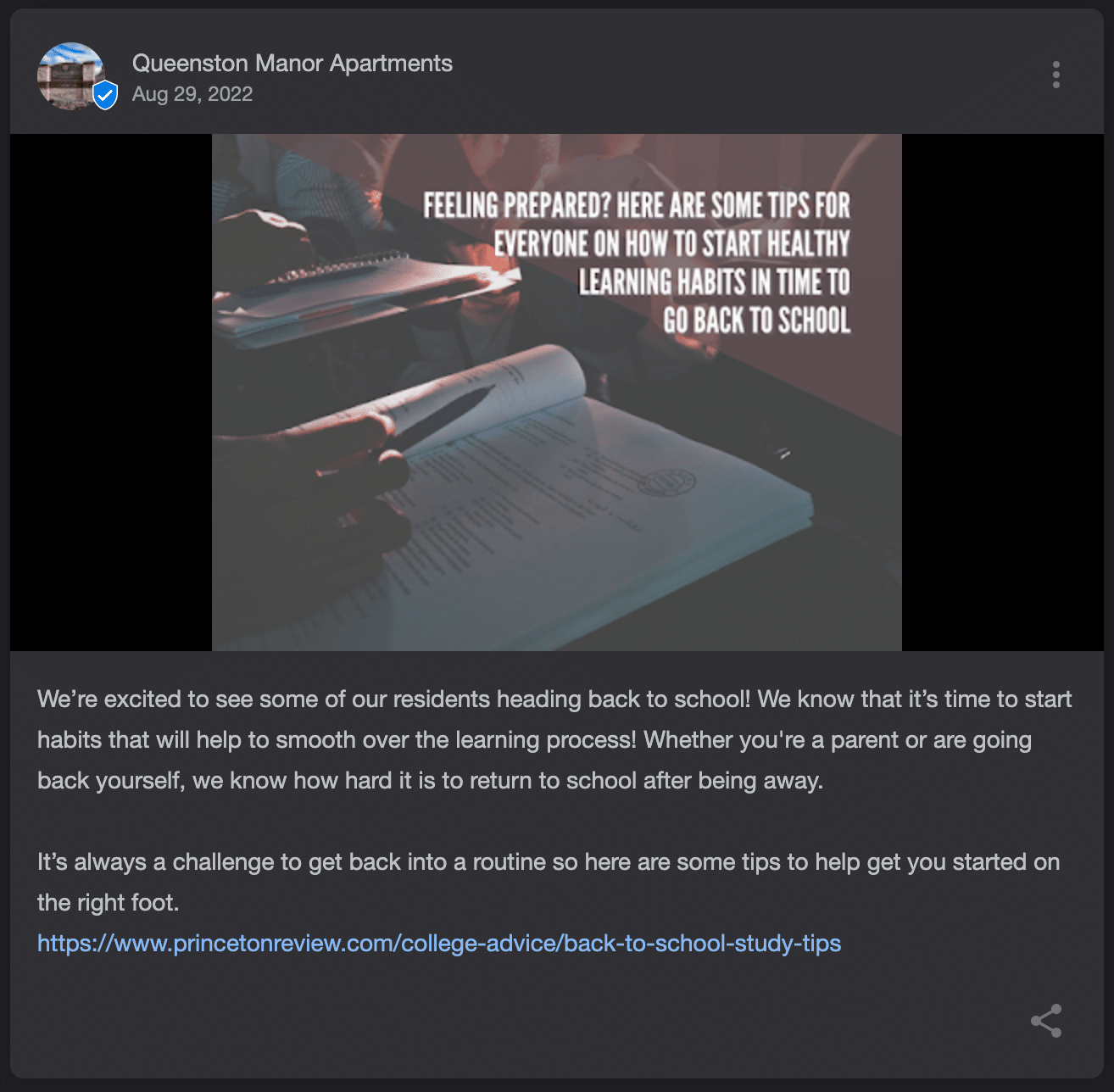 11. Peg your post to a federal holiday. 
Federal holidays make excellent post opportunities because they affect pretty much everyone, making them extremely relevant. Lincoln Crest Apartments created this Labor Day post, including some fun facts that describe the reason behind the holiday and a link to more information.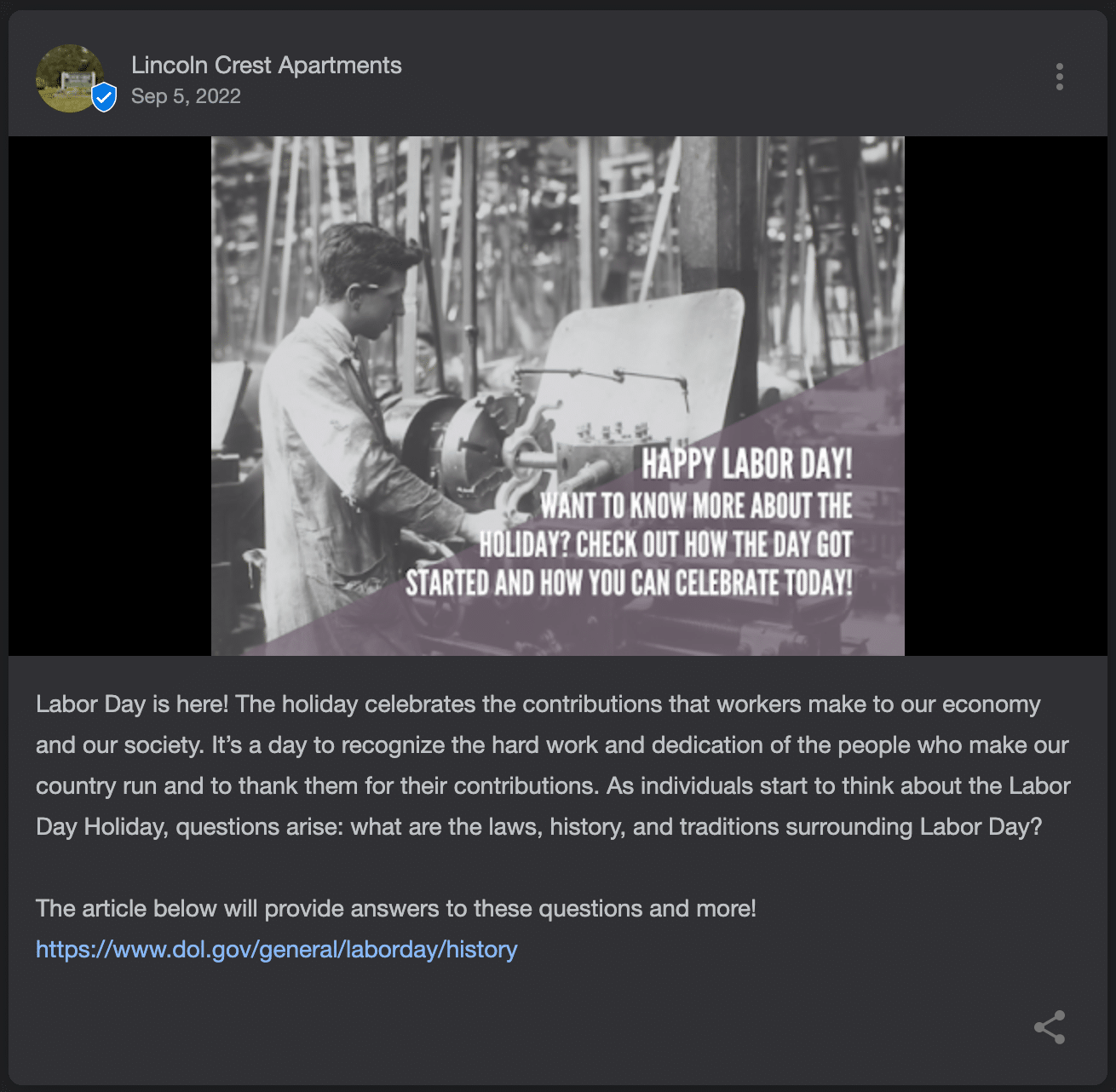 Other tips for posting on Google Business Profile
Do not include phone numbers in the post.
Google does not allow phone numbers in GBP post descriptions. The only way to include your phone number is by using the "Call now" button.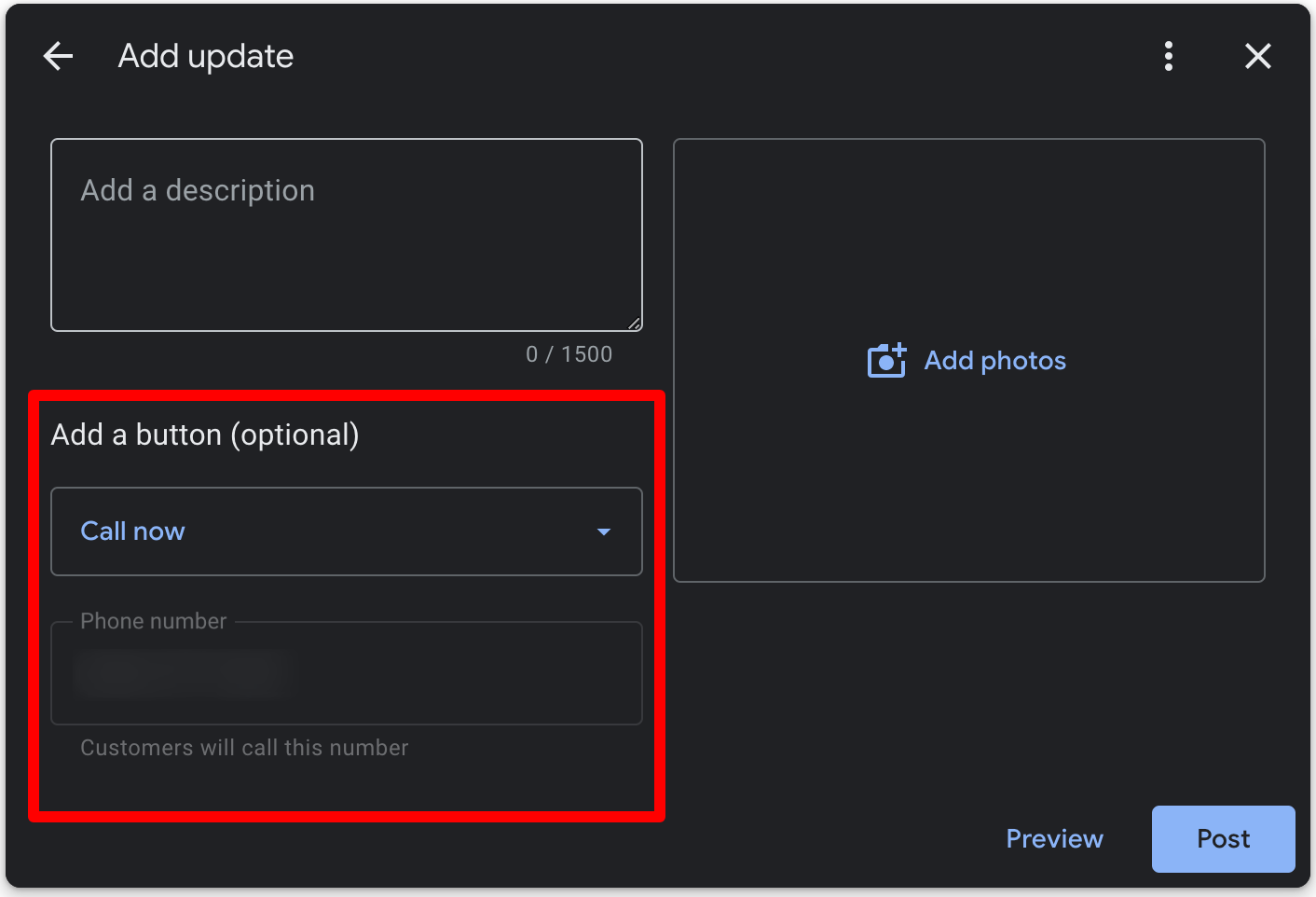 You can include URLs in your post description.
You can post URLs to your website or to an outside party's website in the post description, and these URLs will be clickable.
Google can choose not to approve your posts. 
Keep in mind that GBP posts must be approved by Google. If one of your posts gets rejected, be sure to read the content policy to find out why.
Struggling to post consistently to your Google Business Profile?
Don't underestimate the influence your GBP has on your prospects. They're already relying on Google reviews to determine whether your community is a good fit for them. While they're viewing your profile, make sure you give them plenty of content that shows you're an engaging, helpful business that cares about its residents. What better way to do that than by posting updates? 

We get it—you're busy. Crafting content for your Google Business Profile and learning what works best for it is time consuming. But we promise—it gets easier! If you're still feeling overwhelmed, reach out to our experts who craft Google Business Profile and social media posts for hundreds of properties per week. 


---

*Based on Google Business Profile analytics captured from July 1-August 1, 2022.