From pre-recorded videos to 3D renderings, virtual tours are enticing to prospective tenants. According to a 2020 Zumper-Matterport survey, 90% of renters would be more interested in an apartment that had a 3D virtual tour than one that did not.

Even before the pandemic, virtual tours added immense value. A University of Iowa study of 19,000 real estate transactions in 2016 found that homes with a virtual tour closed for a higher price than homes that did not offer an online tour option.

So if you're looking to fill vacant units quickly (without exerting extra effort from staff), virtual tours are the way to go. Below, we'll go over the advantages of virtual tours and how to make the most of yours.
3 undeniable advantages of virtual tours
Never miss out on a prospect
By offering virtual tours on demand, you can ensure a prospect never falls through the cracks again. Because you can offer 3D or pre-recorded video tours 24/7, it doesn't matter if you have staff available or not; prospects can tour online anytime. Plus, you expand your pool of potential residents to those who cannot tour the property in person, like those who have not yet moved to your city. By offering a tour or your property virtually you gain an advantage over your competitors.


Get more leases signed
If you think that tenants won't rent an apartment sight unseen, think again. A survey by Zumper and Matterport found that 72% of renters are willing to lease an apartment they've never seen in person—so long as a 3D virtual tour was available. And 95% of renters said they'd be more likely to rent an apartment that offered 3D virtual tours.


Keep everyone safe
During the pandemic, virtual apartment tours skyrocketed due to the need for social distancing and keeping people safe from Covid. Plenty of prospective residents still prefer the safety of a virtual tour over an in-person tour.
4 types of virtual apartment tours
"Virtual tour" can refer to four different types of tours, which we'll describe below.
Live video tour
A property manager or leasing agent can host a virtual tour via video conferencing, such as through Facebook, FaceTime, Zoom, or Skype. The live video tour most closely mimics an in-person tour, as the agent is still available to answer questions in real time and can personalize the tour depending on each individual's needs.
Pros
Most closely mimics an in-person tour, which is great for familiarity

Someone is available to answer prospect's questions in real time

High amount of personalization

Little equipment required (can be as simple as a Zoom or FaceTime call)
Cons
Still requires a staff member to be available, which makes it less convenient to schedule


Pre-recorded video tour
If you want more convenience, for both your agents and your prospective residents, consider the pre-recorded video tour. This virtual tour is available 24/7, making it easy to conduct because you don't need to schedule anything. It can be as low-budget as shooting a video on your cell phone and uploading it to YouTube, then embedding the video on your apartment website. 
Pros
Low cost

Little equipment needed (you can use a smartphone)

Most convenient, as it's available 24/7 and doesn't require scheduling
Cons
Because there isn't a staff member available during the tour, it can be tough to capture leads this way or answer questions.

Low level of personalization


3D virtual tour
If you really want to impress renters and invest in the best technology, the 3D virtual tour is a fantastic option. Using advanced technology such as Matterport, you can create an impressive 3D virtual tour where prospects can feel as though they're walking through the apartment in real life. They can zoom in, zoom out, turn corners, and move through the virtual space. And if they have a VR headset, they can even tour it in virtual reality.
What's more, people can actually take measurements in a Matterport 3D tour. So, if a prospective tenant wanted to measure the windows in a unit at Peloton Apartments in Portland so they could buy curtains before moving in, they could: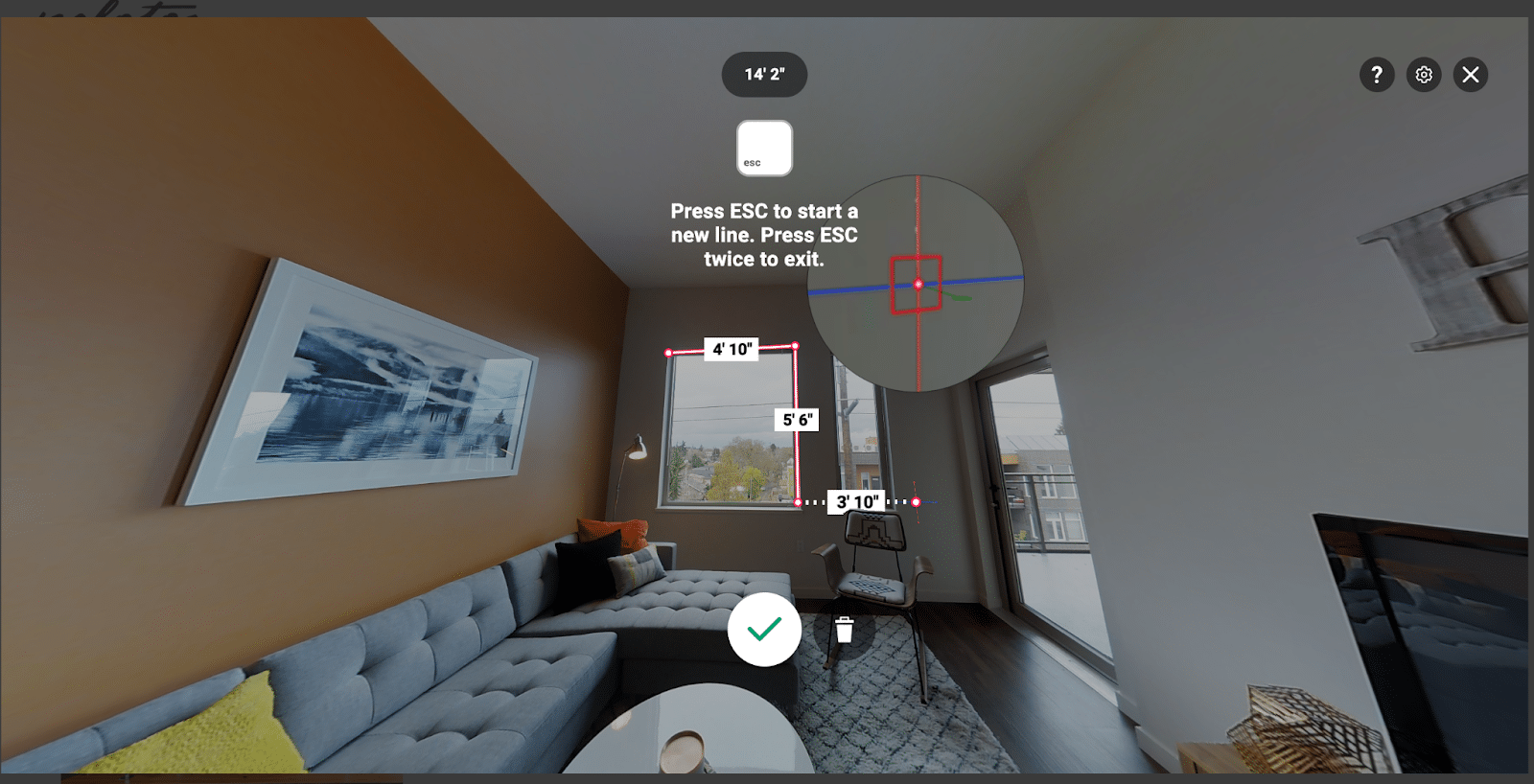 Pros
Most immersive virtual experience

Lets prospective tenants take measurements
Cons
Higher cost than the other options

Lacks the personal touch of someone narrating the tour and providing context


3D rendering virtual tour
If you have upcoming properties that are still under construction or renovation, there are services that can generate 3D renderings of the soon-to-be-available apartments. That way, prospective tenants can "tour" these properties (and you can sign leases!) before those apartments are even ready. 
Sign up to get the latest multifamily marketing tips, insights on apartment tech, and product updates.
How to use virtual tours to get more signed leases
Capture leads from the virtual tours
Capturing the contact information of renters who take a virtual tour can be more challenging than doing so for in-person tours. That's because virtual tours, by their very nature, are more passive. If you embed pre-recorded video tours on your website, for example, you don't have a live agent who can request the prospective tenant's information.
But there are a few ways you can overcome this hurdle:
Install a chatbot.

By

installing a chatbot

on your website, your prospect can access a popout chat screen on the lower corner of their screen while they tour virtually. This chatbot will be available 24/7 and is programmed to answer the most common questions and guide the visitor to give their contact information (making it easier for you to follow up with them after the tour).


Install live chat. During business hours, you can make use of a live chat. It's similar to a chatbot, except it connects the visitor with a human agent for support.
Here's an example of a live chat box during a virtual tour of The Madelon in San Francisco: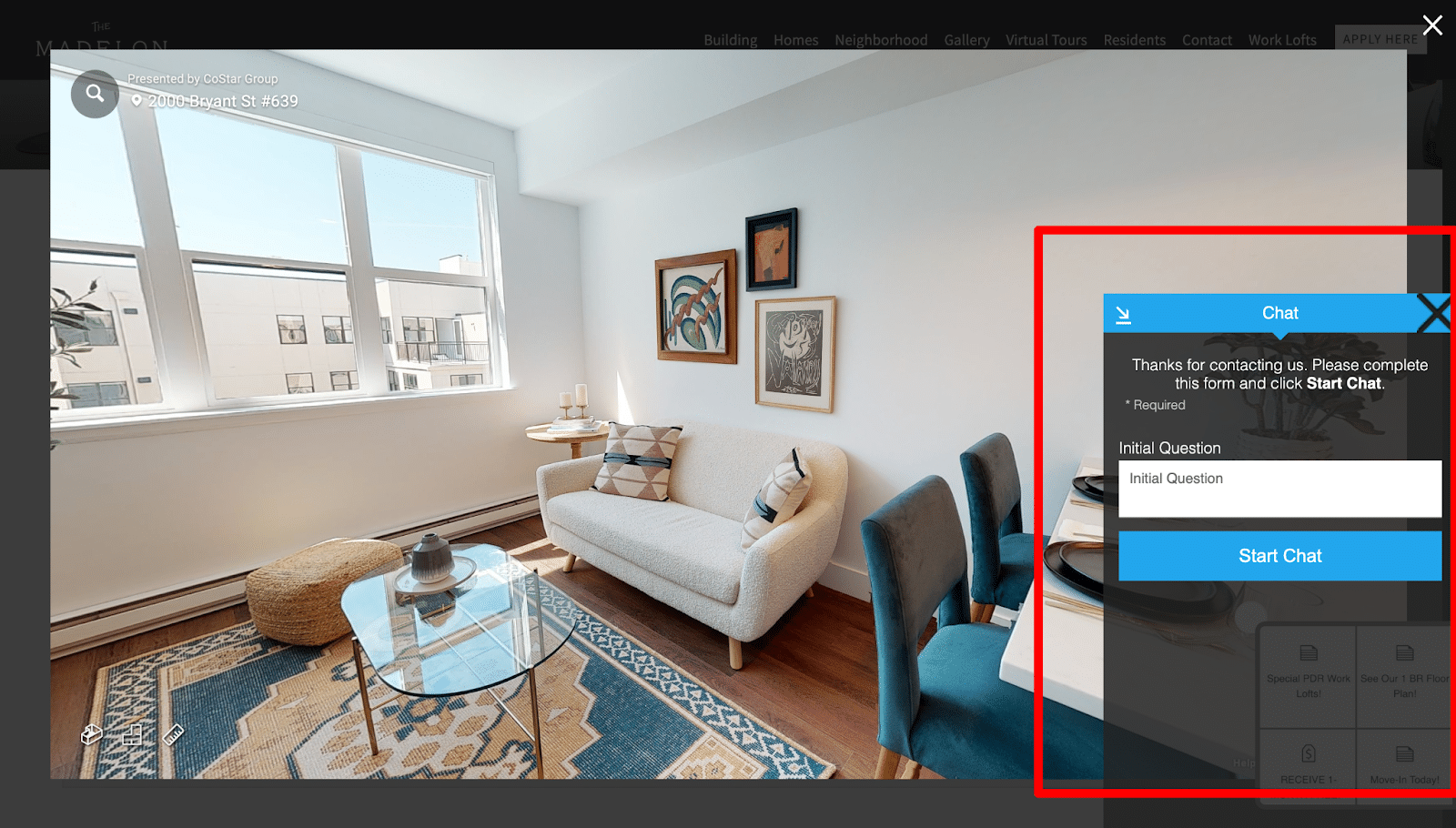 Use lead gen popups.

Another excellent way to capture contact info is through lead gen popups. These can live in the bottom corner of the screen and entice the visitor to sign up for more information about a special offer, such as one month rent-free or a PDF of the apartment layout.

See how The Madelon in San Francisco achieves this: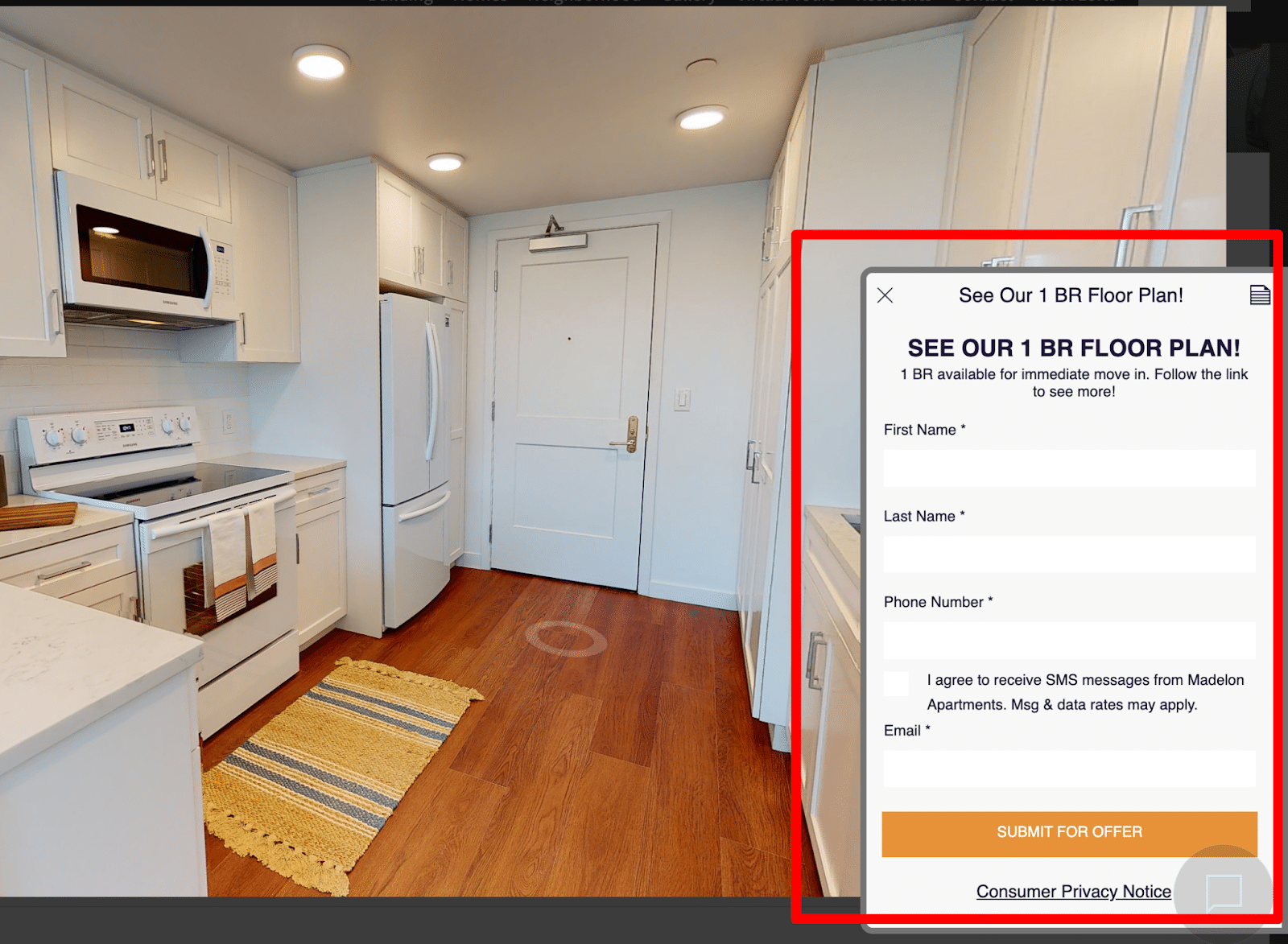 Use calls to action. Even if you don't install any software at all, make use of strong and clear calls to action in every virtual tour option you have. For example, if you offer video tours via YouTube, be sure to include a call to action like "Text us at 555-555-555 with any questions you have about this unit" at the end of the video and in the video description. If you embed virtual tours onto your website, include a line below the virtual tour about how the prospect can get in touch with you to get answers to their questions or schedule an in-person tour.


Offer multiple options for virtual tours
If you want to maximize potential leads, offer multiple virtual tour options on your website. Prospects can choose if they want to watch a pre-recorded video, view a 3D tour, or eventually schedule a live video tour if they have more questions and want a more personalized experience. By offering three options, you cover prospects in all stages of the funnel.


Don't just show the apartment alone
Yes, prospective tenants want to see the apartment, but they also want to get a feel for the value of living in that apartment community. Be sure to include virtual tours of the amenities and shared spaces, such as the lobby, clubhouse, swimming pool, and gym. 


Add context and a personal touch
If you go the route of pre-recorded video tours, don't just pan over the apartment in silence or only add background music. Instead, have a leasing agent or property manager on camera, walking the viewer through the space. Linc245 Apartments in Portland does a great job of this in its relatively low-budget pre-recorded video tour: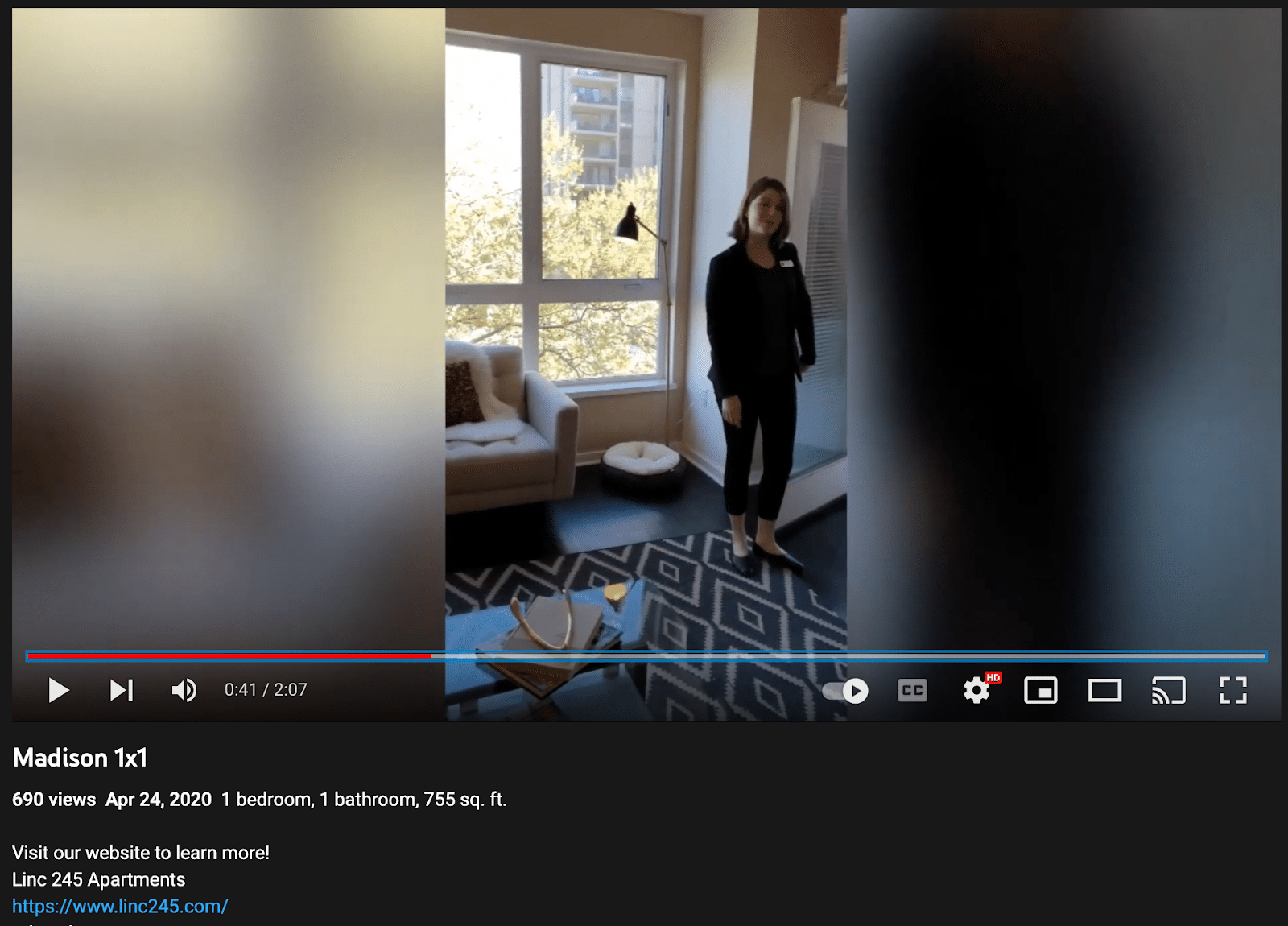 Alternatively, you can have someone record a voiceover for the video. Why does this matter? Viewing an empty space with no context feels uninspiring and unimaginative. It makes a huge difference to have someone saying, "This sun-filled corner is a great place to put a dining room table," or have someone pointing out that the rainfall shower head has excellent water pressure. These are little details that a viewer cannot necessarily pick up on just by watching a video alone.


Follow up immediately after a virtual tour
If you've captured leads effectively using the methods described above, be sure to follow up immediately after the tour. You can reach out manually or create an automated drip sequence that sends regular emails to warm up those leads. Include the phone number of a leasing agent in case the prospects have questions after their tour.

Leverage the power of virtual tours to market your apartments
As you can see, the benefits of virtual tours extend far beyond keeping people safe during a pandemic. They provide a level of convenience unmatched by in-person tours. By hosting live video tours, you allow renters from anywhere in the world to see and rent a place before they arrive in their new city. By embedding pre-recorded videos or 3D virtual tours, you empower any prospective tenant, at any time, to immerse themselves in everything your apartment has to offer.

PS: ResMate offers virtual touring options as a part of its scheduling process. Click the button below to learn more.