From Google to Tesla – it's hard to miss how AI is changing the world. What you might be more interested in is how quickly it's changing OUR world – that sphere of multi-family marketing.
Because true leasing automation is finally here. The latest developments in AI leasing let us take the most tedious parts of the leasing process and simply… set them on autopilot. While getting eye-opening results.
That's new. And it's exactly what Respage co-founder Ellen Thompson spoke about at AIM Reimagine last week, a conference gathering some of the brightest marketing minds in multifamily to discuss the latest innovations. Some of the points she touched upon are things like how…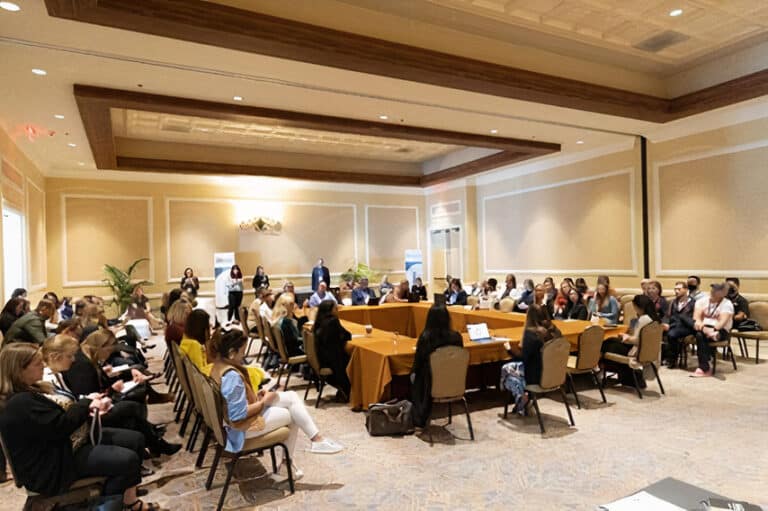 Proper Lead Nurturing Smooths Out the Whole Leasing Journey
How do you determine if your marketing is going well?
You probably look at how many people sign up to tour your properties. Or how many actually show up at their scheduled time. Or how many sign an agreement after those tours. Maybe even how many renew their lease.
No matter which of those metrics we're talking about, having someone nudge them along to the next step and answer their questions promptly makes a big difference. Potential residents don't like being ignored.
But your leasing people, if they're anything like most, are probably overworked, handling dozens of different tasks, and unintentionally dropping half of the inquiries they get.
So you automate it. You have options there.
Getting "Smarter" – Differences Between Autoresponders, Chatbots, And AI Leasing Assistants.
Now autoresponders, chatbots, and AI leasing assistants all try to do the same thing: answer a prospect's questions accurately and push them along their leasing journey. The differences lie in how well they do it.
Download Our
AI Leasing Presentation
Automated Lead Nurturing: What
Is It, & Why Is It Today's
Must-Have Marketing Tool?
Autoresponders are the simplest of these.
Your system receives an inquiry and depending on how that inquiry is received, sends a pre-written email response. For instance, tour confirmations or thank you emails. Customization is usually limited to whatever the prospect filled out on the form, like name and desired property type. Autoresponders cannot answer questions and still need a human leasing agent to round out the process.
They replace live chat on a website and can answer simple questions – which are, in fact, the majority of inquiries. They also tend to have branching logic that allows them to interact with a prospect more naturally, almost like a live person. Their main goal is to save time on that initial inquiry – but they don't continue the nurturing process and can't help if you want to boost your numbers past that first touchpoint.
AI Leasing Assistants are the evolution of the chatbot.
On the surface, they seem similar with their live chat capabilities. Except they also add in all the best parts of autoresponders and can, depending on which particular assistant, handle email and text as well. Plus, they also manage all stages of the leasing process, from that initial contact to tour scheduling to application.
Beneath the hood, the circuitry is completely different. An AI Leasing Assistant is just that – artificially intelligent. It learns. It thinks. And it responds with dynamic content just like a human being. That's thanks to a core technology just recently introduced to multifamily marketing: Natural Language Processing (NLP).
The Gamechanger in Automation Technology: Natural Language Processing & Generation
The key capability that separates an AI Leasing Assistant from nearly any other automated lead nurturing solution is the ability to understand text like a person.
It does this by studying actual conversations between humans, so it knows what to say and what not to. That means the more data it has, the more naturally it speaks.
ResMate, our own AI Leasing solution, has been "fed" several million real conversations between leasing agents and potential renters. As you might imagine, that means it knows how to respond in nearly any given scenario to satisfy the prospect.
NLP technology allows ResMate to understand the sentiment behind a question, so it answers what they want to know (which isn't always the same as what they asked). It can translate text from other languages and respond accordingly. It can handle the entire nurturing journey.
For instance, it will encourage prospects to set up tours and send them dynamic content it thinks will increase their chances of doing so, like what amenities a property carries. It will ask if they liked their tour – to gauge their likelihood to apply. It will recover from unplanned interruptions of that nurturing process, like the stray email, and move on to the next logical step. It will analyze how you are getting prospects and which channels work best.
It can do all of that today.
But the capability of this technology is limitless. Thompson predicts AI leasing will one day expand to naturally cover phone calls, write articles, generate relevant reports, and more – all tailored towards its specific audience, automatically.
What Are the Real-World Results Of Using AI In Lead Nurturing Automation?
ResMate just came out of beta testing a few months back and the results are still early. That said, the numbers have been shockingly positive. In just one month, for instance, Metropolitan Management doubled their lead-to-tour conversion rate and cut their lead-to-lease time in half with AI leasing.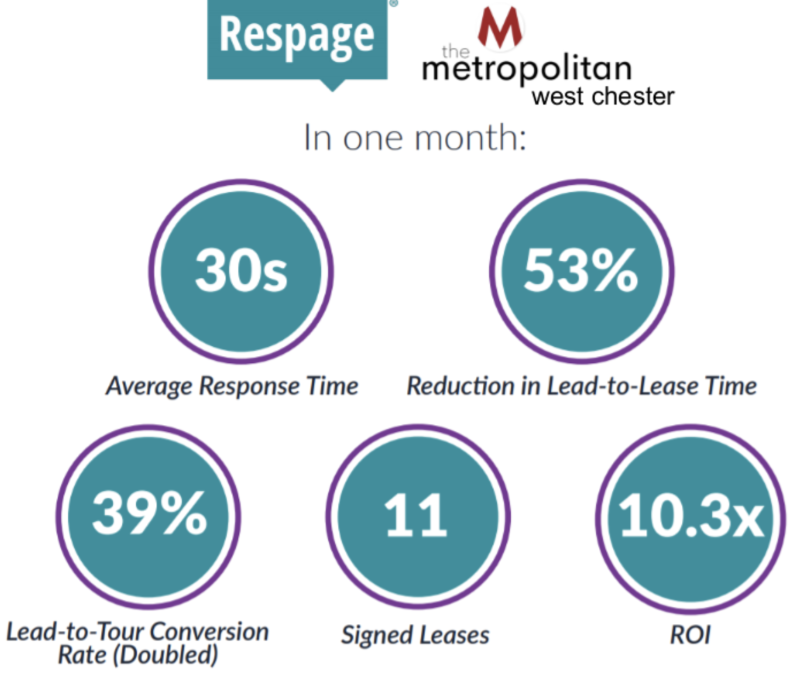 And we're seeing similar results in other real-world implementations.
Those results aren't surprising when you consider the bigger picture of how these leasing conversations typically go. In a fair head-to-head competition, no AI can beat a dedicated leasing professional in terms of turning a prospect into a renter.
But the reality is anything but fair. A leasing professional is often splitting his or her attention amongst many different tasks. They get tired, distracted, and don't have perfect memories.
Which leads to a 39-hour average response time to an apartment inquiry. ResMate responds within a minute. 55% of agents never follow up. ResMate follows up 100% of the time. 44% of first contacts are after-hours and thus get no immediate response. ResMate works 24/7.
Every Key Metric Is Only Going to Go Up with AI Leasing
The point of NLP technology is that AI works better as it gathers more data. The more people use it, the more data it will accumulate. And that's not even counting the work to improve the AI's general capabilities.
"Within a few years everyone will be using leasing AI," Respage co-founder Ellen Thompson said at AIM 2021. "The instant response time and drastic efficiency boost means properties that don't will lose renters to their competition."
To learn more about why leasing automation might be the catalyst that will change the entire leasing model, download Thompson's full round table presentation above. Contact us to learn more about ResMate and AI leasing!