If you've spotted more and more chat icons in the lower right corner of the websites you visit, you're not imagining things. 
Data shows that chatbot usage and engagement is accelerating rapidly across the board, particularly since the start of the COVID-19 pandemic. In Multifamily, chatbots are transforming how leasing teams operate by helping to ease the customer service burden. 
When Respage created the first-ever apartment chatbot in 2017, the Multifamily industry was skeptical. Multifamily is slower than other sectors to adopt new technology, but chatbots have proven their worth.
To demonstrate this, we analyzed Respage chatbot data from May 2020 to June 2021, which represents 222,059 conversations. Here are most compelling the takeaways: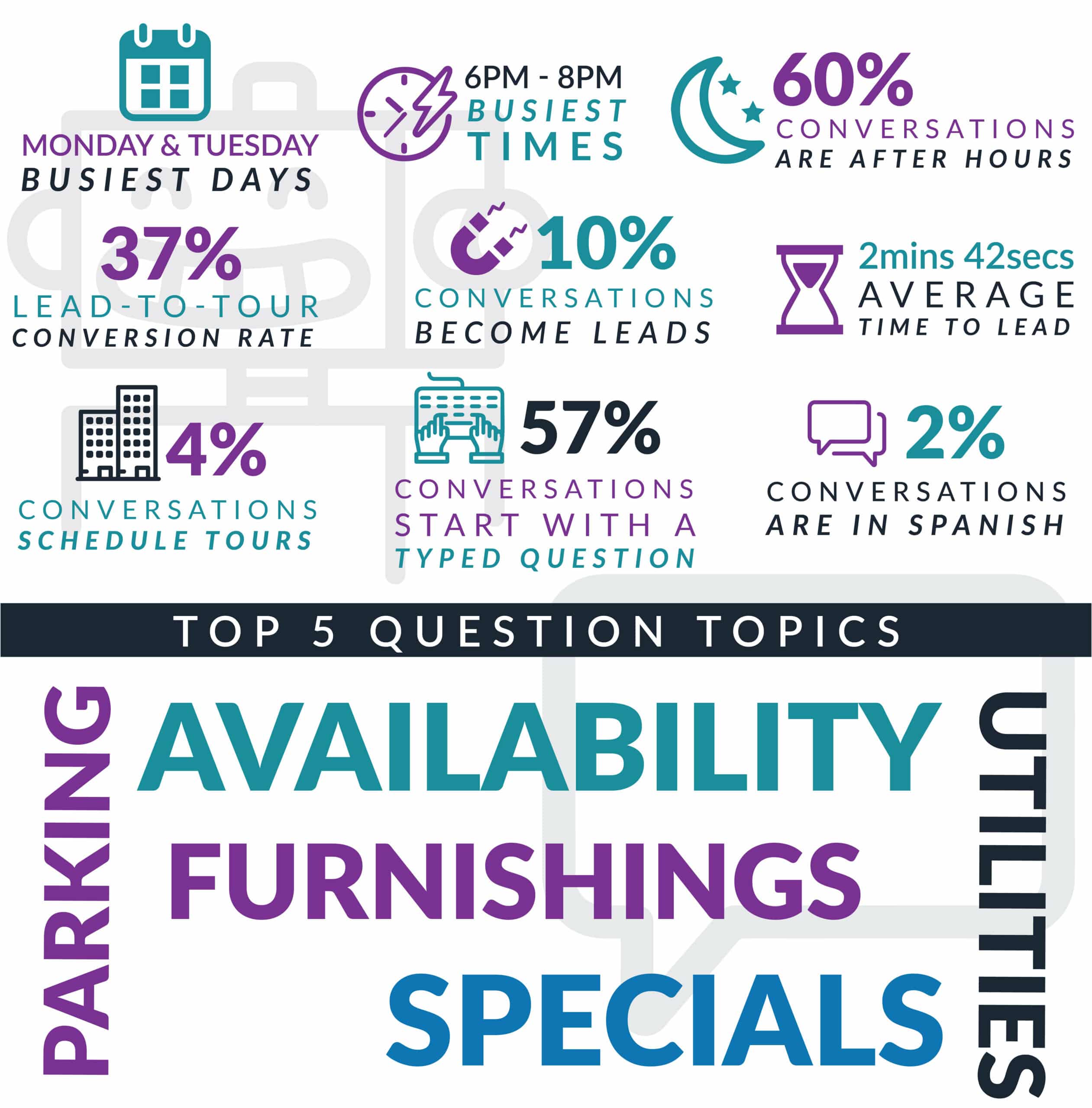 The busiest times are between 6 p.m. and 8 p.m. on Mondays and Tuesdays.
The ideal time to search for an apartment doesn't necessarily match the operating hours of a leasing office. 
After leasing teams wrap up their workday, prospects may also be wrapping up their own workday, followed by an apartment hunt session. Chatbots are on hand to answer prospects' questions, schedule tours, and move them along the marketing funnel outside of typical office hours. 
60% of chatbot conversations take place after hours.
Before chatbots, a leasing team would arrive in the morning to emails and phone messages that came in overnight from prospects asking about the apartment community. Inevitably, some prospects would be lost because of the delay in the leasing team responding, but that doesn't happen with a chatbot.
Now, leasing teams can check the chat transcripts to see how things went the night before and follow up with prospects if needed. This opens up more hours of productive time that was spent answering the same questions repeatedly pre-chatbot.
The lead-to-tour conversion rate is 37%.
Apartment marketing is a numbers game. The more leads you have, the more residents you will ultimately have. But what if your leasing staff is already overworked and overwhelmed? 
With a good quality chatbot augmenting the leasing staff, apartment communities can expect to see an increase in their lead-to-tour conversions. When a chatbot interacts with a prospect, the goal is to move the prospect toward an action, such as scheduling a tour or filling out a rental application. Our chatbot, which is NLP-based, has pitched in to convert nearly 40% of prospects to schedule a tour, and when combined with the efforts of human leasing staff, a community's success is easily within grasp.
The top five question topics are availability, specials, furnishings, parking and utilities.
There are endless questions that prospects could ask when it comes to an apartment community, but the ones we see most often are about details that would commonly be on the community's website. 
First, this tells us that prospects who are seeking these details are weighing the nitty-gritty pros and cons and are most likely comparing several communities. 
It can also show opportunities: If a community gets repeated questions through the chatbot about the same topic—let's use the pet policy as an example—then the marketing team might decide to expand its website content around pets to provide more information.
Want to see what all the fuss is about?
Learn more about the Multifamily chatbot services offered through Respage, a company revolutionizing apartment marketing through advanced AI.