Big news for anyone looking to increase occupancy without upping their marketing budget.

We've just added Google Business Profile (GBP) to ResMate's repertoire, making it the sixth channel it can automate leasing for, the others being email, chat, text, phone, and ILS. And we've added a new tour scheduling calendar that supports centralized leasing. That's a big deal, because…
If you were suddenly in the market for a new apartment, where's the first place you would look?
Most would say Google. Sure, prospects might eventually end up on sites like Apartments.com or Zillow, but 51% of renters say they will go to the world's most popular search engine first. Or they pull up Google Maps and search around the neighborhood they'd like to live.

Nearly all of those visitors are going to bump into your Google Business Profile. Before dropping by an ILS. Before landing on your property website. But what they could do on that profile was limited. Until today.
Introducing: ResMate AI leasing assistant for Google Business Profile
ResMate now enables a chatbot on your Google Business Profile, just like it can on your property website. Once on your profile, a visitor simply clicks or taps that "chat" button, and they're connected with multifamily's smartest AI assistant.
That's a big deal, because, previously, the only other direct contact option on your profile was to make a phone call… which people of younger generations are especially allergic to. Now you can now interact with a large segment of visitors who would never have never picked up the phone or landed on your property website.
Many visitors would have read some reviews, then wandered off. Possibly to a competitor's profile. Now, ResMate will engage them instead and generate more tours because…
Chatbots can double your lead-to-tour conversion (and save your leasing team a ton of work)
If you're wondering what the actual effect of now having a chatbot on your profile is, here's the data…
We know, based on all ResMate implementations, that if a prospect lands on a property site using ResMate and interacts with the bot, they schedule a tour about 50% of the time. That is 2-10X greater than ILS conversions, depending on which one.
One client tested our chatbot in a split-test. They took a few dozen properties and implemented our chatbot on some, and didn't in others.
After 5,400 leads, the properties with our chatbot implemented had more than double the lead-to-tour ratio than the ones who didn't. That led to 59% more actual leases for those chatbot-enabled communities in that time frame.
And that's the same chatbot you'll now have available on Google Business Profile, complete with the ability to answer typed questions, which 57% of prospects prefer to do. Not all bots are created equal, and ours is amazing at getting people excited to tour.
That's not even counting the automated lead nurturing. Speaking of which…
This makes ResMate the only solution to answer and nurture leads from chat, email, phone, text, ILS, and GBP
If you need that one solution to take the load off of your leasing team and handle practically every inbound apartment lead, ResMate is it. No AI leasing solution does as much, as well.

Outside of covering every major channel, it also automatically schedules tours, sends appointment reminders, gauges lease interest, sends dynamic email content, keeps a waitlist, cross-sells sister properties, integrates with the most popular property management software and CRMs, and follows up multiple times through the application request.

Oh, and it speaks Spanish.

If you're already a ResMate user, this update will be rolled out to your platform at no extra charge, automatically. We will, of course, be happy to help you set it up on GBP.

If you're not, this is a great time to try a comprehensive AI leasing platform. Especially if you're moving towards a centralized  leasing model, because we're helping with that too.
For centralized leasing operations—a brand new tour scheduling calendar with flexibility
One of the amazing things about the sophistication of AI leasing solutions today is that it creates efficiencies that support  new leasing models. True centralized leasing, for many, is just a theory.

Not for some of our clients, who have already implemented and are testing using on-call agents who handle tours for multiple properties. We whipped up something for them and anyone else looking to experiment with fully centralized leasing.

ResMate users can now take advantage of our brand new multi-property touring calendar, built specifically for centralized and regional leasing offices. It enables easy scheduling, tour assignment, and time management between multiple communities. There's even the option to add "buffer time" between tours, to account for travel between properties. Team leaders can also get a bird's eye view of all tours across their entire property portfolio in one place.

We're the first off the shelf solution that lets you effectively manage leasing for multiple properties via one calendar. That makes it possible for smaller organizations to centralize leasing, which is sure to continue to be a big trend in 2023. And speaking of switching over to the newest trends…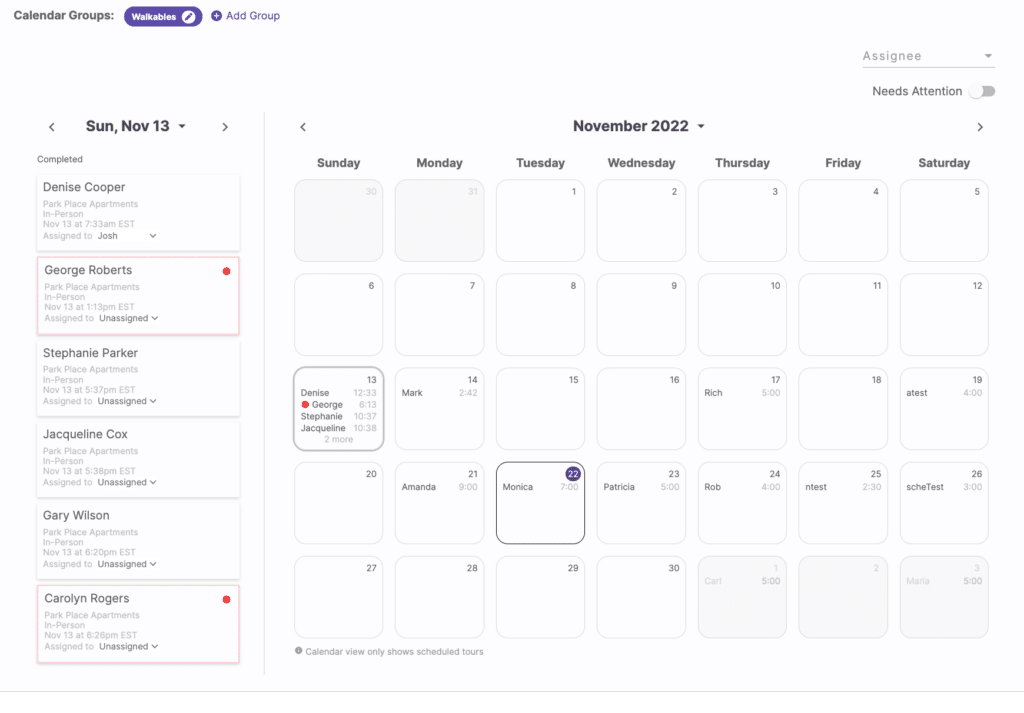 This is the best time to try multifamily's most comprehensive AI leasing platform
AI leasing helps you increase occupancy, reduce advertising costs, improve customer experience, and make your on-site team happier. 

Talk to us about it now before pricing goes up in 2023. If you need help with occupancy or staffing, there's never been a better time to try it out.

To our current ResMate clients, we hope you're enjoying the results ResMate delivers, and promise that the improvements won't end here. We're constantly thinking of the next big feature for AI leasing, and we have some amazing updates on the way in 2023.

As always, thanks for your support. If you're interested in learning more about ResMate and these new updates, reach out to us through the link below.