After Google, YouTube is one of the most popular search engines out there. If you're not taking advantage of this platform to promote your apartments, you're missing out.

The easiest way to get started? Collaborating with established real-estate YouTubers and leveraging their audience.

Below, we'll show you six YouTube video types you can sponsor (with real-life examples) that will engage renters and drive leads to your site.
1. "Apartment Hunting in [Your City]" Video Collab
When someone's about to begin their apartment hunt, what's one of the first things they'll do? Look for recommendations of rentals to tour, of course. And with more than 2 billion users, YouTube is not only the second most popular social media platform—it's also one of the most used search engines. That means people researching apartments are going to be searching YouTube.

Like all the following examples, you'll need to reach out to a YouTuber for a sponsored collaboration. In an apartment hunting video, the YouTuber personally takes their viewers with them on tours of about four to five apartments. Then, they'll do a recap at the end of what they liked and didn't like about each place, often including the rent, amenities, and apartment complex name.

Lifestyle vlogger Nelly V's most popular video on her channel is titled "Atlanta Apartment Hunting 2021 (Affordable, under $1000, Names and Prices included)". The keyword "atlanta apartment hunting" is a popular search phrase, which you can tell by comparing the views on this video to the view count on her others. With only 527 subscribers, Nelly V's channel is relatively small. Even so, this video, which is not even one year old yet, has nearly 50,000 views.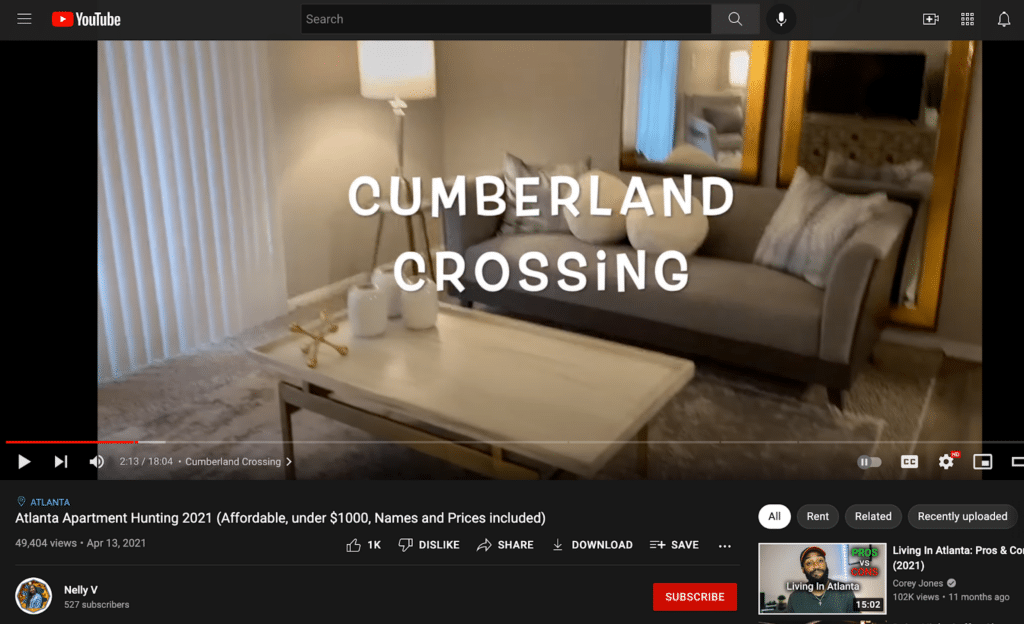 Why is this important? Because it shows that you don't have to dish out tens of thousands of dollars to bring a mega-YouTuber with 200,000 subscribers onboard. You can work on a meaningful, lower-budget collaboration with a small YouTuber and still see impressive results.
Usually, these videos are not sponsored. But, they are a great opportunity to do sponsored content. You can contact a YouTuber and ask them to include one of your properties during their apartment hunting video.
2. "What $1,500/Month Will Get You in [Your City]" Video
For many renters, price point is the No. 1 factor when considering an apartment home. For that reason, "What [rent amount] will get you in [city]" is a popular search term among prospective renters.

These types of videos are different from the apartment hunting ones in that they're usually led by someone who isn't the renter. Usually, the hosts of these videos are real estate agents, which provides the opportunity to offer video tours of different apartments at specific price points. For this video, you can find a collaborator to do a virtual tour of apartments found on Zillow or other similar websites and include one or two of your own.

Check out this real-life example from Miami real estate agent Hans Waisfeld.
Once again, this is a relatively small channel, with fewer than 7k subscribers. Even so, his "what $1,500 will get you in Miami" video is the second most popular one on his entire channel, with over 61k views in less than two years.
3. "Pros and Cons of Living in [Your City]" Video
As you know, not all content in a marketing channel needs to directly promote a product. This pros/cons kind of video targets prospects at the top of the funnel, as these viewers are not yet sure if they're moving to your city. They're still considering it and doing research to decide if it's a good fit for them. Why is this still useful? By sharing honest pros and cons about life in your city, you build your management company as an authority on that topic. 

This is also a good opportunity to showcase the personality of the city and the community the viewer could eventually move to. Is one of your apartment properties in a unique neighborhood with lots of charm? Show it off!

Again, you'll want to work closely with an established YouTube presence and do a joint video. As the prospect moves through the funnel, they may become more interested in your specific apartments and eventually reach out to you for a tour.

Here's a great example of a "pros and cons of a city" video from Katie Day, who works with a real estate team called MOVEMETOTX.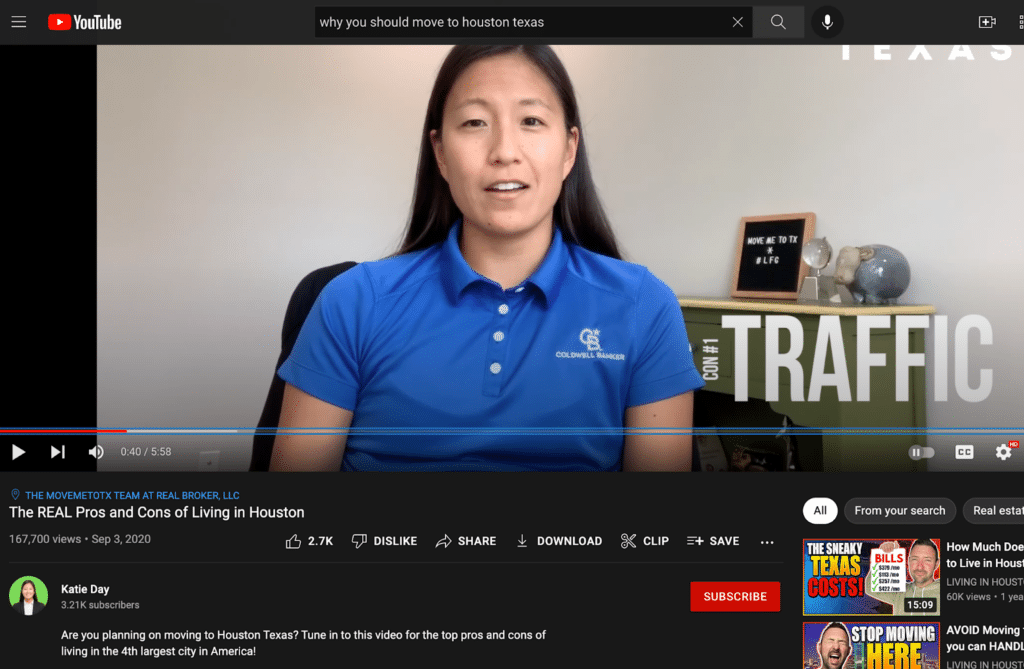 With only 3,200 subscribers, Katie has amassed more than 167,000 views on this one video in a year and a half.
4. "Why You Should NOT Move to [Your City]" Video
A bit more provocative, this type of video piques viewers' interest by stating the reasons someone should not move to your city. While this may seem counterproductive, again, this is another chance to build your authority on the subject, as well as drum up lots of views of your apartment properties.

Want a real-life example? Check out real estate agent Craig Cunha, whose most popular video on his channel, by far, is entitled "Avoid moving to Florida." 
So why has this video garnered nearly a million views in less than two years? The sheer shock value of being told not to move somewhere by someone whose job is to move people there is one reason. But another is that people who are truly interested in moving to a place actually still appreciate these videos. These videos don't deter them from moving; the information just helps them better prepare.
5. "Best Neighborhoods in [Your City]" Video
Location is a key consideration for renters, so a detailed video of the best neighborhoods to live in in your area is a great way to target prospects. For this kind of video, you can utilize a creator anywhere in the country. Simply have them talk on screen with photo overlays of the different neighborhoods in your city.

That's exactly what licensed real estate agent Victoria B. does on her YouTube video of top neighborhoods in Charlotte.
Make sure to send a few of your own listings to the creator to mention as a way to promote your properties.
6. "Cost of Living in [Your City]" Video
As renters prepare to move to a new place, cost of living is top of mind. In this kind of video, YouTubers give a breakdown of a typical budget for a resident of your city. You can also mention the apartment rentals you have in that area, how much they rent for, and a list of typical amenities. Is your property in a hot climate with a stunning pool? Be sure to include any amenities that would entice an out-of-towner in a new city!

YouTube channel Living in Tampa FL does a great job of sharing typical budgets for each category, including rent, in the Tampa area.
5 Things to Consider When Finding a YouTube Collaboration Partner
Although your potential collaborator will be doing the heavy lifting in terms of content creation, there is still a lot to be done behind the scenes.
1. Button Up Your Own YouTube Channel and Other Social Media Accounts
When reaching out to potential collaborators, the first thing they will want to do is check out your already existing content. So put your best foot forward and make sure your company's YouTube channel and other social media sites are up to date! Don't worry if you don't have a ton of content to fill – as long as there is a solid foundation to build on.
2. Set a Budget for the Video
Many influencers use these collaborations as a form of income – even micro influencers. So be prepared to pay a fee for the content you're looking for. 
Here's a general outline of what you should expect to pay depending on the creator's popularity.
Nano-influencers (1 – 10k subscribers): $200 

Micro-influencers (10k – 1000k subscribers): $200-$1,000

Mid-Tier Influencers (100k – 500k subscribers): $1,000-$10,000

Macro Influencers (500k – 1 million subscribers): $10,000-$20,000

Mega-influencers (1m+ subscribers): $20,000+ 
Make sure you're reaching out to influencers who fall within your budget and remember other fees may apply. Note that these are general guidelines, and if you are working directly with a creator, you'll need to understand their requirements and fees. 
3. Find Influencers to Collaborate With
This may seem like the most daunting task of all – but influencers are everywhere. You just have to know where to look! 

Search YouTube for keywords and terms relevant to apartment searches and multifamily marketing. Check out what kind of content is being created and how it might fit within your brand. You can also check out YouCollab, an IOS app that helps you connect with YouTube creators for possible collaborations.
While searching for your next video collaborator, ask yourself a few questions to make sure each creator is the right fit:
Are they relevant to your brand? What kind of content have they produced in the past that aligns with your goals?

Do they produce quality content?

Can their content reach across other social media platforms?

Is their audience engaged?

Are they within budget?
Before pressing send on that DM to a creator – do your homework! Watch their content and engage with them. That way, when you reach out, you have a thoughtful pitch to collaborate. It's like chatting with a friend; build a partnership that encourages creative collaboration that feels authentic to both brands, while checking the necessary boxes for your community and vision. 
Here's an example of a brief content guideline your collaboration partner should emphasize in their content:
Establish an overall theme and goal for the video. Include any details they should hit, but have them focus on no more than three major points.
Set a minimum length for your video (and maximum length if that is important for your strategy)

Establish the style of your video. Are you looking for a friendly Q&A, or a professional, informative review? All videos should have a personality behind it, but it should always align with your marketing strategy and company goals. 

Make sure the collaborator talks briefly about your company in the video intro and outgoing message. 
Include the following in the video description:

The name of your business

Your first and last name

Phone number

Email address

Link to your website
Remember, this is a collaboration and it should feel authentic – so don't try to script the video for the creator. Just provide the most important points and let them loose.
Now that your social media channels are buttoned up, let's put them to good use. 

By promoting collaborative content on your own social media, you are not only helping the creator get more views and potential followers, you are now opening your channels up to your creator's followers and searches. It's a win-win!
Never Run Out of Apartment Marketing Ideas for YouTube Again
As you can see, there are so many YouTube video ideas you can work with to flood your apartments with prospective residents. These videos don't have to be directly promoting your apartments. Build trust and authority so that when it comes time to sign a lease, viewers contact you first.

And by the way, there are tons of ways you can use social media to generate a steady stream of tours and leases. We're quite good at many of them, so reach out to us if you want us to take care of the heavy lifting.