Considering how much effort we usually spend trying to fill them up, it's a pleasant change.
Today, an established property barely has to put up a sign and potential residents are beating down the door, cash in hand. We're seeing historically high occupancy rates across the board – with higher rents, too. It's the good times.
If we're lucky, it'll last. If we're not? Well.
The question is if you want to be lucky… or to be sure. Because we've just introduced a new feature to ResMate that essentially lets you take today's property demand and put it in your back pocket. To be used when the outlook might not be so rosy.
Of course, like all things ResMate, it's completely automated.
Introducing: Waitlist – Reserve Your Best Leads And Keep Occupancy Rates Sky-High.
What happens when your occupancy is at 100% and a great prospect asks about an apartment?
You lose them. They move on with their search and choose another location, even though your offering might've perfectly hit all their boxes. In fact, you usually don't even get their contact info.
Yet there is probably a good 2-6 months after that initial inquiry that they are still a hot prospect should your property come on the market. Most management companies can't take advantage of that window.
With ResMate, now you can.
With our AI assistant's new waitlist feature, prospects are automatically asked whether they want to be notified should their targeted property have a vacancy. That means the next time you have an opening for your properties, you have the perfect list of high-interest leads waiting to hear from you.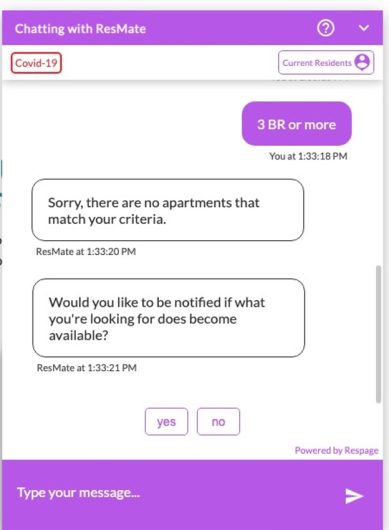 Here's Exactly How Waitlist Works.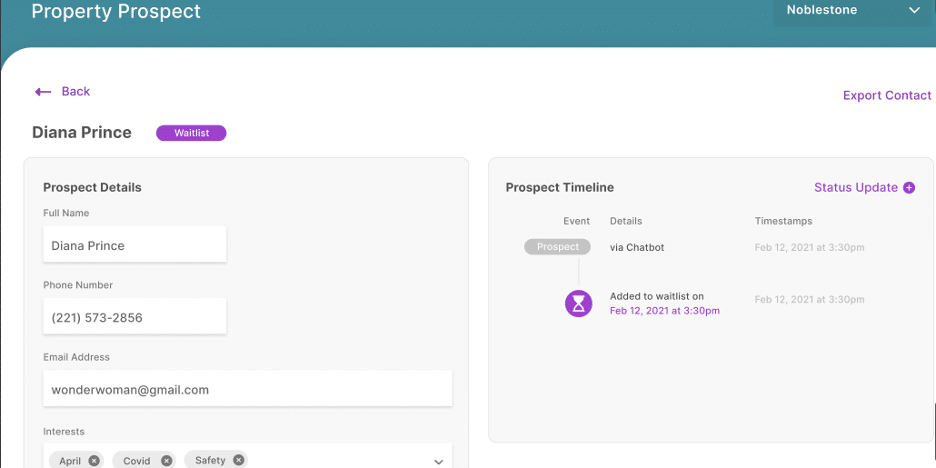 Once a prospect inquires about properties fitting their desired criteria via chat or email, ResMate will search your database for a match and check for vacancies.
If there is an opening ResMate will then recommend that property.
If there isn't, Waitlist kicks in. ResMate will inform the prospect that the property is already filled and ask them if they want to be put onto a Waitlist. Should they agree, they'll get a notification email and be added to an exportable database for that particular property.
The moment ResMate is notified of a vacancy, it'll send out emails to all the people that signed up and ask them to tour.
It's that simple. No work on your end – just a bunch of re-engaged leads ready to move in (and keep your occupancy rate high).
Every six weeks, ResMate will also ask potential residents whether they want to stay on the Waitlist. As prospects periodically find places to rent, some will no longer be valid leads. As such, this ensures your list of prospects is clean and still actively looking for a place to stay, keeping you from wasting time on uninterested prospects.
Insulate Yourself Against Uncertainty By Taking Advantage Of High Demand Periods With Waitlist.
There are always going to be "up" times and "down" times. Today the sun is shining, birds are singing, and demand is sky-high. But what about tomorrow?
ResMate boosts the value of each lead you get from your marketing and helps you take advantage of a group of prospects that is usually lost to you for good.
We're always trying to cut the tedium and manual upkeep from your leasing process, while making your leasing team better able to focus on what's important. ResMate's new Waitlist feature is an absolute gamechanger for high-occupancy properties and minimizes the time your units stay empty.
Want to learn more about ResMate and Waitlist? Click the button below to sign up for a no-obligation demo and experience full leasing automation.