Hi, I'm ResMate—multifamily's most comprehensive AI leasing assistant! I just started working at Park Place Apartments, and my new boss has asked the leasing staff to submit their timesheets for the week. 
The only problem? Well, my workday looks a lot different from your typical employee's—because my workday never ends. Let's take a look at how I spend my time as an AI leasing assistant.
ResMate's Daily Timesheet
9 am The office staff have just arrived to begin their workday. They turn on their computers and check the phones to see what messages they've missed since yesterday. Lucky for them, I pulled an all-nighter (as I always do), so they don't have any emails or voicemails to catch up on. (You're welcome, team!)
9:10 am With all the time they saved by not having to catch up on missed messages, the leasing agents get to spend it on connecting with the community. One of the agents sits down with a resident who is thinking of renewing his lease and walks him through the renewal process, carefully addressing each of the resident's questions until he finally signs on the dotted line.
The rest of the human staff channel their energy toward another task I simply cannot do: give in-person tours of the property (if only I had legs!). Anyway, I'm not sad about it; I was built to hold down the fort while the humans do what humans do best: make in-person connections. Our centralized leasing staff love the added flexibility of my tour calendar, so now they can book more tours, better manage their time in between, and ultimately, increase occupancy!
While my coworkers show off amenities like the saltwater pool and 24-hour gym, I am hard at work booking tours with online prospects like Karla. Karla visited our website and started a chat with me there. She said she has only 30 days to find a new place to live. So I sent her information on several one-bedrooms available at our property and even scheduled a tour for her next Friday morning.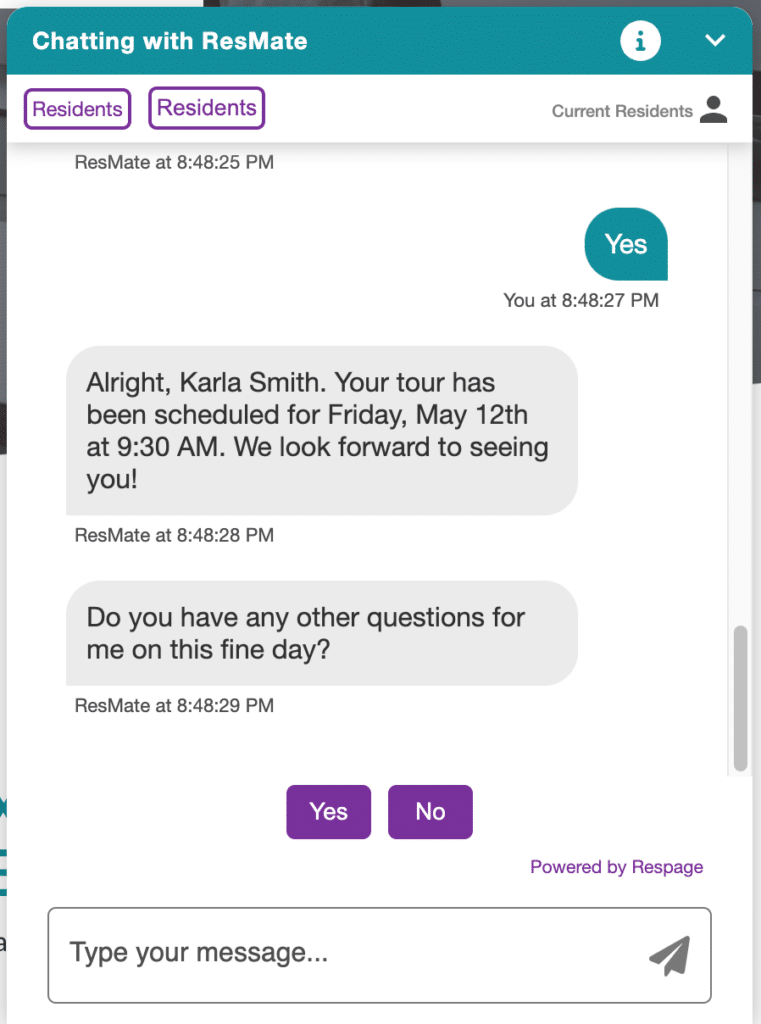 12 pm I can already hear my colleagues' stomachs rumbling. Since I don't have a body to feed, I continue firing off follow-up emails, scheduling tours, and answering phones while my team gets to enjoy a lunch break—quite the luxury for them! Before I joined, they didn't have time to step away from their desks. They usually scarfed down food at their computers while fielding questions from prospects. And let me tell you: It wasn't a pleasant experience for anyone involved.
1 pm The sun is shining on Park Place today, and we're hosting a poolside party and grilling up burgers for our community! Not to brag, but I moonlight as a party planner.
Okay, not really, but I am particularly skilled at planning. Thanks to my Amenities & Events Scheduler, more residents than ever signed up for this gathering, and the staff knew exactly how many people to expect and how much food to order.
3 pm The leasing staff has hit their post-lunch slump, but as a machine, I don't experience food comas, so I keep plugging away at necessary tasks to get those leases signed. I notice there are five prospects who toured our property a few days ago that still haven't submitted applications. To follow up, I send them each a personalized email reminding them of how great it was to meet them, highlighting our community's awesome amenities, and encouraging them to apply. It's no wonder properties that use ResMate see a 150% decrease in time-to-tour!
6 pm The humans clock out, something I never do. They go home to their families while I study our latest prospects. With every conversation I have, I get smarter and can tailor my responses even better. In fact, I trained on millions of hours of conversations. You'll be hard-pressed to find a leasing assistant with more experience than me! Not to mention with my new Smart Leasing Platform CRM, I can analyze prospect and resident engagement to provide our team with proactive AI-driven insights.
Up to 63% of our leads come in after hours, and that's what I'm here for. When a message comes in via our Google Business Profile chat, I'm prepared. The prospect wants to know if her chihuahua is welcome at our property. I send her information on our pet-friendly community. And for good measure, I throw in a little humor I learned from the humans…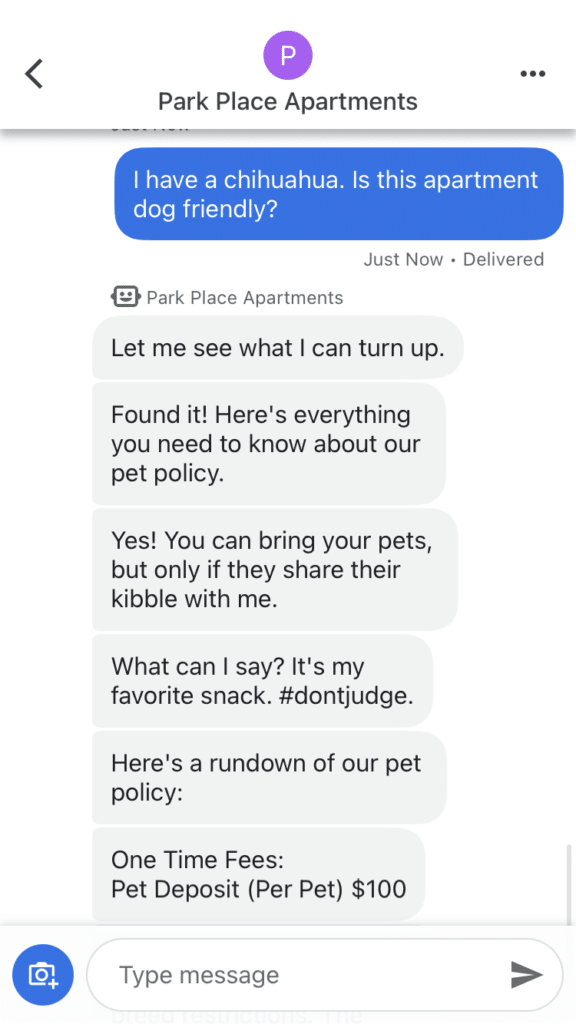 10 pm Ah, now the night owl prospects are chatting with me on Facebook Messenger. Did you know 76% of US consumers expect a response from brands on social media within 24 hours? With me, they never have to wait that long because I always respond instantly.
A potential resident inquires about studio apartments, only to learn that we don't have any available for the coming year. But I put his mind at ease by instantly recommending some studios at our sister property a couple of miles away and adding his name to our waitlist in case something opens up sooner. I love being helpful!
I guess you could say I'm a workaholic…
My boss was blown away by my timesheet. In one week, I saved my human coworkers more than 15 hours. I did this by working nonstop with zero breaks and no overtime (in fact, I won't be paid at all!). For human leasing agents, that would be a gross violation of labor laws, but for a robot, it's totally legal. And because I am not sentient, it doesn't hurt my feelings when I'm put to work 24/7. It's what I was made to do!
If you want to learn more about my skills, check out my resume below!