If you could hire a social media assistant for your property tomorrow, what would the job description look like?

They'd have to be familiar with multifamily, of course. And have the creative capabilities to brainstorm campaign ideas. They would need to understand your brand, your community, and your audience. Oh, and be willing to work for no salary (who has the budget?).

Respage's new AI Social Post feature operates like your own social media assistant, powered by the same AI technology that brought you multifamily's most comprehensive AI leasing assistant, ResMate. 

With help from ResMate's conversation data, the new AI Social Post feature creates social media posts that are specifically tailored to prospect behavior and preferences. It analyzes hundreds of AI chat conversations from your community to craft targeted and engaging content based on what matters most to your prospects. 

Your AI social assistant will compose five drafts per week based on recent conversations with prospects. For example, on a warm week in April, your community might see an uptick in questions about the community pool. Your AI social assistant will respond to that new trend by creating social media content about the pool and other popular topics from the last few weeks. 

Yes, you did that math right. That's 20 posts per month, custom created specifically for your community. 

The best part? No risk of this assistant going rogue and posting something you don't want out there. AI Social Posts are sent directly to your property Social Management dashboard under 'AI Drafts' so your team can review, and revise before scheduling. You also have the ability to further customize the AI posts by changing the image, updating the copy, or adding hashtags.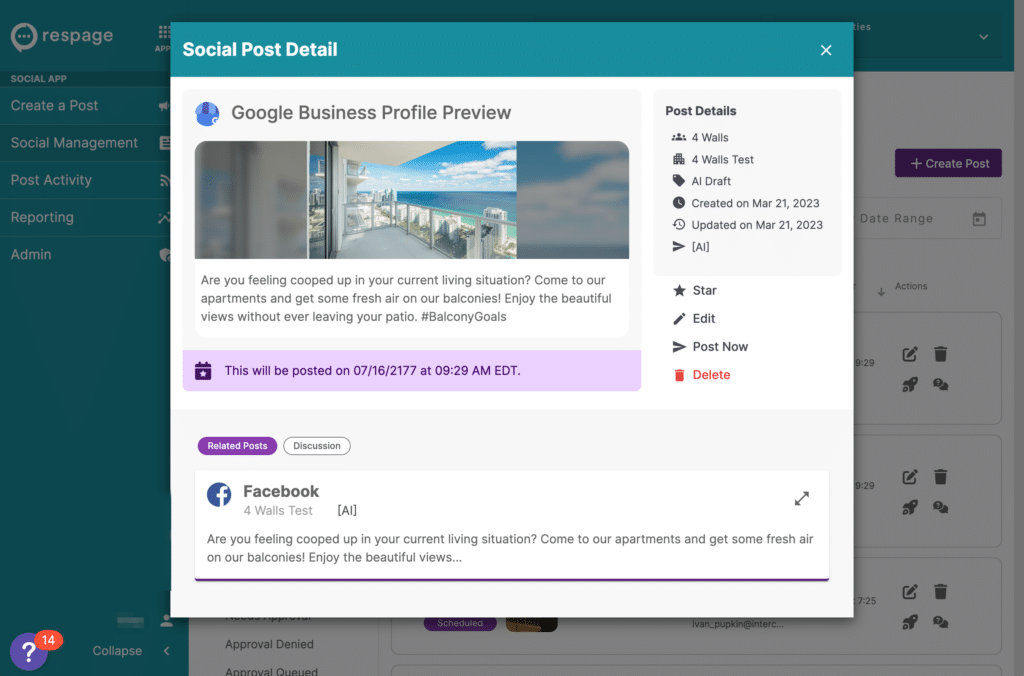 Multifamily AI social assistant job responsibilities
Analyze data from hundreds of chatbot conversations

Draft 5 social posts per week based on frequently asked questions and prospect inquiries (20 posts per month)

Submit drafts to property team for final approval
Generate social ideas and fill your calendar with data-driven content
Learning what your audience wants to see on your social media channels can be tricky. And without the right data, it can be a lot of trial and error. But by hiring an AI social assistant whose only job is to create custom content, you can be sure your social media feeds are tailored to the right audience. Not to mention the time it will save your team from having to create social content each week. 
Respage AI Social Posts will bring your property better content (with fewer headaches), that will resonate with your prospects.  
Interested in seeing ResMate and AI Social Posts in action? Click the button below to learn more.  
P.S. If you're already a ResMate user, message us to find out how you can upgrade for access to AI Social Posts.