For leasing agents, there's never enough time in the day. Between replying to emails, giving tours, and signing leases, it's tough to squeeze in a lunch break, let alone play catch-up on the phone calls they missed after hours.

In 2023, 76% of global business leaders plan to increase their investments in AI, according to a Deloitte survey. If you want to get ahead in this changing world and turbulent economy, now is the time to research how your multifamily business might benefit from this technology. 

But what if you could delegate tasks like answering phones to the perfect leasing assistant, one who works round-the-clock and never takes a break or misses a call? Of course, this is impossible for any human, but with an AI leasing assistant, it's a reality for many multifamily properties.

So how can an AI leasing assistant improve the experience of both renters and leasing agents alike? We'll show you ten ways below. But first, let's go over a definition.
What is an AI leasing assistant?
Think Alexa or ChatGPT, but tailored to the multifamily industry.

An AI leasing assistant—also known as an AI leasing agent or virtual leasing agent—uses the power of machines to mimic human behavior and automate tasks such as answering prospects' questions, booking tours, and sending follow-ups, which saves your human leasing agents time and energy. 

If this technology sounds complicated to deploy, it really isn't. When you work with the right company, they'll help you seamlessly integrate their AI leasing assistant with your existing CRM and property management software. It's pretty much all done for you.

For many, artificial intelligence still conjures up memories of limited chatbots with awkward, unhelpful answers and fears of robots replacing humans. That's understandable, but it's a misunderstanding of what an AI leasing assistant is capable of these days.
What does an AI leasing assistant look like? It can look like this:
A small chat box in the lower corner of your property's website that instantly answers questions from web visitors.

Automated emails reminding prospective tenants about their upcoming apartment tour.

A friendly automated voice that answers the phone after hours and is able to have a human-like conversation with callers.

Far from clunky or intrusive, today's AI leasing assistants create a seamless lead-to-lease experience for both renters and staff. Let's take a look at specific examples of what this tech solution is capable of.
10 ways an AI leasing assistant can improve the resident experience, and lend a hand to your leasing agents
1. Set it up to instantly reply to queries across channels.
Think of all the different channels prospects use to reach out to your business—and how few leasing agents are on the clock at any given moment to answer them. Instead of overwhelming your staff, take advantage of an AI leasing assistant's ability to instantly respond to inquiries across all channels.
For example, ResMate answers prospective tenants through six different channels: email, chat, text, phone, Google Business Profile chat, and ILS. 

If you're worried prospects won't like chatting with an AI, a Tidio survey found that 62% of customers actually prefer talking to a chatbot over a human agent. 
And unlike human agents, an AI leasing agent never burns out.
2. Integrate an AI leasing assistant with Google Business Profile chat.
Google Business Profile (GBP) is growing in popularity among prospective customers, so much so that it's considered an extension of social media. What's great about it is that you can chat with prospects in real time right through Google Maps, reaching potential residents before they even hit your community website. But what's not-so-great is that if you don't respond quickly enough, Google could deactivate your chat capabilities.
An easy way around that is to integrate your AI leasing assistant with GBP. This guarantees instant and helpful replies, no matter the day or time.
3. Access a goldmine of data to inform your decisions.
Through day-to-day interactions with residents and prospects, your human leasing agents gather a lot of knowledge that's tough to truly organize, centralize, and share. The beauty of using an AI chatbot is that it collects this data and makes it easy for you to access and mine for insights.

For instance, let's say you see that a majority of queries are related to your pet policy. You might then decide that you'll publish more social media and blog content about your pet-friendly property since that information is in high demand with your audience.

You can see all interactions, conversations, leads, tours, and applications your AI leasing assistant generated within the Respage platform.
4. Centralize leasing with one calendar to schedule tours across all properties.
Yep, an AI leasing assistant like ResMate is smart enough to offer a Centralized Leasing calendar. With it, you get a bird's eye view of scheduled tours at every property. You can even create "buffers" to account for travel time between sites.

Centralized leasing, whether it's having one central physical office or eliminating more tedious tasks with automation, the goal remains the same. Every centralization model aims to enhance the leasing experience for both prospects and agents by providing better customer service, whether through a centralized team, or enhanced automation.
5. Customize the AI leasing assistant to fit your properties' needs.
The right AI leasing assistant is a plug-and-play solution that makes it easy to customize. You can plug in your own custom responses, change colors, and upload community images, floorplans, and virtual tours. It's your AI assistant, after all—make it reflect your brand!

With ResMate you can even name your community chatbot anything you want.
6. Sign more leases at sister properties by activating cross-selling.
Sometimes the property a prospect is initially interested in doesn't have any available units. Instead of losing that lead, activate cross-selling, and your AI leasing assistant will suggest the prospect tour sister properties that fit their needs.
7. Enable the waitlist feature.
Don't miss out on potential tenants just because your property doesn't have availability at the moment. An AI leasing assistant can collect the prospects' contact information, add them to a waitlist, and automatically notify them as soon as there's an opening.
8. Regional managers: Use an AI leasing assistant across all properties to get consistent data and reporting.
View charts, trend data, and download reports on demand. Or, schedule reports to send regularly. Your job will be so much easier when you can access all the information you need in one place.
9. Automate lead nurturing with follow-up emails before and after tours.
A good AI leasing assistant saves you time by reminding prospects of their apartment tours and politely nudging them afterward to submit an application.

Just look at this helpful email ResMate sends whenever someone books a tour: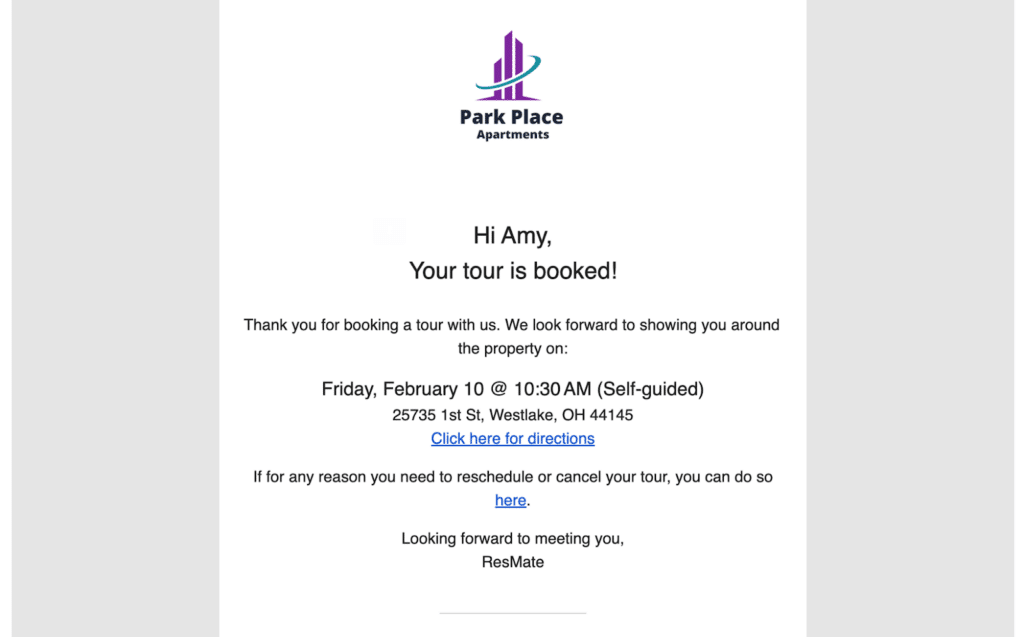 10.
Connect event and amenity scheduler so current residents can make reservations through the AI assistant.
Events and amenities play a key role in keeping residents engaged and happy. But scheduling and managing community reservations can be a hassle. Whether a tenant wants to rent the clubhouse for a baby shower or reserve the business center for an important meeting, an AI assistant can handle the details for you.
Can an AI leasing assistant replace humans? That's not what it's meant for
When it comes to AI leasing assistants, it's not an us-versus-them situation. AI is a tool. And like any good tool, the way you use it matters. You can leverage this technology to enhance the renter experience, optimize leasing agents' performance, and get more leases signed. 

Want a real-life example? Check out how The Metropolitan West Chester used AI leasing assistant ResMate to reduce its lead-to-lease time by 53%.