If you (like many others) have considered adding TikTok to your apartment social media strategy, but decided your team simply doesn't have enough time—we may have a solution.

This month, Respage has answered the call to connect your property to an audience exceeding one billion monthly active users on TikTok.

The Respage Social Platform is multifamily's only social media solution for scheduling posts across all of the most popular social media sites: Facebook, Instagram, Twitter, and now TikTok.

Plus, a more streamlined and efficient social management dashboard is available now for all Respage social users. 

Let's take a tour…
Introducing TikTok social posts in the Respage dashboard
Since its introduction a few years ago, TikTok has emerged as one of the world's most popular social networks. With more than one billion monthly users who spend an average of 90 minutes on the app each day, TikTok is a marketer's dream. 
Additionally, 60% of TikTok users are Gen Zers, making the app a prime location for apartment communities to find new renters who may not use traditional search like millennial or Gen X prospects. That's because many Gen Z users utilize TikTok as a search engine in an effort to find more authentic, catered content.  
With the addition of TikTok to the Respage Social Platform, your team can now upload and schedule TikTok videos alongside your Instagram Reels, Facebook posts, Tweets, and Google Business Profile posts. You can also use the Respage social calendar to plan and organize all of your social content, and maintain a consistent posting schedule to help your community go viral on TikTok. 
Posting a TikTok through the Respage dashboard is similar to posting to Instagram, Facebook, or Twitter. Simply navigate to 'Create a post,' select the TikTok icon, upload your video, and choose when you'd like the dashboard to schedule your post.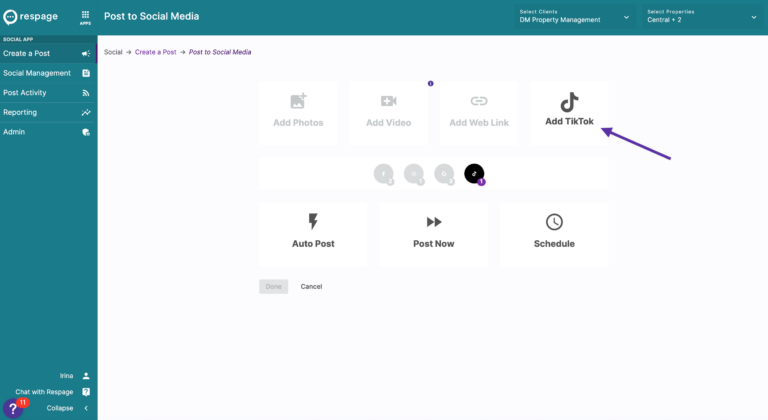 On the day your TikTok is scheduled to go live you'll receive a notification in TikTok with the option to add a caption, text overlays, or audio before clicking 'post'. This allows you to add trending sounds, hashtags, and effects to your video to increase the likelihood of going viral. 

Tip: TikTok and Instagram Reel videos can be cross posted across platforms to maximize your reach, and allows you to reuse your best content. Note, however, TikToks scheduled through the Respage dashboard cannot be longer than 60 seconds. Max video size for Instagram Reels and TikTok is 1080×1920.
The new Respage Social Management dashboard
With the addition of TikTok scheduling and the increased emphasis on social media strategy and planning, we streamlined our social dashboard to make it easier to collaborate with your team and put your best foot forward on social. 
The Respage Social Management dashboard is a new hub for planning, scheduling, and managing multifamily social media. Condensed into one easy-to-navigate page, you can now create a post, view and approve pending and scheduled content, search past posts, reply to comments, respond to Google Q&A questions, and start internal discussions with team members. 
When navigating through the new Social Management dashboard, you can select the 'All' feature, which will allow you to view posts sent through the Respage dashboard, and anything that was posted directly to your Facebook, Instagram, Twitter, and Google Business Profile. This at-a-glance view allows you to check every post across your social platforms, and view and respond to comments quickly without having to open each individual app.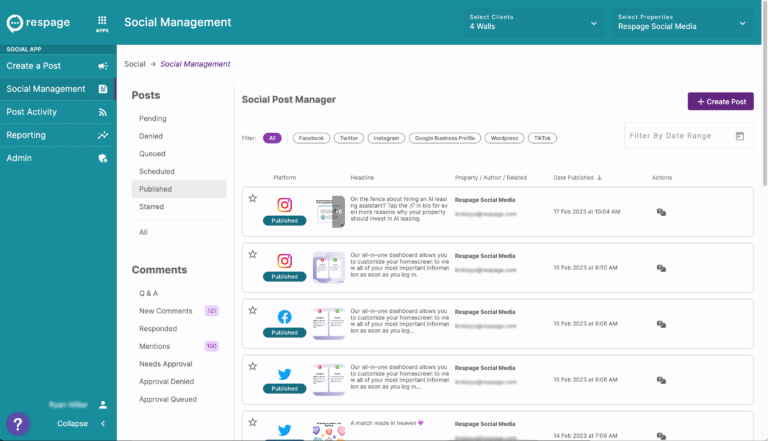 Reach more prospects and make social management easier with Respage
Our all-in-one social platform is the multifamily industry's only social solution that allows you to remotely post and schedule content to the world's most popular social media sites. Plus our streamlined dashboard makes social management and collaboration a breeze! 
If you want to reach more prospects, improve your community reputation, and increase engagement, message us to see how Respage's Social Management platform can help.