If you've logged on to the Respage dashboard recently, you might've noticed a few changes. New resources, announcements, and notifications are just a few of the new features available on the dashboard aimed to enhance your experience within the app. 

Let's take a tour of the updated Respage Resource Center and Knowledge Base:
Navigating to the Resource Center
When you log into the Respage dashboard, you'll see a purple question mark in the bottom left corner—this is how you access the Resource Center. This button remains visible throughout the app so all of your resources are available no matter where you navigate. 
You may already have a few notifications, which appear in a red circle on top of the question mark. We'll notify you of any feature updates, announcements, tips, or articles within the Resource Center so you stay up to date. 
If you click on the question mark, a small popup menu appears.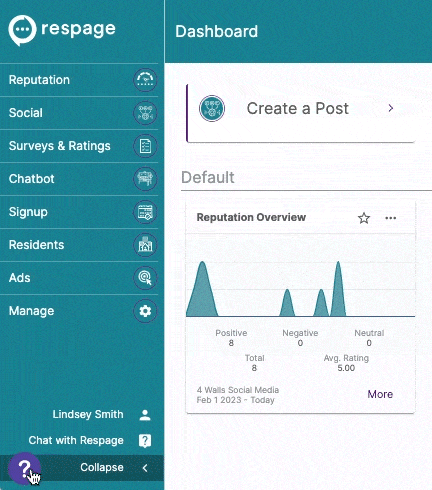 Let's dive into what you will find in the Resource Center…
Resource Center tips, articles, announcements, and Respage support at your fingertips
The first section listed in the Resource Center is reserved for Announcements, where you will find information regarding product updates, new features, bug fixes, and events. 
If you're hoping to make the most out of your Respage technology stack, keep an eye on this tab to keep up to date with all of our latest innovations. 
The next tab is the Respage Knowledge Base, which we will go over in more detail below. 
Respage blog content and a webinar library are also available through the Resource Center popup window, providing easy access to multifamily resources, tips & tricks, how-tos, video demonstrations, and more.
Introducing the interactive Knowledge Base
Within the Respage Resource Center you will find a Knowledge Base, packed with information to help maximize your dashboard, integration setup and troubleshooting, and tips to improve your apartment marketing. 

The information included in the Knowledge Base is dependent on which page you're currently viewing. For example, if you navigate to the Respage Social Calendar, you'll find information regarding social media connections, helpful tips to troubleshoot common problems, and an overview of all of the tools available within the social app. That way, if you ever have questions while working in a specific section, you have access to helpful information (or a way to contact support) without losing your place. 

When you find an article you want to read, click the 'Take me there!' button, and a new tab will open to the desired article in the knowledge base. Inside the article you'll find helpful information, plus links, visuals, and related resources.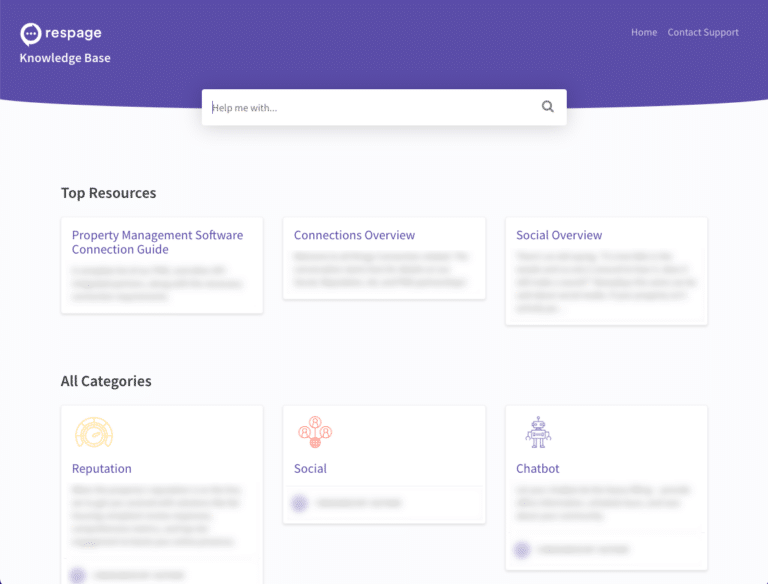 Once inside the Knowledge Base, you can search all articles, and contact support if necessary. 
More resources are on the way!
We're constantly working to improve our products and enhance the customer experience across all of our platforms—including our Resource Center and Knowledge Base! We will continue to add new articles and update existing resources to make sure you have everything you need to streamline your apartment marketing and sign more leases. 

If you have any questions or encounter a problem, reach out to our support team (or better yet, submit a ticket in the Resource Center 😉).