A wealth of information about your apartment marketing strategy is at your fingertips. In this blog post, we will discuss social media reporting tools that calculate analytics and insights, and what they can teach you about your apartment marketing efforts on social media. 
What is social media analytics?
Social media analytics, sometimes also called metrics, is data tracked by social media platforms. That data can be turned into insights that help you to understand how your content is doing.

Many social media platforms collect the same types of data, such as the number of followers you have and how many impressions your content receives. But the way the data is collected and presented to you is handled slightly differently on each platform.

Understanding how to interpret the data gathered by the reporting tools from each platform is essential if you want to know whether or not your apartment marketing efforts on social media are finding success or remaining stagnant.
What social media metrics should I track?
With all the data provided by the various social media platforms, it can become easy to get caught up in metrics that are not important to your apartment marketing goals. 

In order to track the most important metrics for your community, you should think about what your goals are for social media. What defines success for you?

Once you have a solid grasp of what you are using social media for, whether it is brand awareness or reputation, community engagement, or to boost leads and rent more apartments, you can determine exactly what metrics to track. 

Here are a few basic ones that you should be tracking to get started.
Top social media metrics to track for apartments
Followers
Your follower count is simply a measurement of how many people have chosen to follow your page. Unfortunately, you can't expect every single follower to see your content. For example, only about 10% of your followers will see your Instagram posts if they do not actively engage with your content. 

Audience Growth Rate (percentage of new followers versus total followers)

The follower growth rate is the number of new followers divided by the total number of followers you have. If this increases at a steady pace month over month, it means your content is interesting and engaging.When you are looking at your follower count, you should be more concerned with the growth rate than the total followers.

Engagement Rate (likes and comments)

Likes and comments show that people are enjoying your content. When people engage, it also shows your posts to a larger portion of your followers and increases the likelihood of your post showing up in the Newsfeed of the person who engaged with it.
This is why engagement is the number one metric that you should focus on. If you have a post with a high engagement ratio, it means that people liked it. Figure out why and create more content like that.

To determine your engagement rate, you should divide the number of likes and comments by the number of followers and multiply it by 100.

Impressions/Views
When you are looking at your metrics, you will notice that there are two different numbers provided for individual posts. One is called Post Impressions and the other is called Post Reach or Views, depending on the platform. 
Post impressions are a reflection of the number of times a person saw your post on social media. This does not account for individuals. If one person looks at your post a dozen times, the impressions will go up each time they look at it.

Post Reach
Post Reach, on the other hand, shows the number of individuals who saw your post. If someone looks at your post more than once, this number will not increase.
Impressions and reach are metrics that let you know how many people are seeing your content. They are affected by a variety of factors, such as the time of day you post, the number of followers you have, how many people interact with your content on a regular basis, and whether or not you are using hashtags.
If your number of impressions is much higher than your reach, it means that people have returned to the content more than once, which can be an indicator that they enjoyed it.

Response Rate
When a person messages you on social media, they expect you to respond. Your response rate lets you know how often these messages are getting a response and you should always aim for 100% here.
Having a high response rate will let future residents know that you are involved, and will be available to answer all of their questions and address their concerns.

Response Time
Not only do people expect you to respond to messages on social media, they expect you to do so quickly. Your response time is a metric that measures how quickly you respond on average to customers.
Your response rate and time are not tracked by all platforms, this is primarily a Facebook and Instagram metric.

Conversions
Conversions cannot be tracked directly on your social media platforms using reporting tools as an apartment community manager can. However, this is a metric you should be tracking to determine how your marketing efforts are doing.
Something as simple as asking people where they found you, or what prompted them to schedule a tour will help you to know if your social media marketing efforts are getting noticed by future residents.

Click-Through Rate
This metric shows when your content encouraged people to take an action, and is a good measure of whether or not you are generating real interest. Whether you are trying to get people to visit your blog, or book a showing of an open apartment, the click-through rate lets you know if the offer is interesting to your followers.
If your click-through rate is low, the hook on your post probably isn't enticing enough.

Cost-Per-Click
This metric is specifically related to ads and measures how much it costs you for every person that clicks on the link in your ad. If you are advertising on social media, you want this to be low enough that you are not wasting your money on advertising.
A high cost means that people are not interested in the ad you have created. If this is the case, you should revise the content or your targeted audience and try again.
Are there metrics beyond social media that I should follow?
Yes! Your Google Business Profile provides slightly different analytics than the other platforms mentioned above, but GBP metrics are equally important to track if you want to see sustained growth. 

Your Google Business Profile focuses on how many people have searched for your apartment community, and what devices they used to find you. Google also lets you know what search terms were used to find your community so you can make sure your SEO is properly optimized.

Additionally, Google provides data on what actions people took after searching for your community. If you aren't prompting visitors to take the actions you would like them to take, you can use this information to edit your listing and encourage more calls and visits.
How can I look at all of my Social Media Metrics in one dashboard?
Tracking social media analytics can be difficult if you hope to compare numbers across different platforms. Thankfully, there are tools that can help make it easier!

The Respage Social Insights report collects your metrics from across Facebook, Instagram and even your Google Business Profile, and organizes them into one easy-to-navigate dashboard. The insights report allows you to monitor your social stats and performance metrics in a single location without having to log into each platform. You can choose to view each channel individually, or view them all in real time to compare success across multiple platforms. 

Websites like Buffer and Hootsuite provide a social insights dashboard for a monthly fee, but you'll miss out on the opportunity to work with Multifamily Social Media experts to discuss your property marketing goals and increase engagement.

If you're on a budget and want a general sense of how your marketing efforts are adding up, Hootsuite's free package is the way to go. The Hootsuite reporting dashboard offers basic analytics at no cost, where you can view your follower count and an overview of your engagements. Upgrading to the professional dashboard unlocks more features in real time, but for a higher price tag. 

Buffer is better for the data nerd. While there is no free version of an analytics report from Buffer, business plans that include a CSV download and in-depth analysis are cheaper in comparison to Hootsuite's higher-end subscriptions. 
How to find your apartment's Facebook insights
Accessing your page
Log into Facebook

Click on the upside-down triangle in the top right-hand corner of your home page.

Navigate to Switch Profile.

Choose the profile you wish to manage.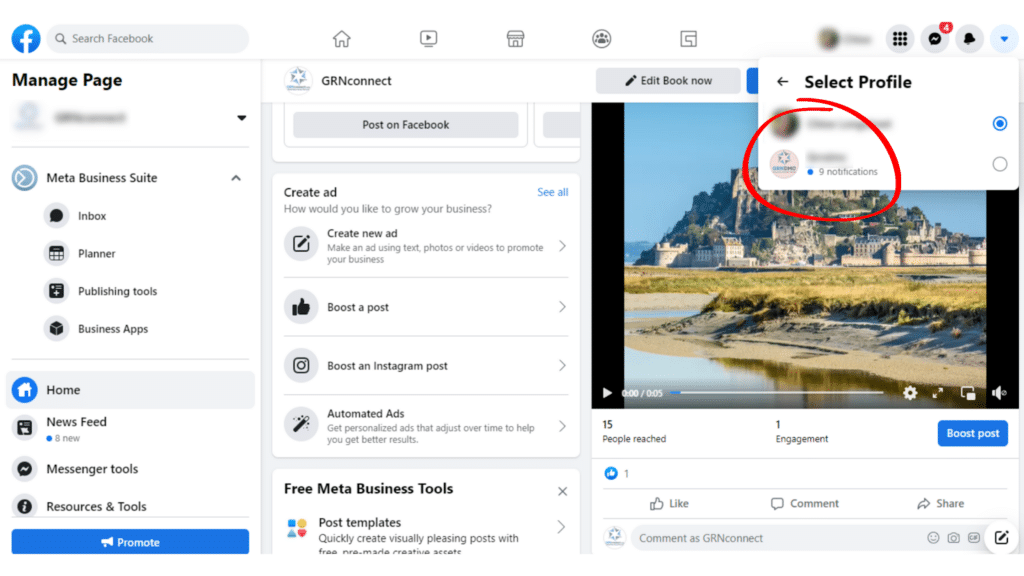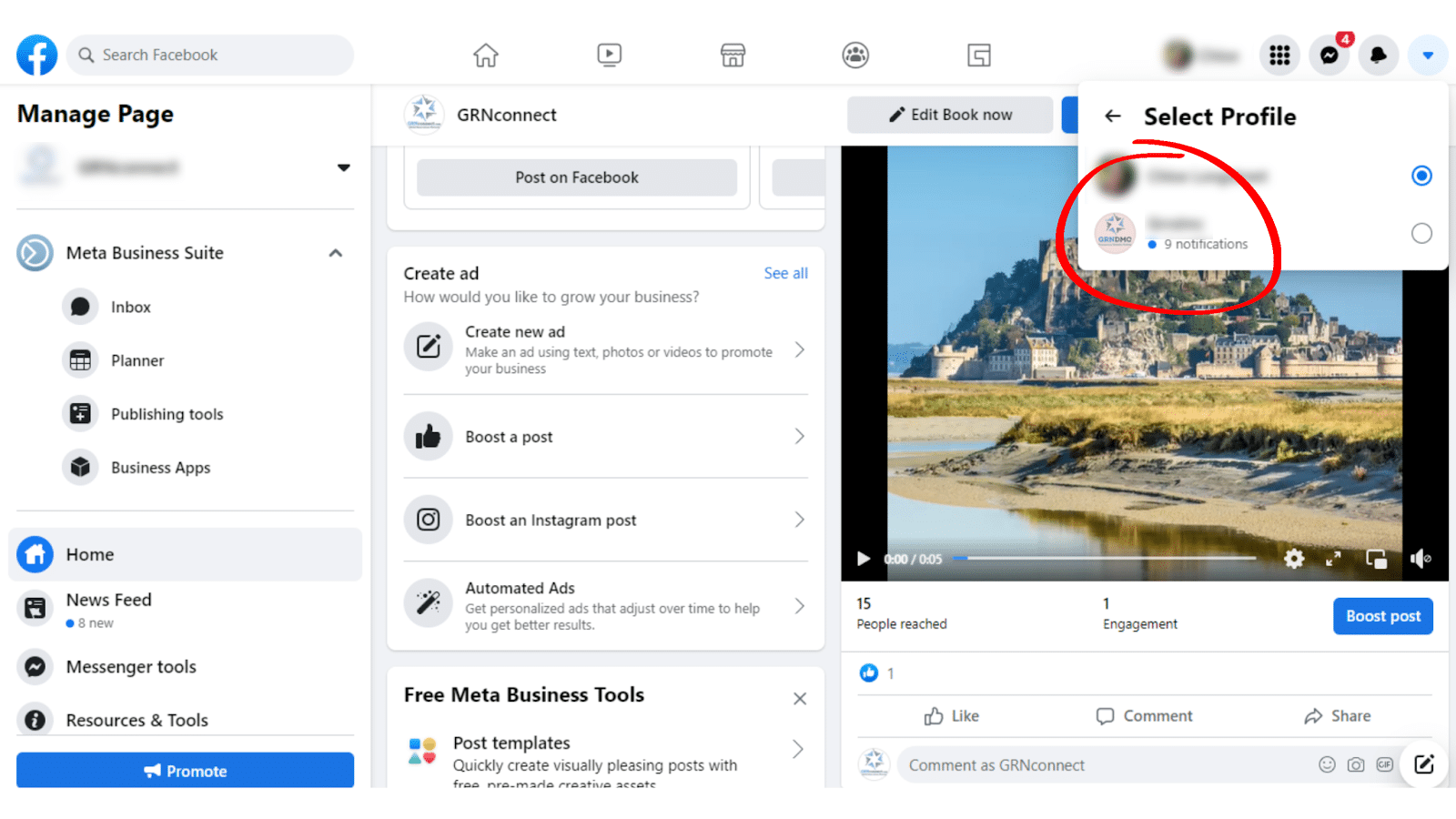 You can also access your page using the Pages option on the left-hand menu, but when you switch into the profile, it looks different and the way you interact with people and pages on the platform will look different as well.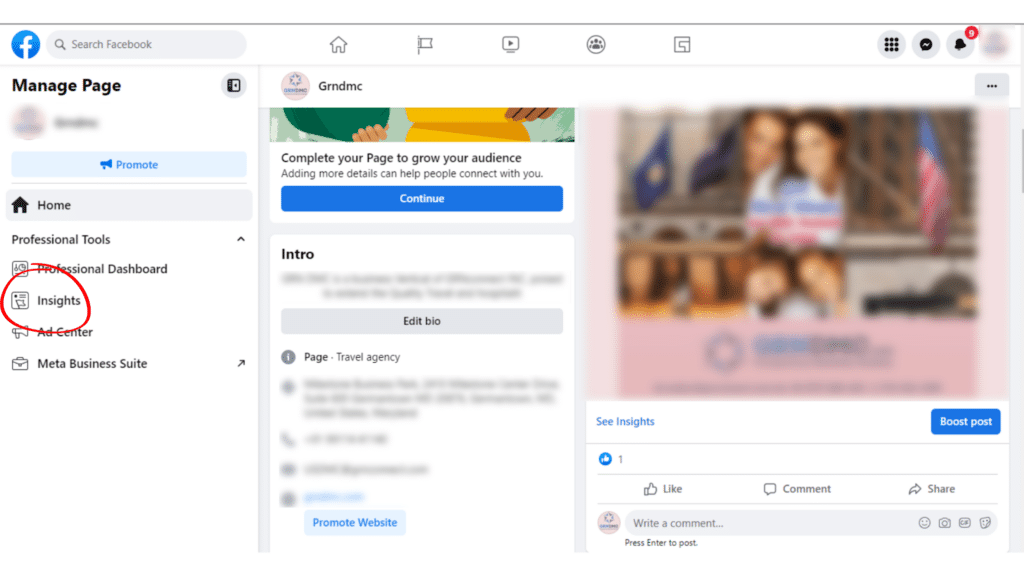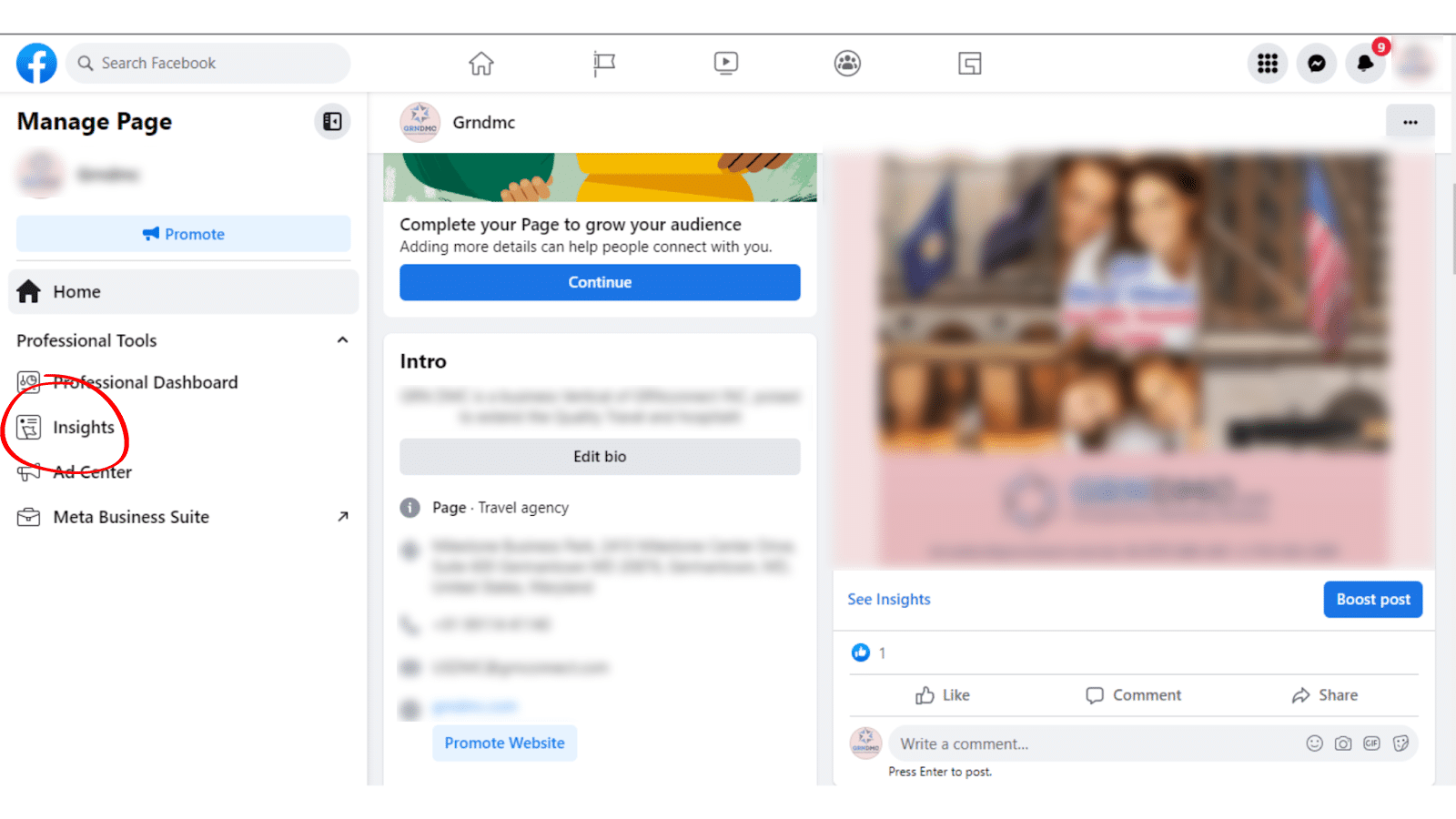 Like the old Pages experience, you can still look at the Insights available on a post-by-post basis. But it will look a little different if you have the new experience.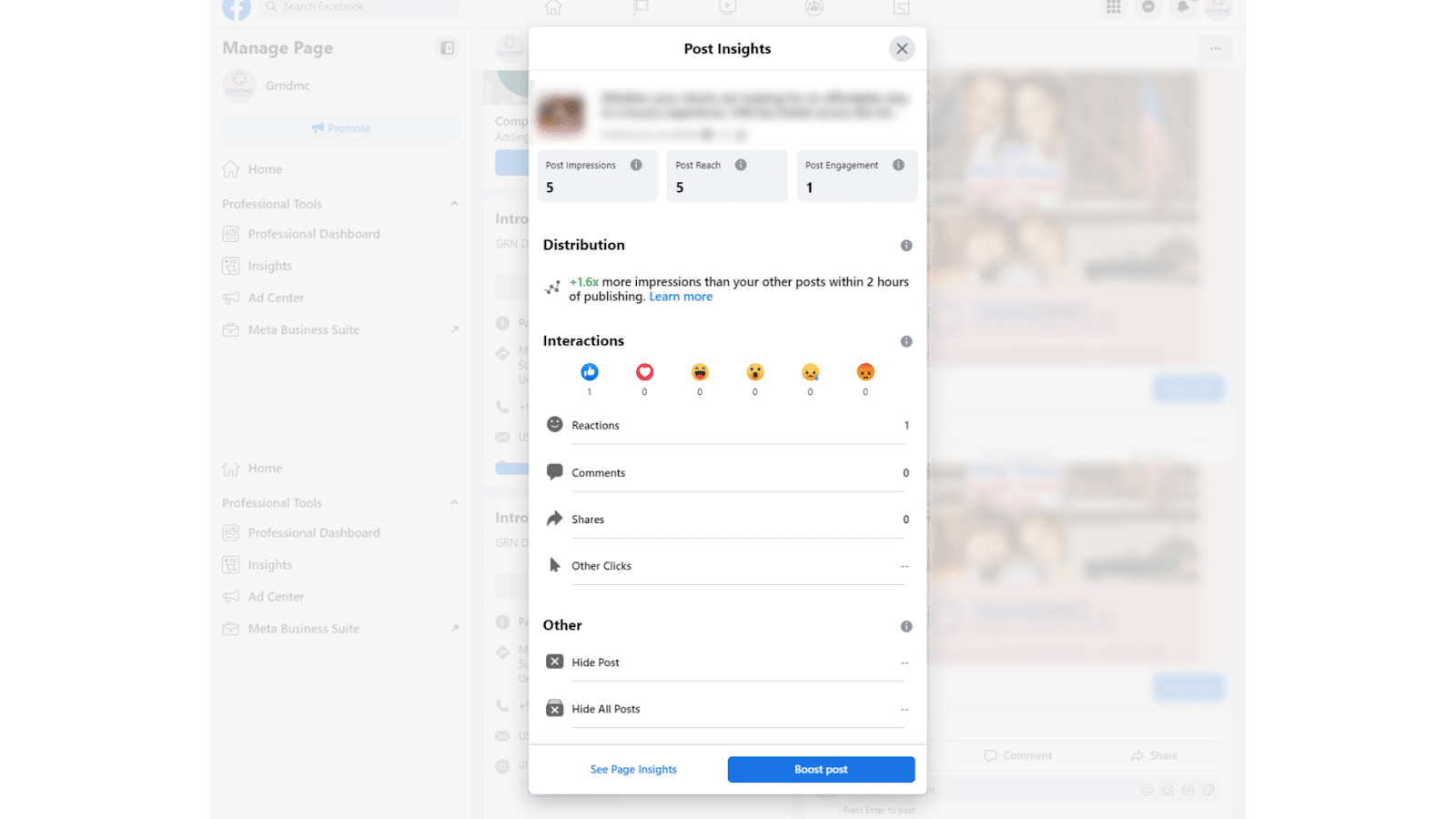 You also can access the Meta Business Suite on the right-hand menu from your Page to view your metrics.
Unlike the old Pages experience, you can also access your insights via the Professional Dashboard.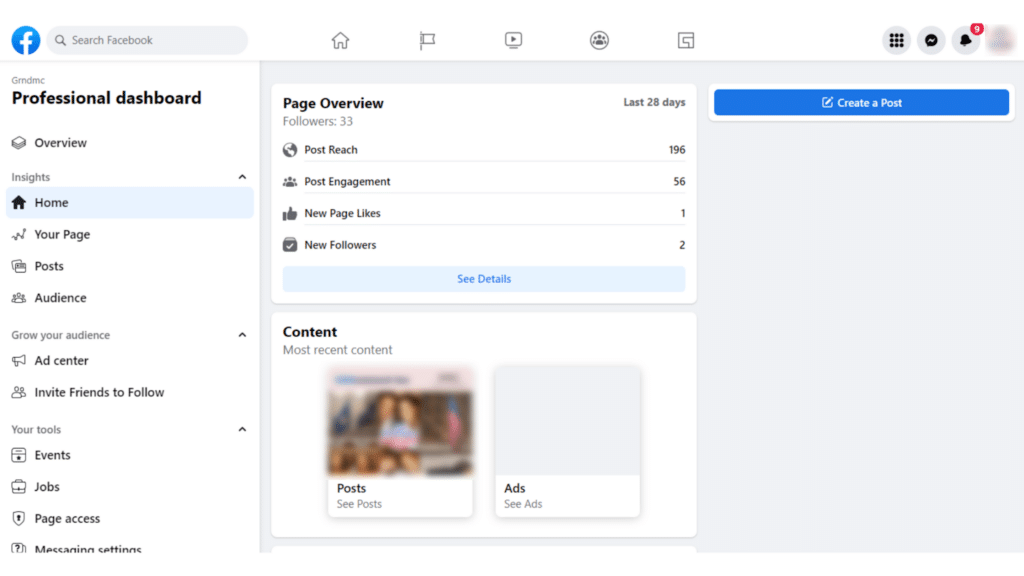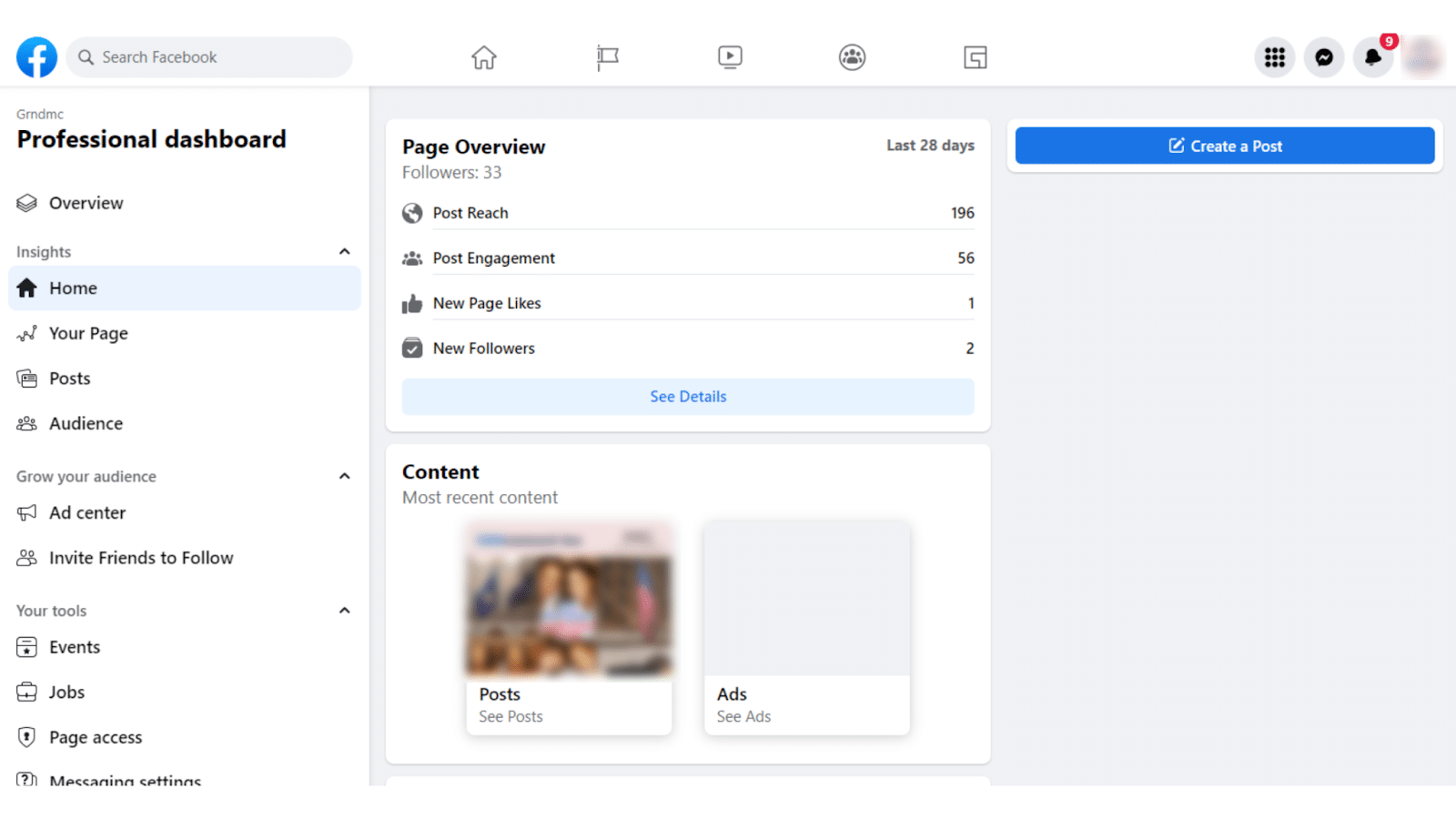 When you click on Professional Dashboard on the right-hand menu, it will bring you to an Overview Page. From here you can navigate to the various Insights offered.
Additionally, you can go directly to your Page's Insights from the right-hand menu.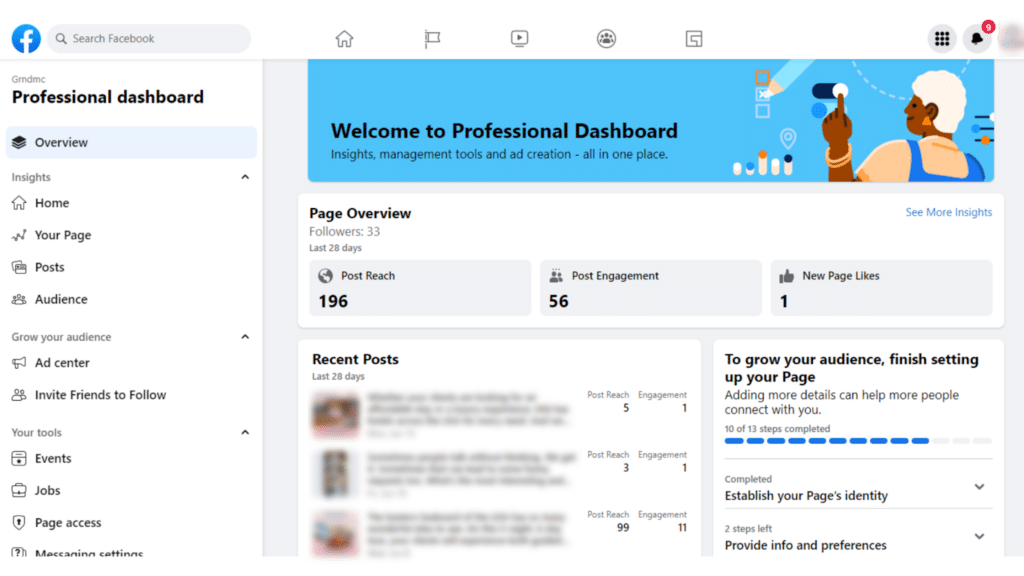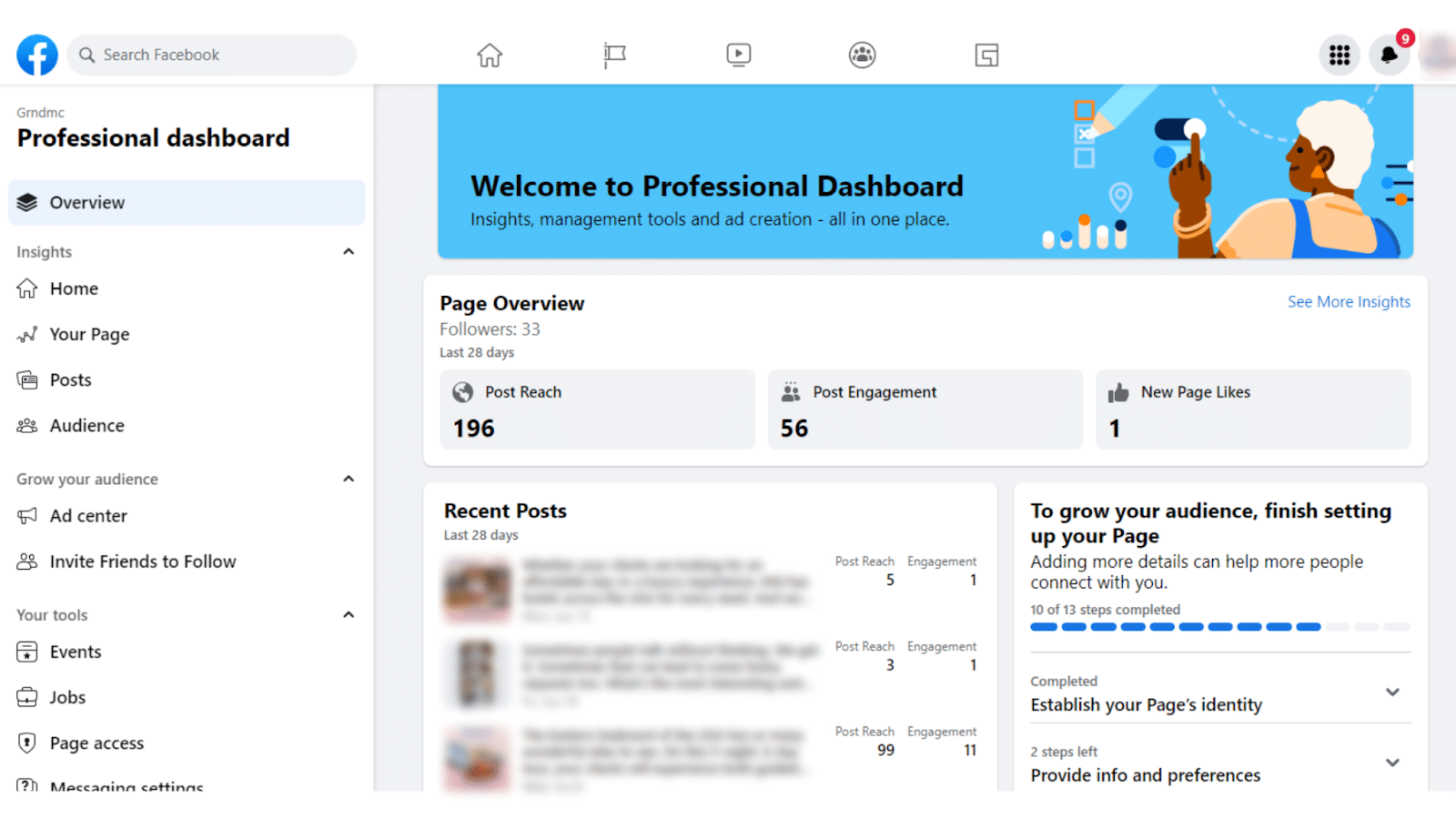 How to find your apartment's Instagram insights
Just like Facebook, Instagram also has a few different options that you can use to access your metrics and gather insights on your marketing efforts. 
Accessing individual post metrics
If you simply want to review individual posts, you can do it from your desktop by logging into Instagram.com or from the app on your phone. To review post metrics on your desktop, complete the following steps.
Log into Instagram


Click on your profile icon in the top right-hand corner and navigate to Profile.

Open the post you want to analyze.

Click view insights.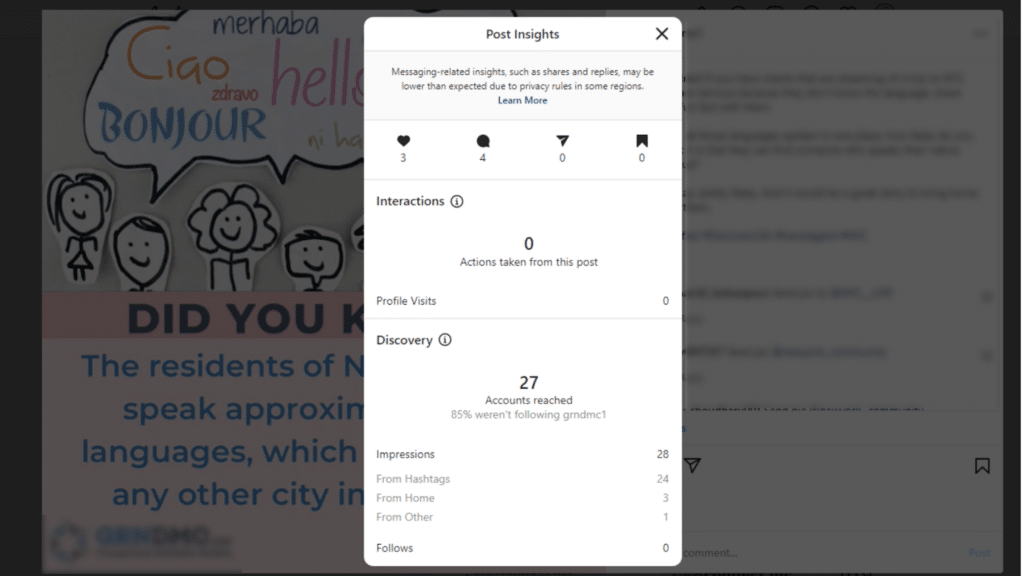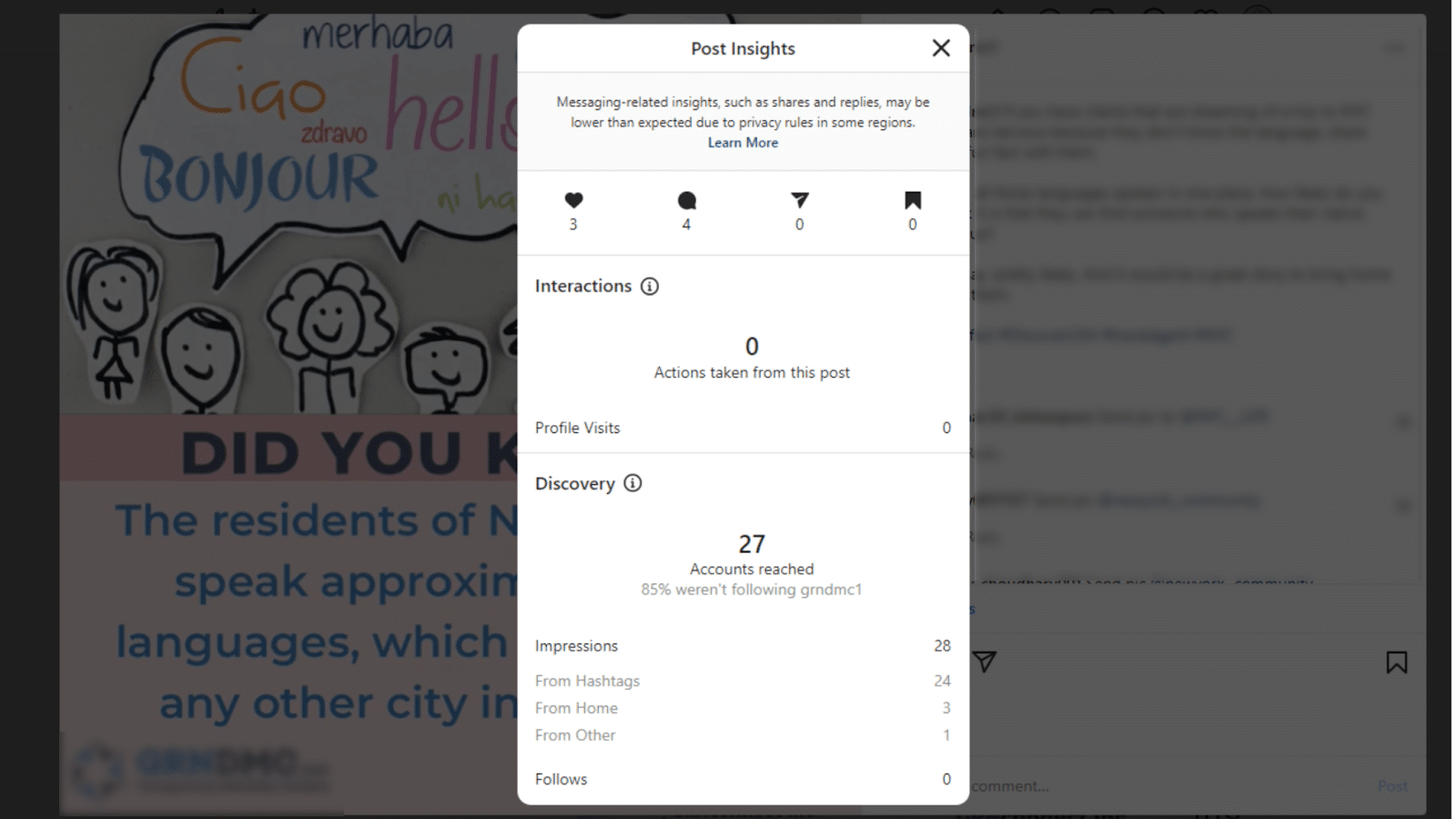 If you want to access insights on a post-by-post basis from the app on your phone, start by opening the app. 
Click on the profile icon in the bottom-right corner.

Click on the post you want to analyze.

Click the View Insights link at the bottom of the post.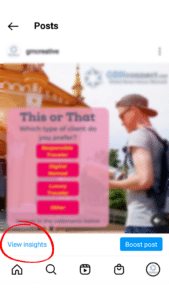 Accessing Insights via the app
If you are using the Instagram App, you can access insights about the overall performance of your account in two ways. This feature is not available on Instagram's desktop.
Open your app.

Navigate to your profile by clicking the icon in the bottom-right corner.

Click on Professional Dashboard

Click See all next to the Account Insights headline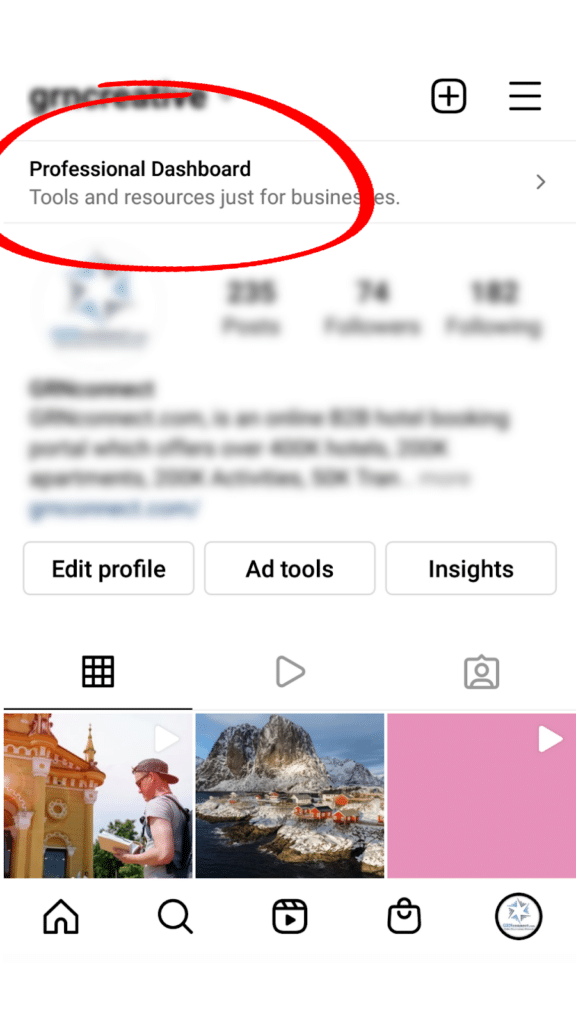 How to find your apartment's TikTok insights
To access your TikTok Analytics, you must first enable them. This can be done by switching to a Business Account or activating the analytics tool via the app.
Once you have done that, you can view your analytics via the app or your desktop.
Via the App
Open the app and click on the three lines in the top right-hand corner.

Click on Creator Tools.

Open your Analytics.
Via desktop

Open TikTok and hover over your profile icon in the top right-hand corner.

Click on View Analytics.


How to find your apartment's Google Business Profile insights
You can access your Google Business Profile by logging in to your account at google.com/business, or simply searching the name of your apartment community on Google. If you have not already claimed your profile, you can do so by scrolling down after you search and clicking the link that says, "Own this business?"
Then click on the Manage Now button and follow the steps.
Once your business is claimed, you can review your analytics from your mobile device or PC. Unlike the platforms discussed earlier, the process is the same to access your Google Business Profile performance from either device.
Search for your apartment community on Google.

Click where it says how many views your business received this month at the top of the page.

Review your analytics.
Marketing analytics at your fingertips
Marketing on social media can be frustrating – especially if you're not seeing the results you want in a timely manner. By tracking your social media analytics, you can begin analyzing what is working for your community, and where you can shift your resources for better results. 

Click the link below to chat with one of our social media experts about your apartment marketing strategy and how you can start seeing improving your social media metrics today!