One of the worst feelings any social media manager will experience is crickets. You know what I'm talking about.
You work hard on what you know is a brilliant piece of content. When it comes time to post it, you hit refresh every few seconds waiting for the likes to roll in.
But then nothing happens.
What did you do wrong? What happened?
The truth is that no matter how brilliant your post is, you're not going to get worthwhile engagement, or even noticed on Instagram unless you're doing two things: 
Implementing a rock-solid hashtag strategy. 

Using hashtags for proactive commenting.


When you use these two strategies in tandem, your Instagram will go from crickets, to the life of the party. If you want to know how to get your post noticed on Instagram, finally, then this guide has everything you need to know!
Get Started With Hashtags
A hashtag is a word or phrase with the # sign in front of it.

Currently, most platforms have a search option that is keyword-focused, however, hashtags are still a highly-effective way to get your content out there.
How do hashtags increase visibility?
Apartment seekers can follow a hashtag to see trending content in their feed from people they aren't connected with, so they don't have to search for it. 

If you have used hashtags in the past, you can look at your analytics on Instagram to see how many impressions and likes you've gotten from hashtags and non-followers.

As you can see from the screenshots below, using hashtags increases the visibility of a post significantly.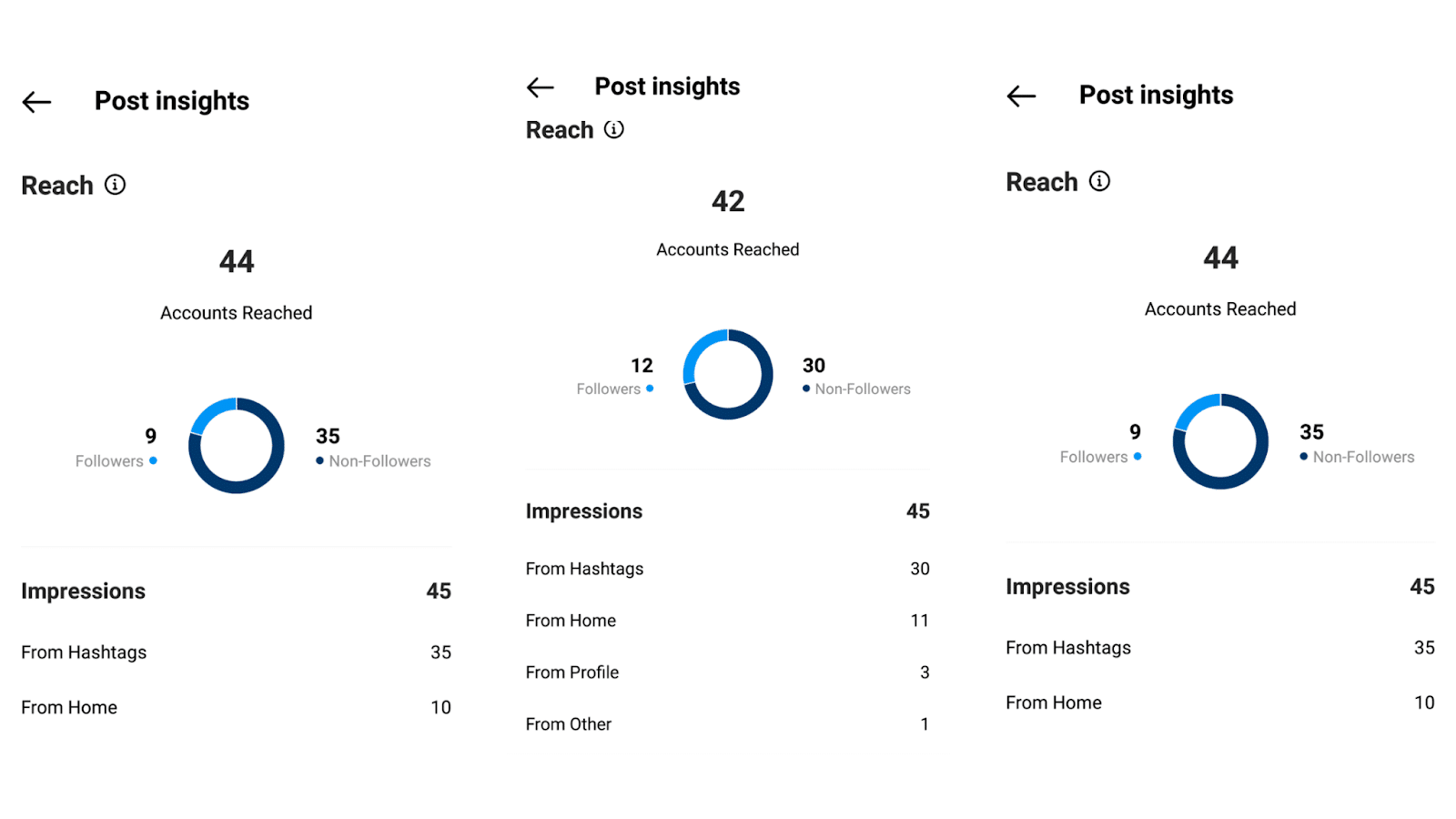 This is why using hashtags is the best way to increase visibility for your posts on Instagram. 

But it's not as simple as putting a # in front of any word or keyphrase. There are countless stories of social media managers doing that and accidentally sending the wrong message with their posts. Your hashtag strategy should be deliberate.

Properly using hashtags on Instagram involves a lot of legwork, but once it is set up, your accounts will reap the benefits. When it comes to social media marketing for apartment communities, using hashtags can be an easy way to get your property noticed locally.

Here's how:

How to find the best hashtags and get noticed on Instagram
When you first begin using hashtags on Instagram, the biggest challenge is going to be finding the right ones. As an apartment community, the goals and target audience of your page will be different from a national retail company or influencer.

You should be primarily focused on increasing your visibility in your local community if you want to get your post noticed on Instagram. The best way to gain visibility in your local area is to focus on local hashtags. 

To start, open your Instagram and search for the hashtag for the city or town you are located in. The next steps are different for mobile versus desktop. It is recommended that you use mobile for the first step, but the instructions for how to use desktop are included as well.
How to find instagram hashtags on mobile
If you're using a mobile device to find hashtags, you will click the explore button at the bottom of the screen.
Then type in the name of your city or town as one word with the # sign in front of it. Hit enter to bring up the search page and then navigate to tags.

This will bring up a long list of every hashtag that is being used with the name of your town in front of it.

How to find instagram hashtags on desktop
If you're on a desktop, you will use the search bar at the top of the screen to explore local hashtags.

When you type in the name of your city or town as one word with the # sign in front of it, do not hit enter. Instead, you can scroll to find the local hashtags.
Which Instagram hashtags should you use (and how many)
As you are searching for local and trending hashtags, keep note of the ones that have a lot of engagement, or would align with your brand (we will use them later on).
Here are a few other ways to find relevant hashtags for your apartment property:


Check out the competition: It's always a good idea to keep an eye on what others are doing. See what hashtags are being used industry-wide and see if they are right for your property.



Look for hashtags specific to your audience: Put yourself in the shoes of an apartment seeker, and think about what you would search if you were looking for a new apartment home.

 
Once you begin using hashtags, you can check to see which ones are gaining traction by checking your business insights to see how many impressions came from hashtags on each post. Compare your most popular posts to see which hashtags are performing well.

Instagram allows you to include up to 30 hashtags in a regular post, but 10-11 is usually a good place to start. Instagram can mark accounts as spam or decrease your visibility if your hashtag strategy is too aggressive. Typically, feed posts will include at least 3-5 hashtags.

Tip: You can add up to 10 hashtags on your Instagram story and hide them from your audience by shrinking the text down, or placing an image or GIF over your group of hashtags. This will keep the aesthetic clean, and still boost your visibility on your post.

Before we go any further, let's recap some of what we've learned:
Instagram hashtag best practices
Include at least 3-5 hashtags per post. 
This is a recommendation directly from Instagram, however, you may find that using more hashtags works better for you. Feel free to experiment with this, but always keep the other best practices in mind when doing so.


Put the hashtags in the first comment, not the caption.
This keeps the caption clean and allows the hashtags to become less visible as others comment on your post.


Avoid substituting a word in the caption with a hashtag.
While this is sometimes an acceptable practice with Twitter due to the low number of allowed characters, Instagram offers more space for the caption (and no character limit) so you don't have to substitute words for hashtags. This helps keep your caption clean and easier to read.


Do not use the same hashtags over and over.
While using evergreen hashtags is a solid practice, Instagram may flag your account as spam and decrease the visibility of your posts if the hashtag group becomes too repetitive. This is where having a very large hashtag vault can come in handy (more on that later).


Switch up your hashtag strategy to reflect social and market trends.
Hashtags that are popular now may not be in a few months. Setting aside time to check in and update your list of hashtags on a regular basis will enable you to stay on top of any changes.


Be careful to only use relevant hashtags.
Using a trending hashtag that has nothing to do with your post might generate more views. But it may also attract bot activity to your post that will make you blush.


Capitalize Hashtags with #MultipleWords.
If you are using a hashtag with a lot of words, capitalize each one. #hangingoutinsanfranciscotonight is a lot harder to read than #HangingOutInSanFranciscoTonight but as far as Instagram is concerned, they are both the same hashtag.
How to use hashtags for proactive commenting
Take your hashtag strategy one step forward by including proactive commenting. Hashtags on your posts are how you get discovered, but proactive comments are how you build a community and gain followers.

Using hashtags in tandem with proactive commenting is sure to get you noticed on Instagram.
What is proactive commenting?
Proactive commenting is an engagement strategy that involves finding posts relevant to your brand and posting a comment. Pretty simple, right?

It is most famously espoused by Gary Vee with his $1.80 Strategy. But if you follow anyone who has found success on social media, they probably suggest some form of proactive commenting as an important element of audience growth.

Whether they tell you to spend 30 minutes warming up your page before posting or suggest 10 comments for every post, engaging with others on social media is a must.
Why is proactive commenting good for growing an Instagram account?
When you use proactive commenting as part of your Instagram strategy, you achieve three things:
You gain goodwill from others and increase the likelihood that they will engage with your content in the future.
This increases visibility with their followers and grows your reach.

For example, if you comment on a post from a local restaurant, they get a boost on their post. Excited, they comment on your post. Their followers, who are all likely residents of your local community, are more likely to see that post even if they aren't following you.


You teach the algorithm that you are aligned with the account you commented on. 
This means your posts are more likely to show up in the other person's feed.

So if you comment on a post from a local park, and they don't immediately engage with one of your posts, they will still be more likely to see a post in their feed later that might spark some interest.


You gain visibility with other users who are engaging with the profile you left a comment on. 
This is especially important when you are commenting on posts left by local influencers or popular locations.

For example, if you commented on a post from a local sports team, congratulating them on their win, other local fans who live in your town will see that comment and gain a favorable view of your community.
Bonus Section — How To Transform A Good Instagram Campaign Into An Amazing One
Most apartment marketers will want to stop here. The above tips are enough to put you above the vast majority of competing apartment properties and ensure great engagement with your potential and current residents.

But if you really want to step up your Instagram hashtag game, here are a few ways you can get the most out of your hashtag strategy to take your campaign from good to great.
Now that you've found your initial set of hashtags, it's time to start your hashtag vault. Begin by copying every relevant hashtag on your list into a spreadsheet. It is recommended that you also include the number of posts associated with each hashtag in a second column, but you can also do this later.

When deciding if a hashtag is relevant, keep in mind that you are not just sourcing hashtags that are apartment-related. Remember, not all hashtags included in your vault will be used in your posts. 

Including local hashtags like #vegasfoodie may seem off-brand initially, but these hashtags can be used to find other local hashtags, or can be used with a proactive commenting strategy to increase visibility to your local community (more on that later).

At this stage, consider adding as many hashtags as possible.

Tip: Go beyond sourcing hashtags that apartment seekers are searching. You'll also want to find hashtags that locals will browse when trying to decide what to do for the weekend, or where to go out to eat. These will come in handy later.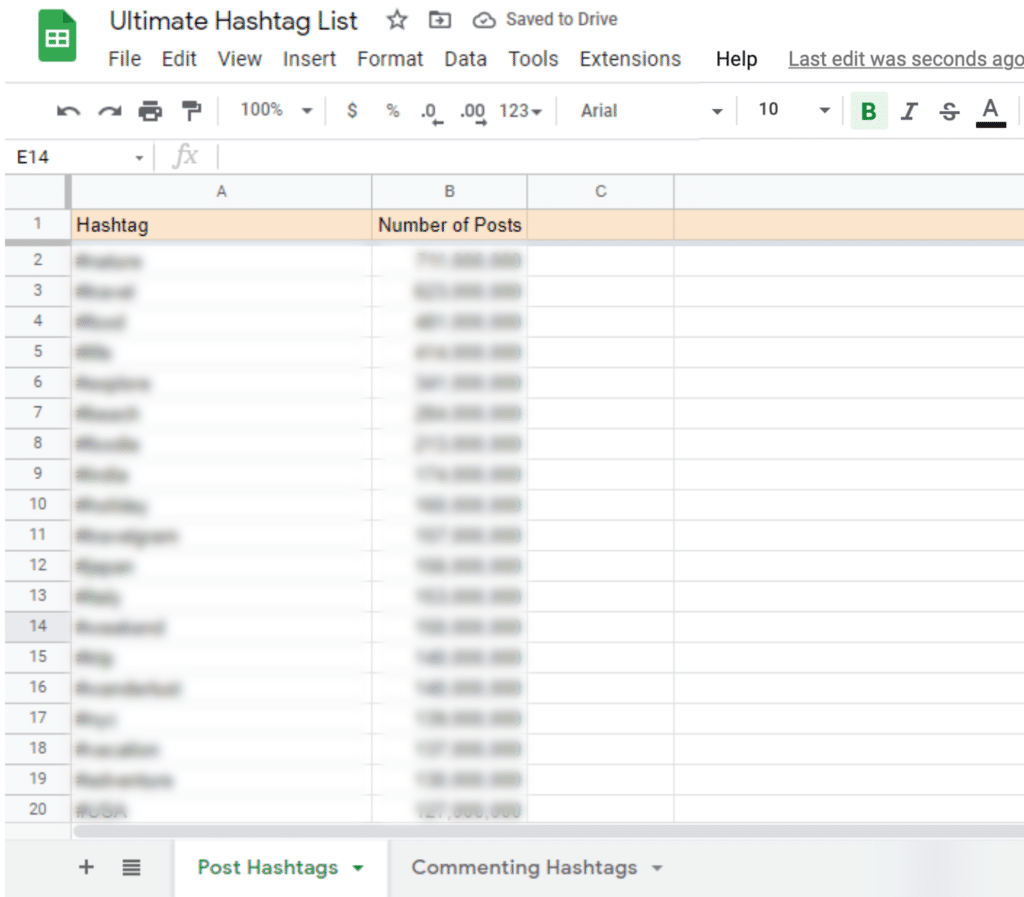 Dig Deeper: Source more hashtags from top posts
Once you're satisfied with the number of hashtags you've sourced through search (it's recommended that you have at least 80 to start), it's time to dig a little deeper.

Go back to the top of your list and begin to search the individual hashtags. For this step, you'll want to search the hashtag on instagram, and go to the posts page to explore individual posts.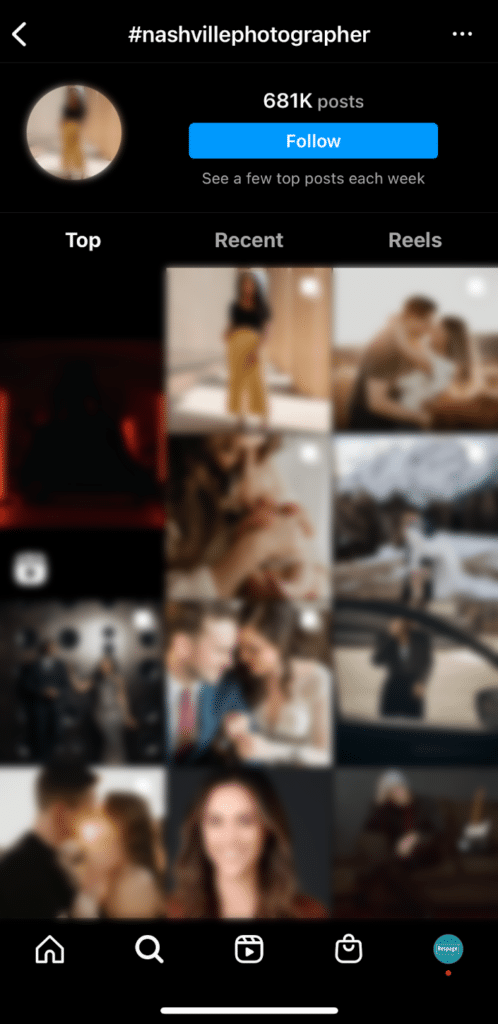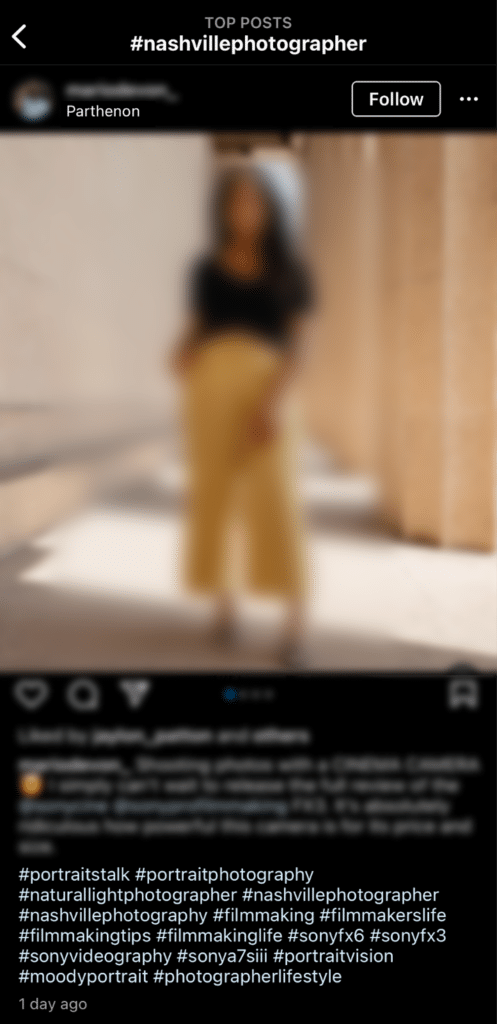 For hashtags that aren't directly related to your brand, scroll through the first five or ten top posts and look at the hashtags they use. Add any that seem like they might be relevant to your list. 

As an example, for Nashville, the hashtag #nashvillephotographer does not have any direct relation to an apartment community in Nashville. However, when you look at the top post, there could be a hashtag for #LongHunterStatePark that would be worth adding to your list if the park is close to your location.

Keep in mind that some Instagram users put their hashtags in as the first comment instead of the caption so you might have to dig a little to find the hashtags on each post.

For hashtags that are relevant to your brand, you'll want to spend a little more time scouring through tagged posts. For example, posts under the hashtag #nashvillerealestate will source several hashtags that could be useful for your posts.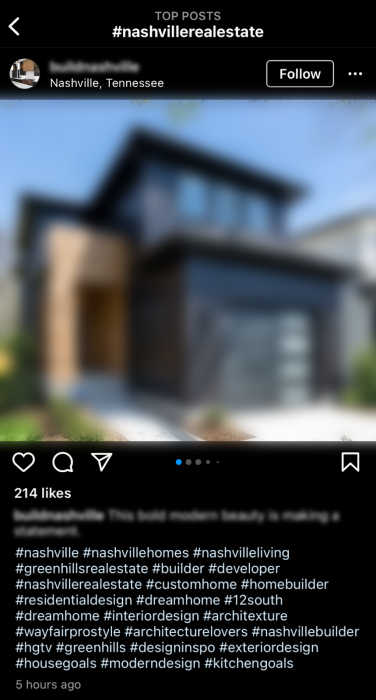 There are also a number of Instagram Hashtag Generators like Toolzu where you can include a keyword, upload a photo or link your post directly to the site, and generate hashtags from an AI-based search engine to help choose the appropriate hashtags to get your post noticed on Instagram.

You can also research and include some of the more obvious hashtags, such as #apartmentliving and #Apartments. But remember, since these are not local hashtags, they may not attract your target audience – but they will surely get your post a lot more views.  

It's always better to niche down if a hashtag is too popular or covers too large of a geographic area. For example, #NYCapartments is not going to be as good of a hashtag as #BrooklynApartments if your community is in Brooklyn.

Continue to look into relevant hashtags and look at the first few top posts until you have a list of 250 hashtags minimum. This may seem like a lot of hashtags, but we will separate and categorize them later.
How to create a weighted hashtag vault
The next step in your Instagram hashtag strategy is to create a weighted vault. Remember how earlier we mentioned adding a second column and inputting the number of posts each hashtag had? We're going to do this for your entire list.

How to create a weighted hashtag vault step-by-step
Open your spreadsheet and then copy & paste each hashtag into the search bar on Instagram (this works best on Instagram's desktop version). Do not hit enter. Instagram will show you how many posts are associated with each hashtag. Copy that number into column two on your spreadsheet.


Once you are finished, duplicate the sheet twice. Name sheet one 'Masterlist', sheet two 'Post Hashtags' and sheet three "Commenting Hashtags."


Go through your second list under 'Post Hashtags' and delete all the hashtags that don't have anything to do with apartments, rentals, or living in your area. If you look at a hashtag on this list and can't imagine ever posting something where you would use it, take it off of this sheet.



Sort the page by hashtags by popularity using the search numbers from step 1. Be very careful to sort the page and not a column or all your hard work will go to waste. The end result should look like this:

Divide the page into 5-10 groups based on popularity. How you do this will depend on how many posts each hashtag has received. As an example, Group 1 could have all the hashtags with more than a million posts, and Group 2 could be all hashtags with between half a million and a million.

The idea here is to estimate how frequently the hashtag is being used based on the number of posts it receives.


Go into one or two posts from each group and scroll through the recent posts to look at the time or date they were posted. Note the frequency for each group.

For example, you may find that a hashtag with 22 million posts averages around 10 posts per minute, while a hashtag with 450,000 posts averages around 10 posts an hour. This will give you an idea of how often you should use a hashtag and how visible your posts will be.

If a hashtag is receiving 10 new posts a minute, it's going to be harder to get noticed than a hashtag that gets 10 posts an hour. A hashtag that gets 10 posts a week, on the other hand, has the potential for higher visibility but should be used sparingly so you don't spam the hashtag.
A quick note on hashtag popularity
Just because a hashtag has a lot of posts using it, doesn't mean those posts are recent, so always check hashtags that might fall into this category. A hashtag about a famous event from 2019 might have a lot of posts, but that doesn't mean it's a good idea to use it.

It's also tempting to think that you should only use low-traffic or high-traffic hashtags, but it's important to mix them up.

Using a low-traffic hashtag increases your chances of becoming a Top Post for that hashtag, but using it too much or on posts that aren't relevant may flag your account as spam.
Divide your list into tiers
Once you have an idea of how often a hashtag is used, you can divide your list again.

(This is tedious, we know, but you're almost done!)

To start, eliminate any hashtags that are extremely active or extremely inactive. Don't delete them, but they won't be used in your overall strategy. Keep them handy for when you occasionally check in to see if the rankings have changed.

For the rest of the list, divide it into three tiers based on popularity. When you are using hashtags on your posts, you will want to use a mix of hashtags from each tier to increase your chance of visibility  getting noticed on Instagram.

Since Instagram currently recommends 3-5 hashtags per post, we would recommend using one hashtag from the top tier, 1-2 hashtags from the middle tier, and 1-2 hashtags from the bottom tier.

The final result should look something like this:
Organizing your spreadsheet for proactive commenting
Your proactive commenting spreadsheet is going to look a little different from your spreadsheet for post hashtags. That's because your goals here are different.

For proactive commenting, you want to have the most popular hashtags that are related to your local community, as opposed to hashtags about housing and apartments.

Think about your ideal resident and what they like to do for fun. Then sort through your list and find the top ten to twenty hashtags (or more) that your audience is likely following.

If you are targeting young single professionals, the hashtags you target will be different than if you were targeting couples who are starting their families.

Popular hashtags are important in proactive commenting because you want to be as visible as possible. You don't need to worry about tiers here, just make sure the hashtags are popular and targeted to the residents you want to attract.

The final list should look a little like this:
How to do proactive commenting - the right way
Once you have your list, set aside time each day to commit to commenting.

Use the search feature to find each hashtag on your list and try to leave a thoughtful or helpful comment on 2-3 posts from Top Posts, and leave 3-5 comments on Recent Posts for each hashtag. Top Posts help you gain visibility, and the Recent Posts help you gain goodwill.

Aim for at least ten comments per post. That means if you post 7 times a week, you should aim for 70 comments a week. 

Feel free to do more, as this is one strategy that will give you more benefits the more you do it. It is time-consuming, but it is also the best way to grow on social media.
Instagram recently made a shift in its search so that users can now look for keywords instead of hashtags. While this changes the way some users interact with the platform, it has not changed the way many users find and interact with content via hashtags.

As the keyword feature becomes more popular it has the potential to change your hashtag strategy so it is important to keep tabs on it. 

But for now, focus on dialing in your hashtags and proactive commenting to build your brand.
It's time consuming, but worth it.
So now you have it. Following this Instagram hashtag and proactive commenting strategy in 2022 is guaranteed to get your posts noticed on Instagram if you keep up with it consistently.

P.S. We have experts who can help you get noticed on Instagram! Ask us about it today.