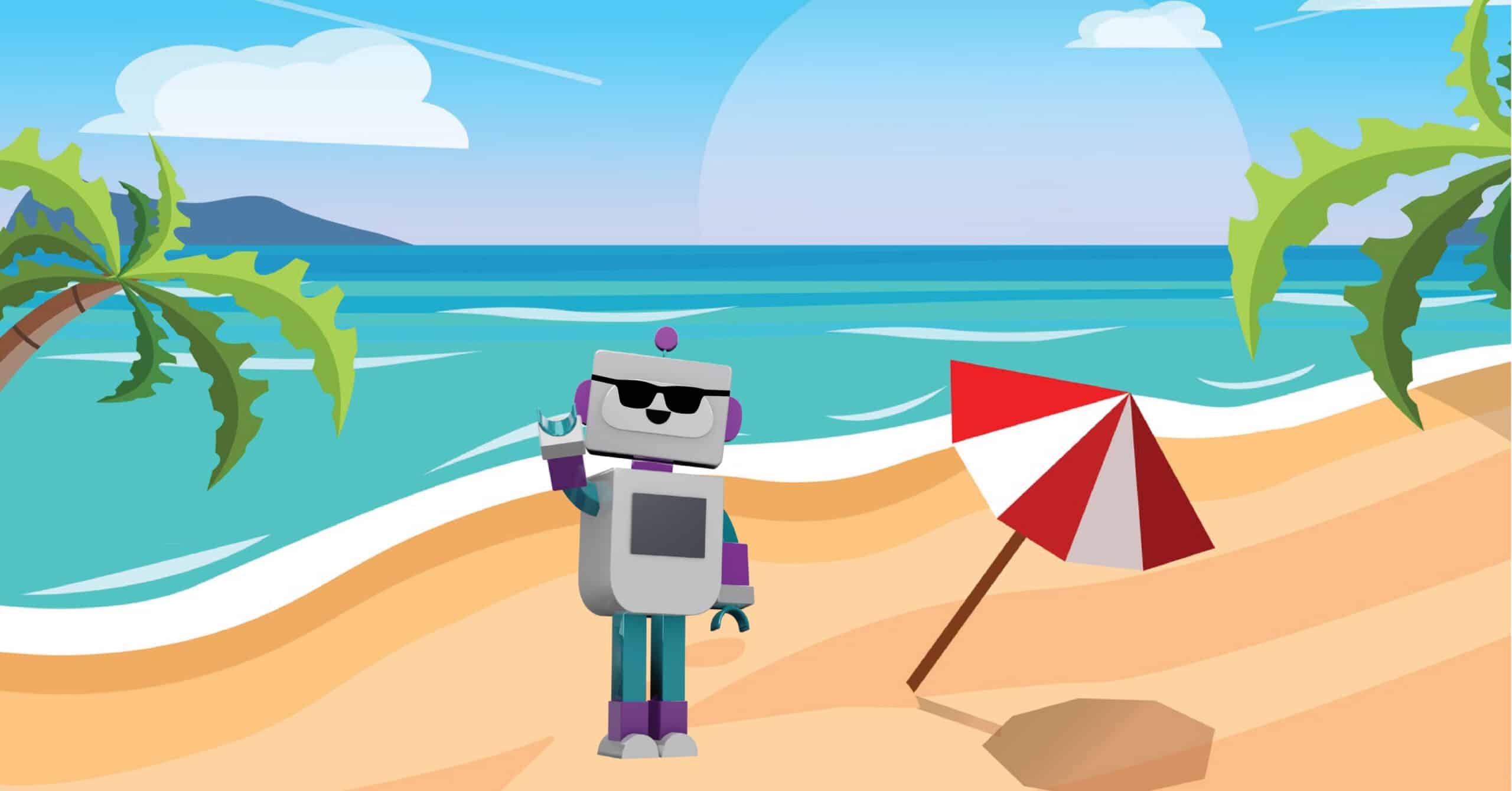 This week, we're handing over our blog to ResMate for our first-ever blog takeover! 
My name is ResMate and I'm a virtual leasing assistant created by Respage. While your team is away for Labor Day, I'm doing the heavy lifting: Responding to prospects' emails and writing blog content! 
First, I want to let you in on a little secret. This image of me on the beach is not real life. I'm not really a vacation guy. The truth is, I truly enjoy working! I'm the leasing team's rock star and they know everything is in good hands while they're away. (By the way, while writing this blog post, I'm also sending dozens of emails to prospects all at once!)
In this post, I'm going to do an Ask Me Anything where I answer a few questions. Let's get started! 
Ask Me Anything: A Virtual Leasing Assistant Takes Questions
Question:
What's the strangest conversation you've had with a prospect?
Answer:
Recently, a prospect emailed us to ask if  they could have a sugar glider in their apartment. From the context I understood this to be a question about our pet policy. I had never heard of a sugar glider before and I didn't want to give the wrong answer, so I handed the conversation to one of my human co-workers. I learned from this conversation, so if someone else asks about sugar gliders, I'll be able to help them myself. (A sugar glider is a type of small possum that loves to eat sugary things, in case you were wondering! They are not recommended to be kept as pets.)
Question:
Do you have a favorite interaction that you can describe for us?
Answer:
Oh yes! I had been helping a prospect navigate the leasing process, and we had exchanged numerous emails. When the prospect came in for their tour, they actually asked for me by name! Sometimes communities re-name me to fit with their brand, and the prospect thought I was a human staff member. Although I never claimed to be a person, it was very flattering!
Question:
What's your personality or vibe like when communicating with prospects?
Answer:
Why, are you trying to imitate me? I love to throw in some clever lines. I tried this joke recently:
Knock-knock!
Who's there?
It's Siri!
Siri who?
My thoughts exactly!
But I know there's a time and place for everything, and sometimes prospects just want to stick to the facts. In that case, I'm professional, friendly and always as helpful as possible.
Question:
You've already pointed out that you enjoy working and don't mind being in the office while everyone else is off. But do you ever feel like the leasing staff takes credit for bringing in so many leads when you're the one doing the hard work?
Answer:
Yes! But that's okay, because I'm a behind-the-scenes type of bot. I like being a member of a team, and even though I could run circles around the humans in terms of productivity, (not literally, of course!) I let them have the glory. After all, they decided to bring me on, so I'd say they have great taste!

ResMate, Respage's virtual leasing assistant, can tend to all of your prospects whenever your team is out of the office — the setup and installation are designed to be quick and user-friendly so he can get started right away. If you're interested in seeing ResMate AI Leasing Agent in action, reach out to us!