PPC and social ads are big drivers of apartment leads, but budgeting can be a pain. But using Craigslist or Facebook Marketplace doesn't cost you a dime. Both sites are go-to resources for apartment hunters, and both allow you to list property rentals without charging you any fees.

But that leads to a big question: Is Craigslist a waste of time now that Facebook Marketplace (a relative newcomer) seems to be dominating the market for free rental listings? The answer might surprise you. Below, we'll break down the key features of both platforms to help you decide which is the best free rental listing site.

Key Craigslist features for listing apartment rentals for free
Craigslist and property rentals go way back. Founded in the 90s, when the internet first became mainstream, Craigslist is a website of classified ads and a long-time favorite resource for apartment hunters. While the company does not share its user numbers on its site, Similarweb estimates Craigslist has 285.4 million monthly visits.
What's it like listing apartment rentals on Craigslist?
Let's break down the key features.
Create listings without an account
You are not required to create an account to post on Craigslist, so it's a quick way to advertise your rental without much upfront work. Simply go to the website and click "create a posting."
Stay anonymous
Craigslist does a fantastic job of allowing everyone who participates on the site to remain anonymous. It achieves this by not requiring an account and by using the Craigslist Relay as a form of anonymous communication. The Craigslist Relay masks both the sender's and the recipient's email addresses. So while you'll tell Craigslist your email address, anyone who contacts you through Craigslist will not see your actual email address. This can add a layer of comfort and security to prospective tenants who are unsure if a listing is spam.
However, anonymity is a double-edged sword. It also can encourage fraud and spam. Recently, Craigslist has gained a reputation for having both, so much so that the site began charging a small fee for rental listings in the Boston, Chicago, and NYC area markets. According to AIM Group, "The fee was highly effective at reducing multiple posts, spam and scam ads, which were epidemic before the site began requiring a credit card payment."
Add up to 24 photos per listing
Craigslist allows up to 24 photos per listing, but no videos.
Include rental details
On Craigslist, you can add the following details to help searchers find and decide about your apartment rental:
Description

Rent

Square footage

Housing type

Laundry

Parking

Bedrooms

Bathrooms

Cats ok

Dogs ok

Furnished

No smoking

Wheelchair accessible

Air conditioning

EV charging

Available date

Open house dates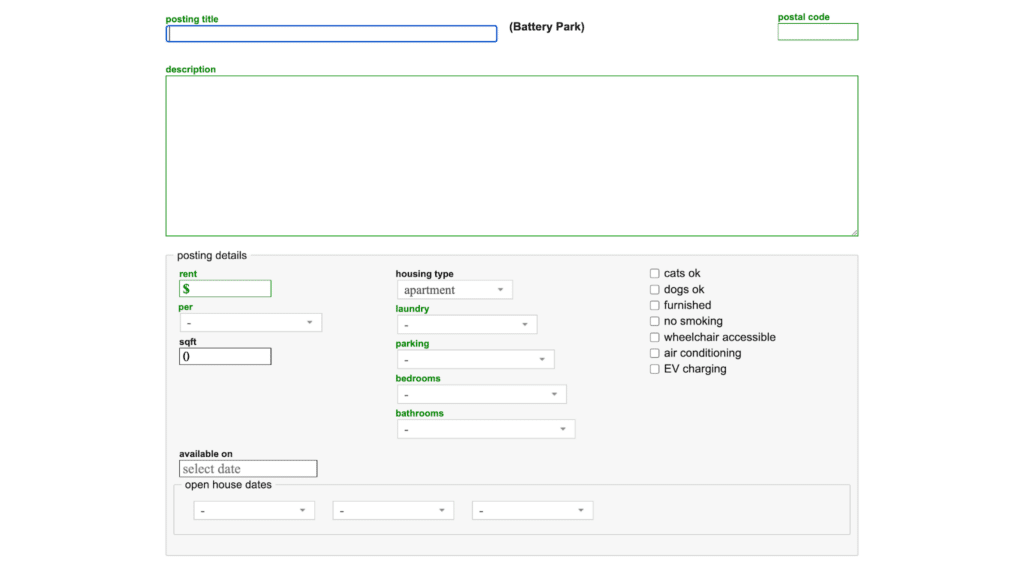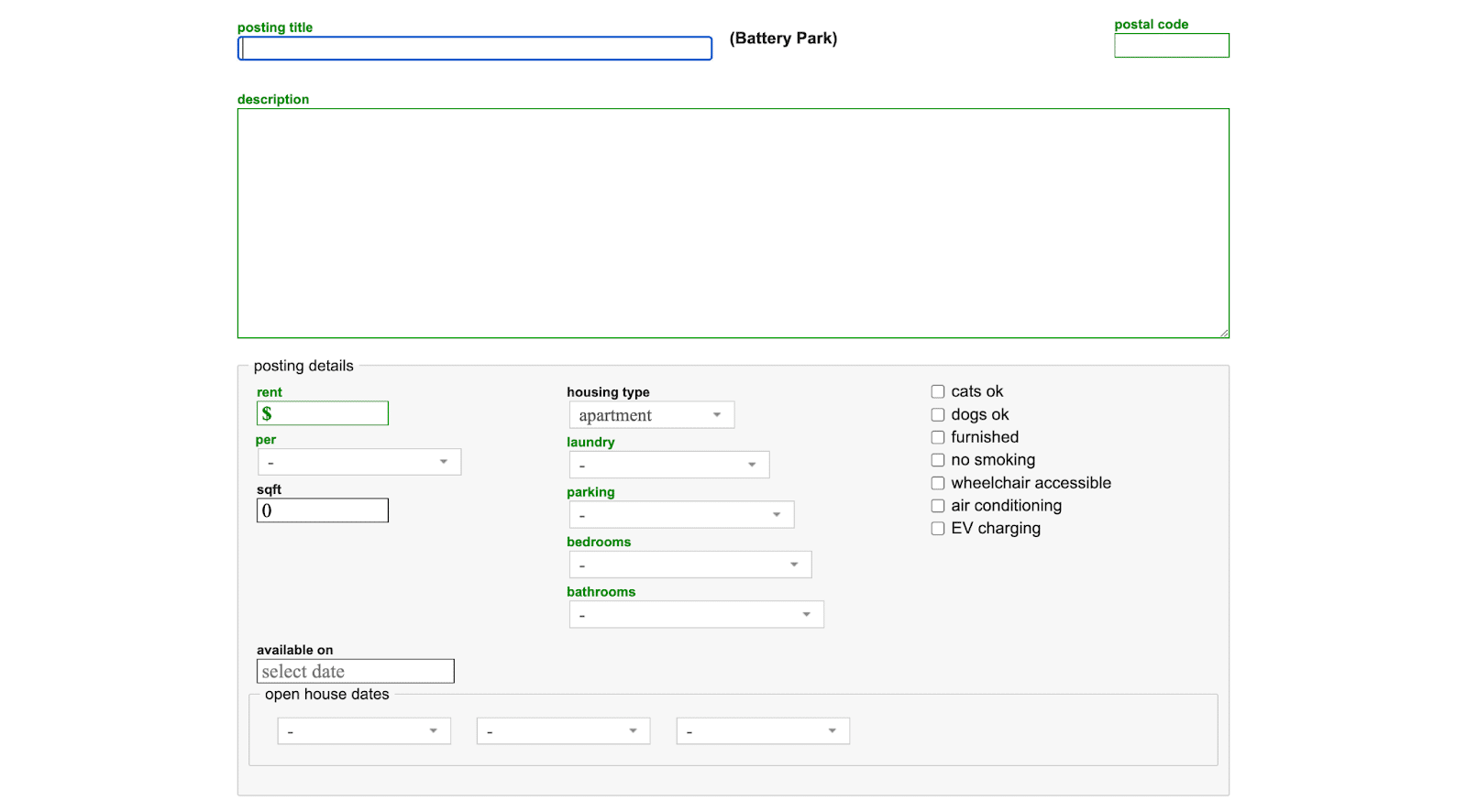 Limited, no-frills UI
Craigslist has a barebones design. It's not as sleek as Facebook Marketplace but still gets the job done and is straightforward to navigate.
It's free to list apartment rentals on Craigslist
Craigslist does not charge any fees for you to list property rentals on the site—unless you're posting apartment rentals in Boston, Chicago, or the New York City areas.
Craigslist shows posts based on newest listings first
Craigslist automatically defaults to newest listings first, which can be more fair, as no one can really game the algorithm. However, if you want a listing to gain more visibility, or if you haven't gotten many inquiries, you'll need to renew it. Renewing a listing will push it back up to the top of the results. You can renew a listing every 48 hours until it is 30 days old. After that, you'll need to repost it, which creates a copy of the expired listing and then pushes it to the top of the list again. All this renewing and reposting can take up a lot of time.
Facebook Marketplace features for listing apartment rentals for free
Since its inception in 2004, Facebook has long been known for posting photos and "liking" friends' status updates. But in 2016, Facebook launched Marketplace, expanding its services to allow users to buy and sell locally. The following year, it added property rental listings, and from there, Facebook Marketplace established itself as a strong competitor against Craigslist in the rental space. As of Q1 of 2021, Facebook Marketplace had reached one billion users, as announced by Mark Zuckerberg in an earnings call.

Below are the features you need to know related to listing property rentals:
Marketplace requires you to have a Facebook account
Facebook requires you to create an account before you can post to Marketplace. You can post listings from your personal profile or your business one. Keep in mind, however, that Marketplace gives searchers the option of turning on "Listings from individuals only." In that case, any listings posted by businesses will not show up in their search results.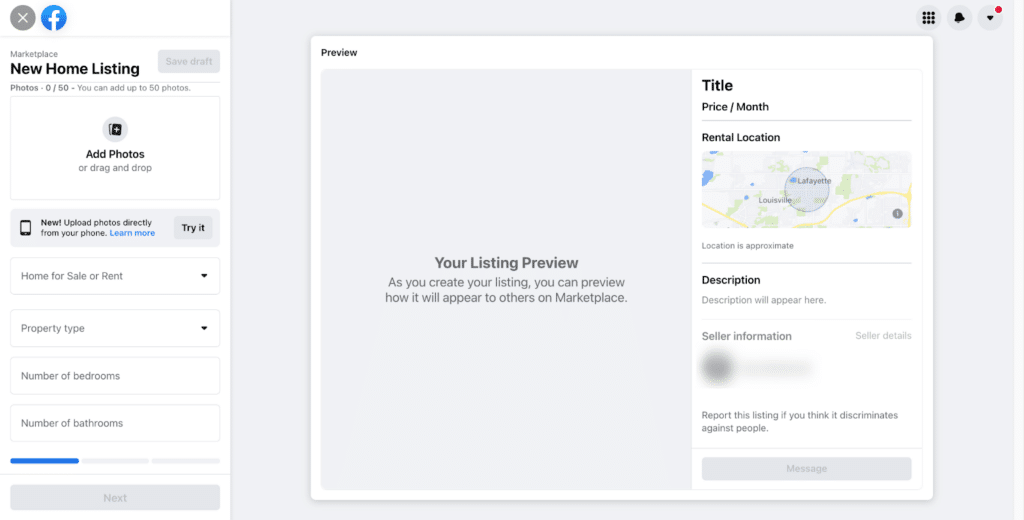 Add up to 50 photos per listing
For property rental listings on Facebook Marketplace, you can include up to 50 photos, but no videos. 
Include rental details
Facebook Marketplace allows you to add the following relevant details about your property rental:
Rental type (apartment, house, or townhouse)

Number of bedrooms

Number of bathrooms

Price per month

Rental address

Rental description

You can also include optional "advanced details," including: 
Property square feet

Date available

Laundry type (in-unit, in building, laundry available, or none)

Air conditioning type (Central AC or AC available)

Heating Type

Cat friendly

Dog friendly
Better UI/UX
Compared to Craigslist's no-frills, black-and-white UI that hasn't changed much from 10 years ago, Facebook's platform is sleeker and more pleasing to the eye.
It can feel more human, less anonymous
Because of the social nature of Facebook, the whole experience of posting listings and interacting with potential tenants feels a lot more human. You'll see the potential tenants' photos and likely be able to see at least some of their profile information (depending on their privacy settings).
And from the renters' perspective, they'll be able to see more information about you, including your transaction history on Facebook Marketplace. 
Prospects can see your seller details
Speaking of your history on Marketplace, prospects can see your seller details, which means you can build a good reputation and help people who are apartment hunting feel comfortable interacting with you. 
Anyone who transacts with you on Marketplace can leave you feedback, including star ratings and keyword tags that describe what you excelled at as a seller.
Keep all your messaging in-app
Being able to keep all your communication centralized to Facebook via Messenger is convenient. It also makes it seamless: Prospects can message you about an apartment they're interested in without switching platforms.
It's free to list on Facebook Marketplace
Facebook does not charge you to list a rental property on Marketplace. The only fees it charges are for sellers who sell physical goods that need to be shipped. 
Gain more visibility for your listings thanks to Facebook's algorithm
As stated above, Craigslist shows the newest listings first. But on Facebook, that's not necessarily the case. Thanks to the Facebook algorithm, each person's Marketplace page appears different depending on what that person has been searching for and depending on listing popularity. 
So the more clicks your apartment listing gets, the more likely it is to show up higher in someone's results. Additionally, your listing can show up in a user's "Today's picks" section, which shows listings based on a user's interest in that particular type of property in that specific area or based on popularity of the listing.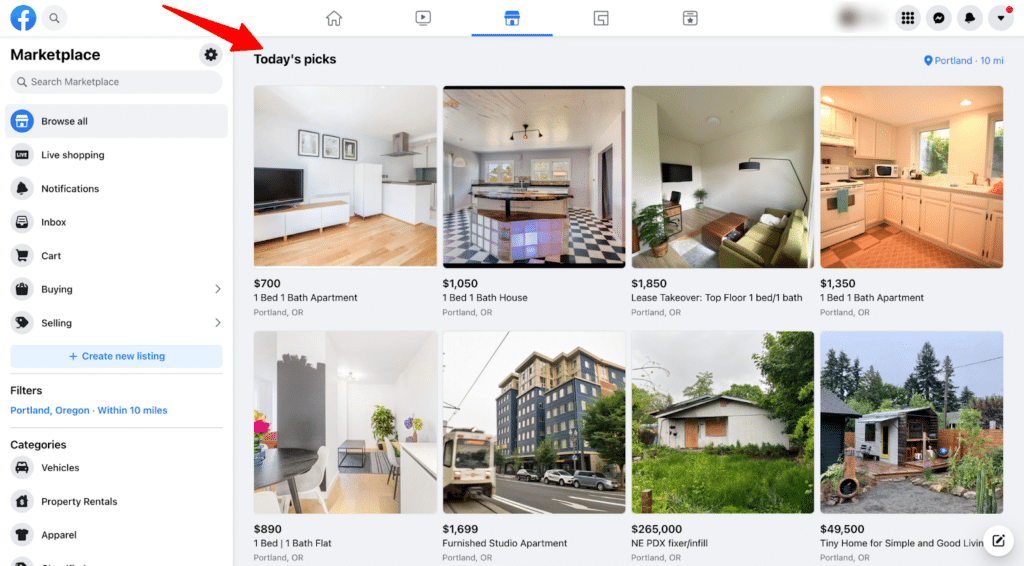 So…should you post your rental to Craigslist or Facebook Marketplace?
In terms of ease of use, higher traffic, and reputation, Facebook Marketplace takes the lead. But it's not without its own problems: Spam and fraudulent apartment listings happen on Facebook, too. While it seems Craigslist traffic is declining, it has been around much longer and is still a strong contender when it comes to apartment hunting.
If you're trying to decide which is better—try both. Especially if this is your first time trying either platform, it's best to post a few listings on both Craigslist and Facebook to gather that data. How many leads do you get per platform? What is the quality of those leads? How many ended up converting? The answers to all of these questions will vary greatly depending on location.
Once you've gathered enough data, you can make an informed decision about whether it's worth the time and energy to continue posting to both platforms, or if you want to stick to just one of them. Because both Facebook and Craigslist are free to list apartments on, there's no harm in trying both (it'll just cost you a little bit of time).