Social media marketing trends are always evolving, so it's important for apartment marketers to stay on top of the newest and best ways to connect with prospects.
But with so many options, including Instagram, Facebook and TikTok, it can be a challenge deciding where to focus your social media marketing efforts.
A smart approach is to determine which social media platform aligns with the demographics of your average apartment resident. The largest portion of Instagram users are people between the ages of 25 and 34, which matches the dominant age range of those living in apartments. This makes Instagram the ideal place to find people to make their home in your apartment community.
In this post, we'll highlight three of the most compelling Multifamily apartment marketing ideas that you can include in your 2022 Instagram strategy.
Use Instagram's new link feature to collect apartment rental applications
Instagram recently phased out the "Swipe Up" feature and replaced it with the ability to add links in Stories to all accounts. Prior to this change, only certain accounts were given the "Swipe Up" capability. Now that link sharing is available to everyone, it could be a game-changer for apartment communities.
Apartment marketers could use the link feature to allow prospects to fill out an application or book a tour directly through the app. These kinds of in-app transactions have increased by more than 24 percent since the start of 2020.
And this trend is especially prevalent among younger users—37 percent of consumers between the ages of 15 and 22 made purchases directly through social media in 2021.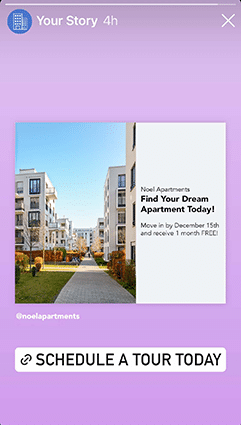 Reach more prospects by diving into Instagram Reels
Video continues to be an important part of an apartment community's overall marketing strategy. People want to be entertained by video, they're accustomed to it, and you can capture the attention of your target prospects by wrapping an apartment marketing message into a compelling video.
Reels, Instagram's short-form video feature, displays video content to your followers and your followers' followers, meaning your Reels can capture views that go far beyond your follower count. Reels that feel authentic and organic—and not like a typical ad—can be a top-performing ad funnel if you approach this feature strategically. Taking part in random dance or skit trends can be fun, but without tying that content back to your overall apartment marketing goals it won't get you where you want to be.
A valuable strategy for Reels is that if you have certain Reels that perform well and generate great engagement, you can transform them into ads by downloading Reels from your Instagram account and uploading that video to run as an ad. You can reach more people this way.
Stay ahead of the crowd by embracing influencer marketing.
As the impact of social media—particularly Instagram—continues to grow, so does the weight and reach of influencers. Multifamily has been slow to catch onto this trend, so apartment communities that are able to tap into influencer marketing could see their efforts pay off in 2022.
You don't need to have an Instagram influencer living in your apartment community to get influencer marketing to work for you. Take some time to do some sleuthing on the app to find influencers who are local, then offer to host them for a few days. Beforehand, you can go over your vision for the partnership and what kinds of videos you'd like them to create, how many, and compensation.
The difference between working with an influencer and having a resident do a short-term Instagram takeover is creative control. Working with an influencer is like working with a contractor—you share your ideas of what kind of content you're seeking, and you can approve it before posting.
Instagram & Apartment Marketing Conclusion
Instagram can be a fun and effective tool for marketing your apartment community and meeting your prospective residents where they are in 2022. But don't lose sight of the goal: generating leads. Make it easy for prospects to contact you by adding your website link to your Instagram profile and encouraging direct messages. Also, be sure to monitor your Instagram analytics to get you insights into what your audience responds to and what works best for your community.