UPDATE: May 15, 2020
New reviews submitted to Google are still receiving the "your contribution may be delayed at this time" message. However, select reviews that were put on hold by Google are now being published. While it's still unclear as to how, exactly, Google is prioritizing the release of new and previously submitted user reviews (they're triaging the reviews' release based on location and business category), it's safe to say that many businesses will soon see an influx of backdated Google reviews that were submitted during the pandemic.
This is good news, as it signals the return of full functionality to Google My Business. On the flip side, businesses will need to respond to a high volume of reviews in order to bring their responses up to date.
Respage is working diligently to make sure all our client reviews are answered. Our Reputation Management packages include custom review responses by Fair Housing-Trained staff. Learn more about our Reputation Management services.
---
UPDATE: April 8, 2020
As you are aware, part of Google's response to the COVID-19 pandemic has been to limit Google My Business functionality. This included users' ability to leave reviews as well as businesses' ability to reply to reviews. However, as of April 7, businesses may now reply to reviews. 
In addition, Google has resumed the user review functionality. Users are now able to leave reviews; however, these new reviews aren't displayed publicly. Instead, users receive the message "Your contribution may be delayed at this time." It's unclear whether or not these reviews will eventually be published by Google.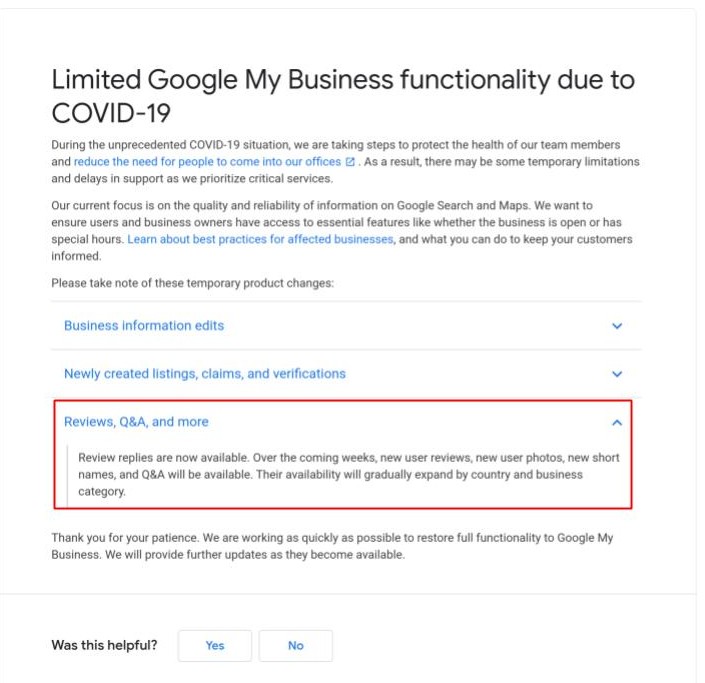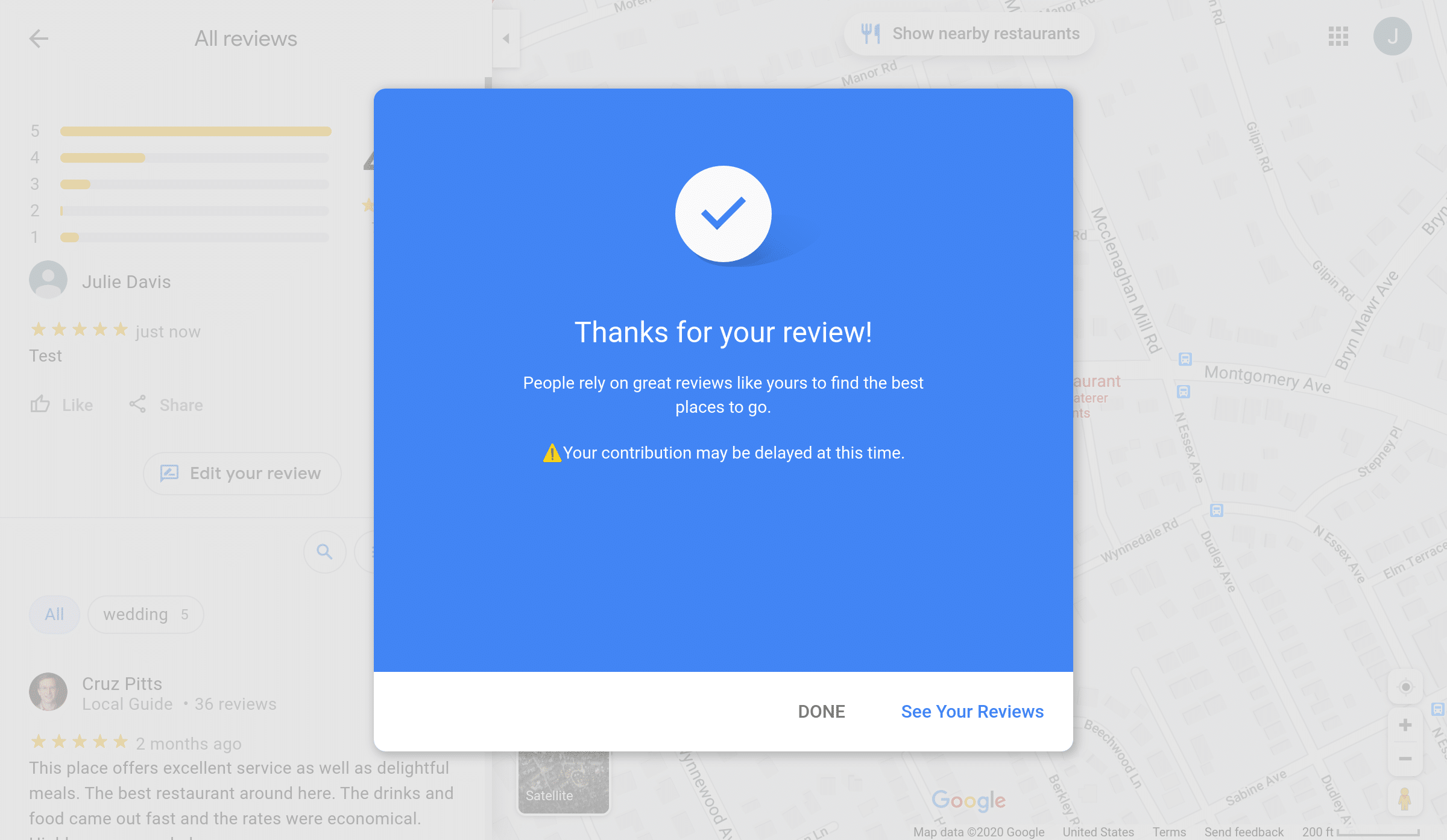 ---
Original Post
As a result of COVID-19, Google My Business and Yelp are now limiting users' ability to review businesses, including apartment communities. 
These policies started to go into effect on Friday, March 20. They allow Google to reprioritize and Yelp to help protect local businesses from negative attacks in connection to COVID-19, as well as protect review site employees.
Multifamily-specific review sites like Apartments.com and ApartmentRatings appear to be operating as normal as of Monday morning. 
Read on for more details on these changes and how they can affect your apartment community.
Google My Business Reviews
Google is not publishing any new reviews, review responses, or new Q&A content until further notice. A statement released by the company reads:
"During the unprecedented COVID-19 situation, we are taking steps to protect the health of our team members and reduce the need for people to come into our offices. As a result, there may be some temporary limitations and delays in support as we prioritize critical services."
During this time, Google's support team will prioritize reviewing new listings, claims and verifications for critical health-related businesses. 
Newly Created Google My Business Listings
Apartment communities that create new Google My Business listings should expect a delay in these appearing online as Google's support team prioritizes verifying listings for critical health-related businesses. 
Yelp Reviews
Yelp, on the other hand, is still allowing reviews, but it has put a zero tolerance policy in place for any negative reviews that mention COVID-19 in connection to local businesses. 
In a statement, the company says these guidelines are meant to "protect local businesses from reputational harm related to these extraordinary circumstances."
For example, Yelp will not allow any claims in reviews of contracting COVID-19 from a business or its employees, or any negative reviews about a business being closed as a result of the virus. 
Reviews like these that are flagged will be reviewed by human content moderators, and ones that don't meet the new standards will be removed and will not count toward star ratings for businesses.
What Respage is Doing to Help
We are and will continue to release new features to help assist with these changes. Our customers can continue to send us any updates they would like us to make for their social and reputation sites such as changes in hours of operation. We will continue to monitor the situation, and we will be ready to help apartment communities respond to new Google reviews when they go online. We will also flag any negative Yelp reviews that our multifamily clients receive in connection with the virus.