As a multifamily professional, you know that connecting with prospective renters and keeping them engaged throughout the leasing process is critical to your success. But with so many leads to manage, it's easy to get overwhelmed by the sheer volume of calls to return and emails that need to be sent out. That's where automated email nurturing comes in.

Automated email nurturing, or the process of sending out a series of pre-written emails to potential renters on a schedule, can help keep prospects engaged and ensures your community is top of mind. And when combined with AI leasing, it can be even more powerful.

At its core, AI leasing is all about using technology to streamline the leasing process and create a more personalized experience for renters. And one of the key ways that AI leasing does this is by using automated email nurturing to send out a series of targeted emails to prospects.

With ResMate, our AI leasing assistant, you can send out five emails to potential renters before they tour your community, and five more after they tour (in addition to confirmation and reminder emails).

To get more out of these emails, you should customize them so each one builds on the last to create a cohesive and personalized leasing experience. And because ResMate is powered by AI, it automatically personalizes every email for you. 
But what makes automated email nurturing such an essential part of AI leasing?
First and foremost, it allows you to stay connected with your leads throughout the leasing process without having to manually send out each email yourself. This means that you can focus on other important tasks, like giving tours or following up with existing residents. 

Secondly, automated lead nurturing allows you to provide a more personalized experience for your potential renters. By customizing each email, you can create a stronger connection with them and increase the likelihood that they'll choose your community.

Finally, automated email nurturing is incredibly efficient. By setting up a series of pre-written emails, you can ensure that every lead receives the same high-quality experience without having to spend hours crafting individual emails.

Tip: When testing plain text vs. HTML email formats, we found that HTML emails drastically outperformed plain text, with HTML emails having double the click-through rate, and a 101% increase in the likelihood of clicking.
When you're setting up your pre-tour email nurturing campaign (i.e. the emails prospects receive before they've booked a tour), make sure you address things that you know renters really care about. 

You can assume that they'd appreciate the ability to conveniently schedule a tour by a simple click of a button, but you can also provide them with information about things like virtual tour options or current move-in promotions. And, if you oversee an Affordable multifamily community, you might want to customize your first pre-tour nurturing email to include details such as the maximum income to apply.

Subsequent emails in your pre-tour nurture campaign can include highlights of popular amenities, neighborhood perks, etc. Think of these as simple reminders as to why they'd want to live in one of your apartments. 

Here's an example of a pre-tour nurture email: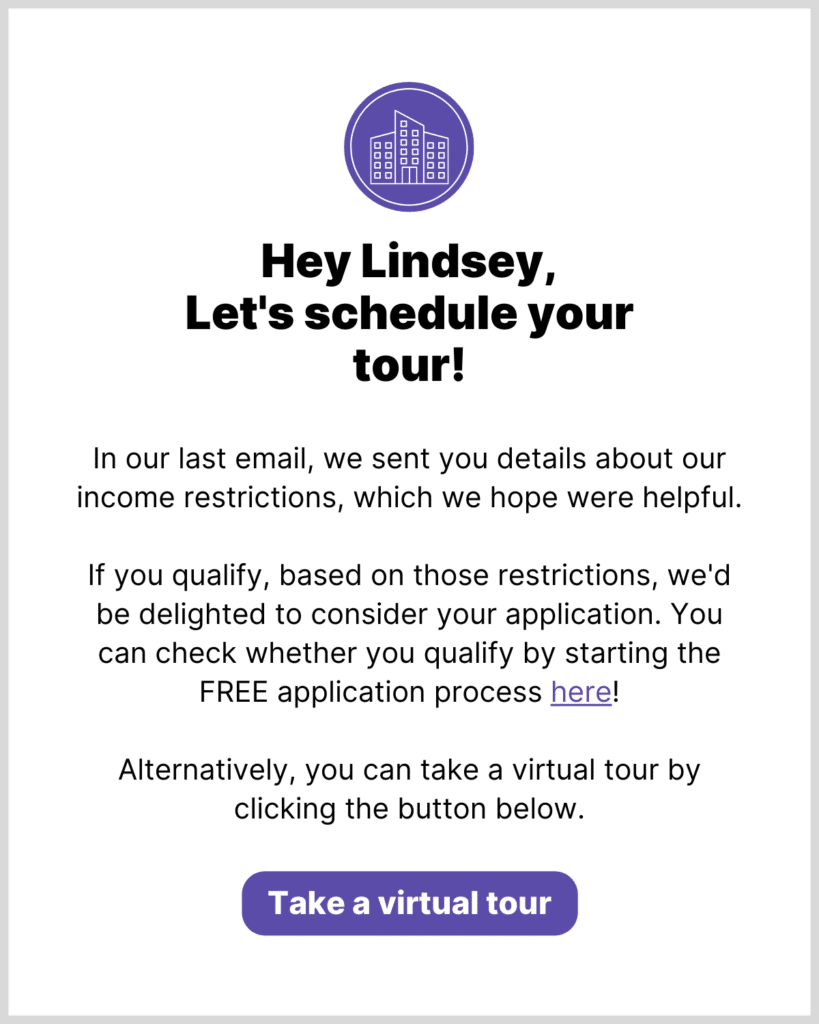 Tip: If you're a ResMate or Chatbot user, take a look at Prospect Interests by Keyword on your Reporting dashboard to see what kind of information your prospects are actively looking for.
Automated confirmation emails ensure every prospect receives a timely and consistent response, and provides them with peace of mind that their tour has been added to your team's calendar.

These emails also serve as an opportunity to provide a point of contact for any questions or concerns.

Here's an example of a confirmation email:
By sending out timely and personalized reminder emails, you can significantly reduce the number of no-shows and increase your chances of securing a lease. In addition, these emails can be tailored to address any concerns or questions that prospects may have, making them feel more confident and comfortable with your community.

Here's an example of a tour reminder email: 
Once a prospect has toured, you can increase their likelihood of applying to live at your property by engaging them in a post-tour email campaign.

Keep these emails short and sweet, but make sure it's clear how they can apply and where they can get answers if they have additional questions.

Here's an example of a post-tour nurture email:
Tip: Make it easier for your prospects to get the help they need by allowing them to reply directly to the nurturing emails that you're sending them. 
Automated email nurturing is a critical component of AI leasing. By using an AI leasing Assistant like ResMate to send out a series of targeted and personalized emails before and after prospects tour, you can streamline the leasing process for maximum efficiency.