You've done it. Your property is finally at 100% occupancy. Do a little happy dance because you've earned it!
A full community is certainly something to celebrate. But once your dance break comes to an end, it's time to come up with a plan to keep your residents happy and your units occupied.
By now, you know how difficult it is to maintain a high occupancy rate, especially in today's economy.
But it doesn't have to be. 
If you've been utilizing automation technology to sign more leases, you may hold the secret to maintaining 100% occupancy—not only at your property, but at sister communities as well. 
ResMate cross-selling: A regional manager's dream
One property's turned-away prospect, can be another's newest resident. 
If you're a regional manager with multiple properties using ResMate, did you know you can pass leads between sister properties if one community is fully leased? 
If a prospect inquires about a floorplan or lease that is not currently available at that community, ResMate will suggest they tour a sister property that fits their needs.  
This function is essentially free marketing for sister properties that may not have been on the prospects' original list of potential communities. It also helps any prospects who are doing a last-minute apartment search by providing immediate availability at a similar property without having to sit on a waitlist. 
In the Respage dashboard you can activate property cross-sell and select which properties you want ResMate to promote.
ResMate waitlist: Keeping demand high and interested prospects on reserve
When a prospect hears there's no availability, they will continue their search elsewhere—even if your property is a perfect fit. But what happens if a unit suddenly becomes available, and you didn't get the prospects' contact information? You're out of luck, and that prospect loses out. 
With ResMate, you never have to worry about losing leads if you don't have units available. If a prospect inquires about availability when your property is fully occupied, ResMate will automatically ask if they would like to be notified if/when an apartment matches their needs becomes available. 
The moment a vacancy opens, ResMate will send an email to all of the prospects on the waitlist asking if they would like to schedule a tour. If nothing becomes available within six weeks of the original inquiry, ResMate will send a followup email to the prospect to ask if they would like to remain on the waitlist to ensure all of your leads remain interested and qualified. 
Not only does the waitlist keep and collect your most interested prospects, but the concept of a waitlist can make your community seem more desirable by way of the scarcity principle. In social psychology, the scarcity principle puts a higher perceived value on something that is rare, or difficult to obtain—like a lease in a beautiful community. 
By maintaining an active and engaged waitlist, you can keep a list of interested prospects in your back pocket just in case. If we've learned anything from the last few years, it is that rental trends can change on a dime, so it is important to be prepared—even when things are going great.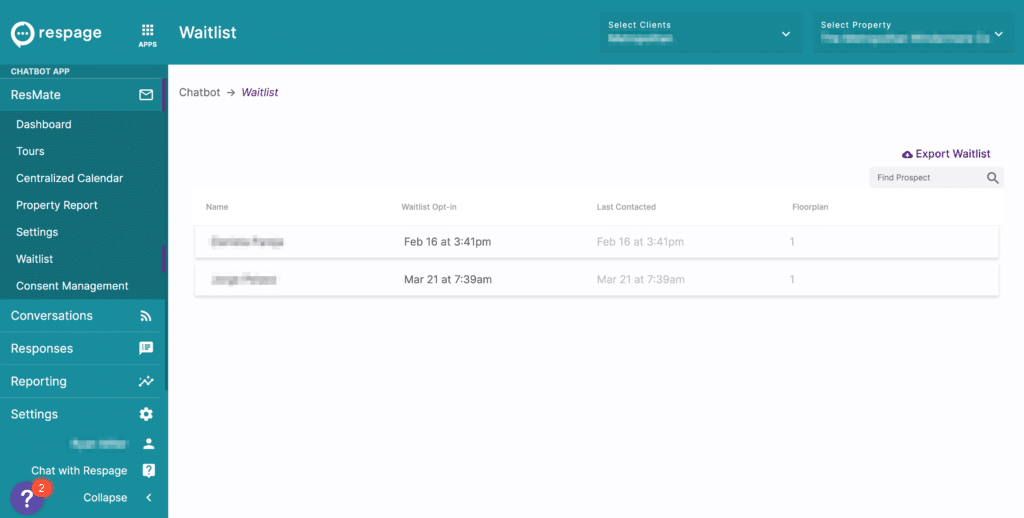 ResMate's cross-sell + waitlist can help you reach your occupancy goals
AI leasing assistants are wonderful tools to help properties sign more leases quickly—and it's also a 1-2 punch for property and leasing managers hoping to maintain high occupancy. 
Interested in learning about how ResMate can help you reach your occupancy goals? Click the button below to see it in action.