For years the multifamily industry has been tip-toeing into shallow waters of technology and automation. Some are more hesitant than others (fear of sharks and replaceable jobs runs deep), but those who have embraced artificial intelligence are reaping the benefits. 
Take the Metropolitan West Chester, for example. In the month after implementing ResMate AI leasing assistant, they doubled their lead-to-tour conversion rate, and saved over 200 hours of work for their onsite leasing staff. 
Now AI and automation are rising with the tide, and it's time to dive into the deep end with the new Respage Smart Leasing Platform CRM. 
Announced this week, the Smart Leasing Platform (SLP) will revolutionize property management with its simplified workflows powered by industry-leading automation and pave the way for market rate, centralized, and affordable communities to run more efficiently than ever. 
In this blog we'll discuss four ways the Smart Leasing Platform will change multifamily property management.
1. Centralized leasing workflows
Centralized leasing has been one of the industry's biggest buzzwords for over a year, but few multifamily suppliers have provided comprehensive solutions to help property management teams implement a centralized model. That's why we built a Centralized Leasing Calendar into our Smart Leasing Platform to help teams work seamlessly across multiple properties by combining individual calendars into one centralized or regional schedule. 
Powered by ResMate, any tour that is scheduled will funnel into the Smart Leasing Platform's centralized calendar, enabling onsite teams to operate across multiple properties and control their tour schedule with ease.
Additionally, ResMate and the Smart Leasing Platform makes it easier for centralized teams to increase occupancy rates across their entire portfolio. With ResMate's cross-sell feature, prospects are encouraged to schedule a tour at a sister property if they inquire about a community with no vacancy. 
By providing teams with the tools and automated workflows needed to efficiently manage a centralized portfolio, property managers and operators can focus on the most important aspects of their job—driving more leases and providing top-notch customer service.
2. Customizable nurturing for affordable housing
It's no secret that affordable housing communities require a different approach to prospect management. With too many inquiries, few vacancies, and not enough manpower to handle it all, affordable teams need something that can be molded for their unique needs.
With that in mind, the Smart Leasing Platform was built to provide a customizable experience for all property management teams—market rate, centralized, affordable, and beyond. The SLP's custom nurturing options allow teams to manage automated workflows and follow-ups to 'set it and forget it,' which drastically cuts down on daily tasks for affordable teams. 
Our first beta users for the Smart Leasing Platform were affordable communities who were able to automate 95% of their daily workflows and take advantage of custom nurturing campaigns to suit their properties needs.  
Combined with the power of the Centralized Leasing Calendar, affordable teams using the Smart Leasing Platform have more time to manage their everyday tasks, and are no longer overwhelmed by constant prospect inquiries and follow-ups.
3. AI-driven proactive insights
At Respage automation and artificial intelligence are our bread and butter. Which is why we're so excited to unveil advanced AI-driven proactive insights within the Smart Leasing Platform. Based on historical data and resident behavior the SLP will identify opportunities and potential issues to help your team make data-driven decisions with confidence. 
For example, how would your community benefit from being able to predict resident renewal with 78% accuracy? With the Resident Happiness Score, teams can confidently predict the likelihood a resident will renew their lease thanks to a predictive model based on conversation data from hundreds of thousands of people over more than 7 years. Taking into account things like resident communication, survey responses, and amenity usage, the model can accurately predict if a resident is happy in your community, or if there are areas that need attention. 
These insights will not only help teams make better marketing decisions that will impact prospects, but will also provide valuable insights into their residents and their motivations, helping onsite teams combat resident turnover.
4. Comprehensive prospect management and nurturing
AI powers the Smart Leasing Platform. Specifically, ResMate, the most comprehensive AI leasing assistant in multifamily. With the ability to communicate with prospects on seven different platforms ResMate will never leave a lead unanswered. Plus, it is all automated. 
With ResMate and the Smart Leasing Platform, 100% of initial prospect inquiries are handled through AI—no matter what channel. Whether it be web chat, phone, text, email, ILS, Google Business Profile, or Facebook Messenger, ResMate can handle them all and only triggers the onsite team to step in when needed. ResMate follows up and nurtures prospects automatically, encouraging them to schedule tours, submit applications, and even cross-sells to sister communities when no apartments are available. 
This hands-off approach to prospect management allows your leasing team to step away knowing that leads will be guided through the leasing process with little human intervention, giving them time back to focus on other daily tasks.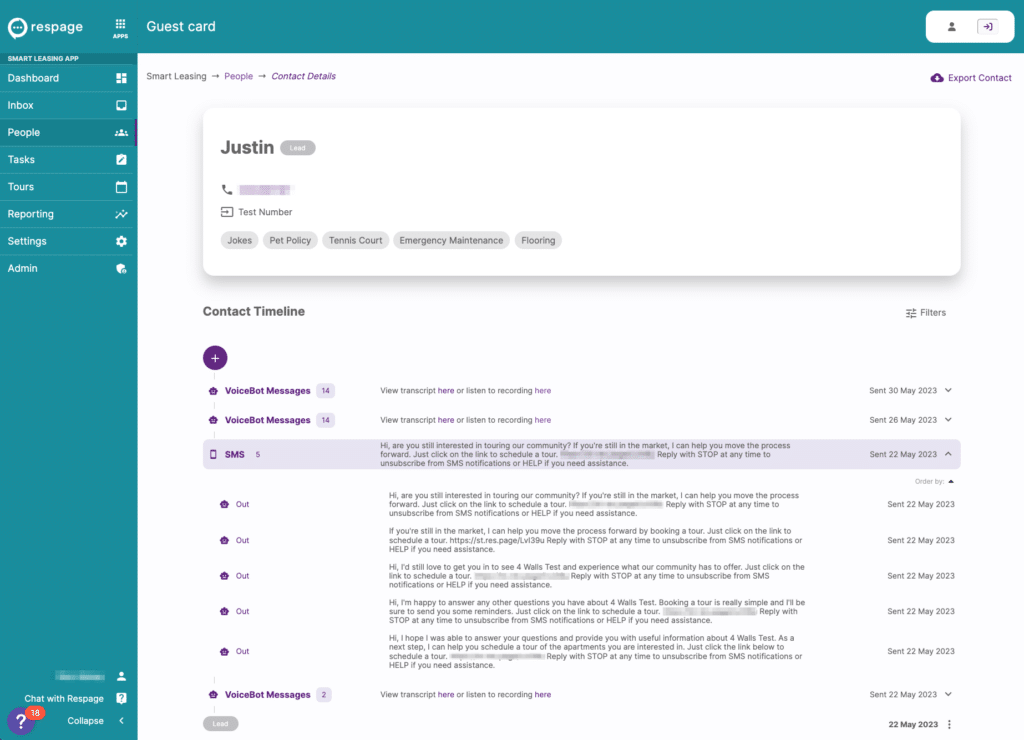 Automate property management with confidence with the Smart Leasing Platform
As the multifamily industry leans into artificial intelligence, it's important to implement systems that can harness the power of AI to help your teams run more efficiently. Traditional CRMs weren't built with an AI teammate in mind—that's why we built something different. With advanced automations, insights, and an all-in-one platform, the Smart Leasing Platform will be the simplest CRM you'll ever use.