As flowers bloom and the weather warms up, much of the world has summer vacation plans in mind. But for multifamily marketers, spring brings thoughts of only one thing: Peak leasing season.
Is your community ready to 'wow' your prospects and future residents? In this blog, we'll give you a spring cleaning checklist of apartment marketing ideas for 2023 that'll tidy up your strategy, attract more leads, and sign more leases.
Apartment SEO is a fantastic way to drive qualified traffic to your website—without spending a dime. Here's how to brush up on your search engine optimization to make sure prospects Googling for apartments this leasing season end up on your site.
1. Dive into Google Analytics for keyword opportunities.
As new content gets published across the web and Google continuously updates its algorithm, your website's position in search queries will constantly change. This can be good or bad news. On the one hand, you'll start ranking for keywords you didn't even intend to rank for. On the other, you'll lose top positions for keywords you intended to rank for.
For that reason, it's a good idea to check in on your Google Analytics or Search Console, or even use a paid SEO tool like Ahrefs or Semrush to see which pages are ranking and for which queries. With this information, you'll be able to make calculated decisions on your SEO strategy. 
2. Update your content based on keyword opportunities.
Based on what you found in the previous step, update existing content to take advantage of those keyword opportunities. For example, let's say Semrush showed you that you fell from Google Search spot number one to number four for the keyword "luxury apartment with attached garage houston," but your ranking improved for the keyword "luxury apartment with private pool houston"—moving up from spot number ten to spot number two. 
You might then decide to target the private pool keyphrase instead of the garage one. That's because your website rankings are showing that you have better chances of moving up to that coveted number one spot with that particular keyphrase.
3. Ensure your location details are on every page.
Local SEO is everything for apartment complexes, so make sure yours is in tip-top shape for leasing season. 
You want to ensure you know your target local keywords (such as "studio apartments in LA") and include them in key spots, including in the following SEO tags:
Title

Footer

Meta description

Headings

 
Also, make sure to include your neighborhood or other keywords prospects might be searching. For example, someone who's ready to sign a lease isn't Googling "apartments in Seattle." That's too general and more indicative of someone who's nearer to the top of the funnel. Someone closer to the bottom of the funnel is likely searching for a long-tail keyword (something more specific) like "dog friendly apartments in Capitol Hill Seattle." That highly specific keyword indicates that this prospect knows exactly what they want.
Tip: If you're looking for more information about website SEO, check out this blog, answering the most frequently asked questions about multifamily SEO.
Speaking of local SEO, do not neglect your Google Business Profile (GBP). When people conduct local searches on Google, the little Google Maps suggestion that comes up is based on the info found in GBP. So if you don't have this right, your apartment is missing out on some hot leads.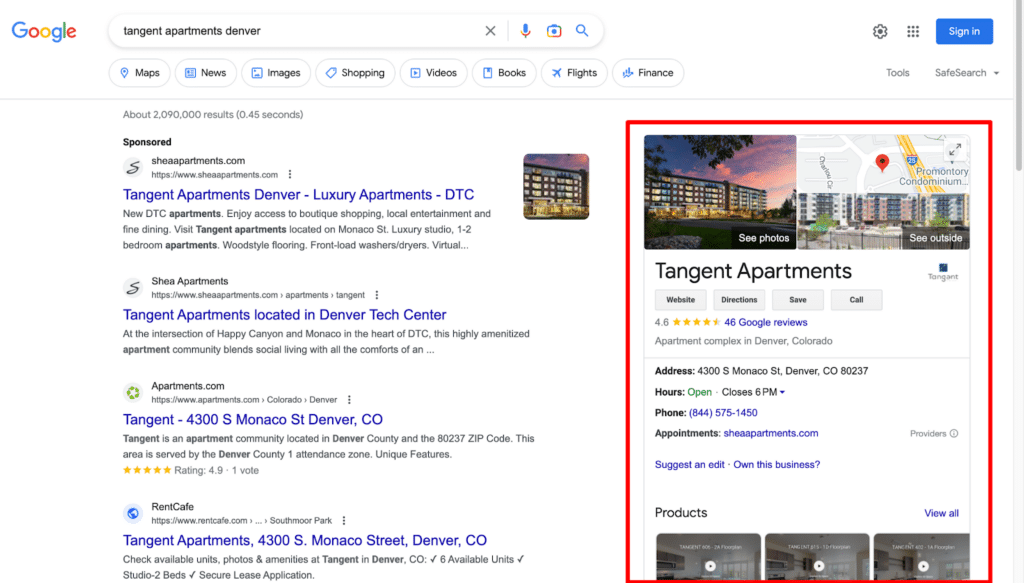 1. Ensure your hours and contact information are up-to-date.
When people Google your apartment complex, few of them will take the extra time to click through to your website and look for your phone number. They'll likely grab whatever pops up on Google Maps, so you want to make sure your GBP information is current.
2. Upload professional photos.
This is your chance to directly control your public image on Google. With GBP, you can upload professional photos of your apartments, lobby, pool, and other amenities to impress your Google visitors.
3. Add your available floorplans.
Another stellar feature of the Google Business Profile is the ability to upload "products." For apartment complexes, these will be your floorplans. 
4. Enable chat.
Lastly, enable the chat feature to grant visitors yet another way to connect with you instantly. A word to the wise, though: You must respond within 24 hours or risk getting your chat capabilities deactivated by Google. Does that make you nervous? No need to be! GBP chat replies are yet another task you can leave to an AI leasing assistant–so you'll never miss a message or be too slow to respond.
In this digital age, prospects will often check your social media before they ever call you. Are your socials ready for their close-ups?
1. Polish those profiles.
Facebook
Cover photo.

Facebook Pages let you have a prominent cover photo. Update this in time for leasing season with a branded image that shows off your property's best amenities. Check out how

The Fairways Tacoma

highlights an apartment's styled interior and pairs it with bold copy.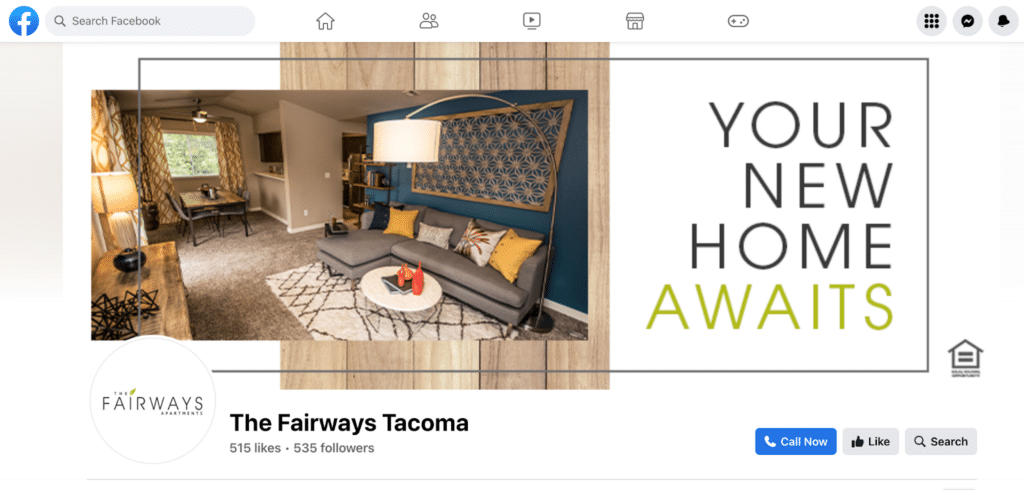 "About" details.

Fill out as many details as possible, including website URL, physical address, phone number, and email address.

Reviews.

If you have reviews enabled on your Facebook profile, make sure you reply to them—even any negative ones. This shows you're paying attention and you care.
Instagram
Bio link.

Leverage that prime real estate by putting a link to your website, especially if you have a landing page for a promotion. If you use an all-in-one link service like Linktree, be sure to check each link to ensure it's still live and relevant.

Pinned post.

Instagram lets you pin a post to the top of your profile, so it's the first one visitors see. Choose wisely! Consider pinning a top-performing post with a beautiful image of an apartment interior, along with a detailed caption with a call to action.

Reel covers.

Are your old reels feeling stale? Go through and

update the cover images

to help them look fresh for peak leasing season.
TikTok
Captions.

Adding hashtags and keywords to your video captions helps with

TikTok

SEO so searchers find your content.

Links.

If you have at least 1,000 followers

and

have a business account, you can add a link to your bio.

You can only

add clickable links to your stories

if you've got more than 10,000 followers.


2. Create a posting schedule—and automate it.
No matter which social media platform you're on, it will reward you for regularly posting quality content. To prevent your profile from looking abandoned or outdated, be sure to set a consistent posting schedule. And to save time, automate it! Can't seem to find the time to publish consistently on social media? Outsource it to a reliable multifamily marketing agency.
Tip: Download our Spring Cleaning Checklist to help stay organized!
If you do it right, pay-per-click advertising is a smart, targeted way to reach qualified leads. Make sure you do the following to ensure you're getting your money's worth with PPC.
1. Refresh any old campaigns.
If you've been running ads for a while, you probably have your favorite, trusty campaigns. But even these will get worn out after some time. Spruce them up before peak leasing season. Updating an image or revamping the copy can really make a difference.
2. Delete any poorly performing or outdated ads.
Take the time to comb through your campaigns and pause or delete any that aren't performing well or are outdated. You wouldn't believe how many businesses are accidentally running Valentine's Day promos even though it's April. What a waste of ad spend! Check your campaigns to make sure you aren't unintentionally advertising a promotion that's long gone.
Move over, ChatGPT. For multifamily marketers, AI leasing assistants are where it's at. Check out the list below to make sure yours is ready for the high season.
1. Give your AI leasing assistant a makeover.
Just because it's a bot doesn't mean it has to be robotic. Breathe new life into your AI leasing assistant by making sure it's aligned with your brand aesthetic and voice. Check to see if you can customize your AI leasing assistant's name, color, logo, pictures, and phrases it uses in emails and chatbot responses.
2. Review responses to ensure they're up-to-date.
AI is only as smart as the inputs you give it. Review the follow-up emails that your AI leasing assistant sends and update any seasonal information and promos.
3. Check analytics to see where your AI shines (and where it needs polishing).
The best AI leasing assistant will grant you access to detailed analytics and allow you to review individual conversations it has with prospects. Review to see if your AI leasing assistant provides data on the number of leads, tours, applications, and leases your AI assistant helped generate so you can continue to optimize in time for leasing season.
Which apartment marketing ideas will you leverage in 2023?
Peak leasing season will be here before you know it. Take advantage of this slower period to get your SEO, Google Business Profile, social media, PPC, and AI leasing assistant cleaned up and ready to impress.
So when your ideal prospects ramp up their apartment search in May, your online presence will draw them in and encourage them to sign and lease and stay.