Reels are now the leading content type on Instagram—with up to 12 times more reach than feed posts, according to a 2022 Metricool study. 

When Instagram launched its TikTok-esque Reels in 2020, the app put heavy emphasis on it's new short-form video content, even briefly changing it's news feed to a video-first model (before changing back). 

Despite the ever-evolving social media trends, Instagram Reels have proven to increase engagement (22% more than traditional videos). So if you want to get a piece of the action, boost engagement, and collect more leads, here's how to leverage Instagram Reels in your multifamily marketing.
What are Instagram Reels?
Instagram introduced Reels in August 2020 following the massive popularity of TikTok's short-form video platform. 

Reels differ from Instagram Stories and regular video posts in that they allow users to record a series of multiple clips into one Reel, as well as change the playback speed and select audio from a gallery (such as a voiceover or music). Reels also allow users to upload original audio, which other users can then reuse (which Instagram automatically credits to the original creator). 

It's clear that Reels are created for a kind of virality that Stories and posts simply do not have. That's because Reels get a prominent, dedicated space in the Explore tab, where users can scroll through trending Reels.

In July 2022, Instagram announced that all video posts under 15 minutes would automatically be Reels, highlighting the platform's prioritization of this type of content (all the more reason for you to create Reels!).
How to make Reels on Instagram
Step 1: Open the Instagram mobile app.
You cannot post a Reel to Instagram from your desktop computer without using a third-party app (like the Respage social dashboard). With that in mind, we will first walk you through the process of creating a Reel on your phone—stay tuned for tips on making Reels on your desktop later.

Open the app on your mobile device and tap the "+" icon and on the bottom of your screen select "Reel." 
Step 2: Start creating your Reel with videos and/or photos.
To record new videos, simply tap the white circle on the bottom to start recording and tap again to stop recording. Remember, you can add a series of multiple videos in one Reel, so if you'd like to add another clip, simply tap the white circle again to record.

You can also use the icons on the right-hand side to do things like:
Add music.

Add effects and filters.

Change the length of the Reel.

Change the playback speed.

Change the layout.

Set a countdown timer so you can record hands-free.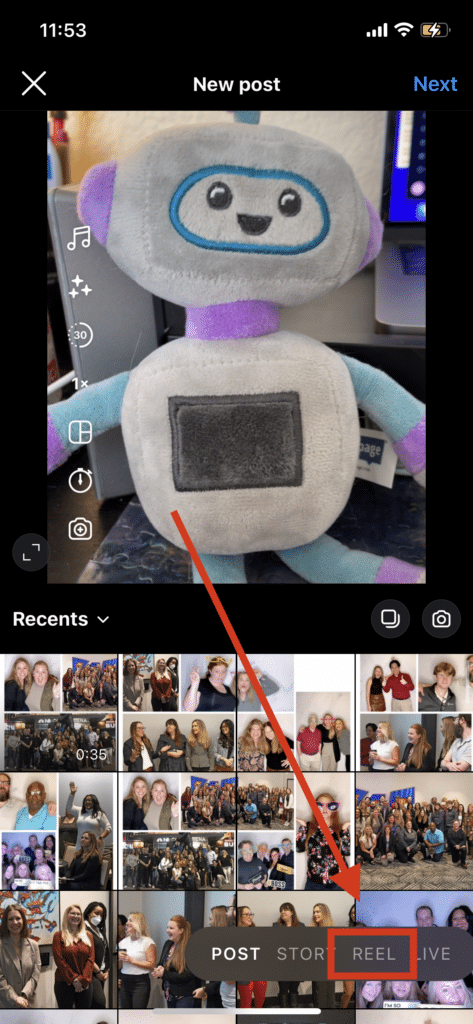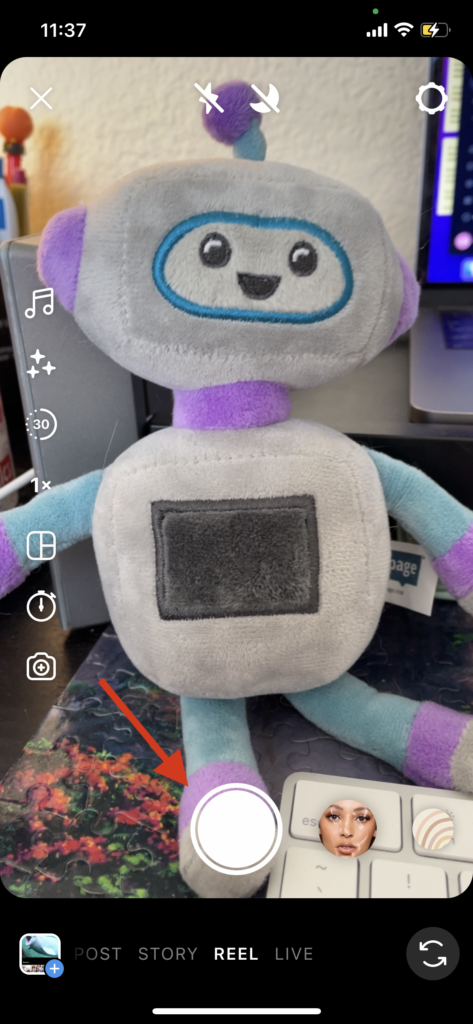 Add existing videos or photos to your Reel
If you already have videos and/or photos you'd like to include in this Reel, tap the square icon on the lower right corner of the Reels screen. From there, you can select videos and photos you'd like to add from your camera roll.

When you are finished adding all the videos and photos you want to this Reel, tap "Next" in the lower right corner.
Step 3: Edit your Reel using the built-in features and effects.
After you click "Next," you'll have the option to edit each individual clip. You can add audio, effects, stickers, or text.

When you're done editing, tap "Next" in the lower right corner.

Step 4: Add a caption and prepare to post.
In this final screen, you can edit the cover image for your Reel, type a caption, tag people, and add a location before posting the Reel to your grid and allowing it to be discoverable through Explore.
When it's ready to publish, tap "Share."
How to make Instagram Reels in Canva
If you're not an Instagram influencer in the making, there are easy ways to make high-quality videos and Reels for your apartment community with online design programs like Canva. With more than 8,000 Instagram Reel templates, you can create and customize videos, download them to your phone or upload them through your favorite third-party social media scheduling app. 
Step 1: Choose a Canva template you like.
Go to the Instagram Reels templates in Canva and select a template you'd like to use. Alternatively, you can create a blank one and design your own.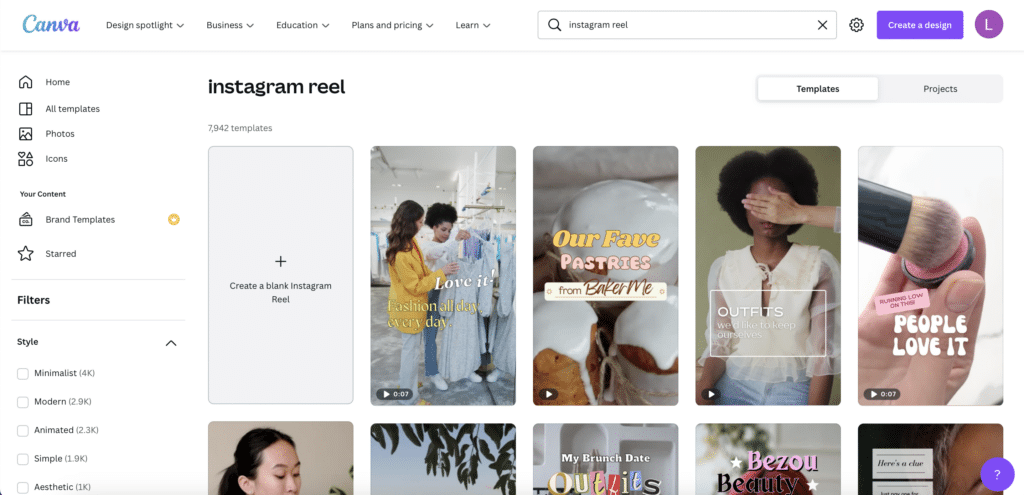 Step 2: Customize the template.
You can upload your own photos and video as well as drag and drop icons and type text overlay.

Tip: Be sure to use your community logo and match any colors or design elements so your newsfeed looks curated and professional!
Step 3: Upload to Instagram.
When you're done editing your template, it's time to upload to Instagram. You have three options:

Option 1: Download an MP4 from Canva and upload to Instagram directly.
Click "Share" in the top right corner, and you'll see a dropdown. Select "download." Keep it in MP4 format, as this is the recommended format to upload to Instagram. Once you've downloaded your MP4 video from Canva, send it to your phone and upload via the Instagram app.
Option 2: Link your Instagram account and upload from Canva.
Alternatively, you can click the Instagram logo, scan a QR code, and link your Instagram account to Canva—allowing you to upload to Instagram without ever leaving the Canva app!
Option 3: Upload your Reel using a scheduling tool, like the Respage Social Dashboard
Some social media scheduling tools now offer Instagram Reels as an option to remotely upload and post to the site without using the mobile app. Using a third-party scheduler is much more convenient for content planning, but you do miss the opportunity to add custom music, stickers, and filters to your Reel. 

However, you can go back later to adjust the cover image, caption, and hashtags if needed.

To upload an Instagram Reel with the Respage Social Dashboard, select "Create a Post" and "Social Share". Deselect the Facebook and Twitter icons so only Instagram is selected, and top "Add Reels" in the top right corner. 

Upload your video (must be longer than 3 seconds, and a maximum of 15 minutes), and write your caption. Once finished you can schedule the post for later (or send it to your team to review) or post right away! 
Once the video appears on your Instagram feed, you can edit the cover photo so it fits seamlessly onto your grid, or you can choose to have the video only appear on your Reels tab.
What makes a good Instagram Reel?
According to a post on the Instagram Creators account, a Reel should:

Be entertaining and fun

Inspire a trend others can join

Uses text, filters, or camera effects

Be vertical video

Make use of the Instagram music library or original audio

And a Reel should not:

Be low-resolution

Have logos or watermarks from other apps (like TikTok)

Contain a border around the video

Have most of it covered by text

Reels that contain any of those no-nos will likely be buried by the algorithm.
More Tips to Help Your Instagram Reels Take Off
As you can see, Reels are a fun, engaging piece of content that Instagram users have come to love and expect from creators. When you start creating your first Reels, keep these tips in mind:
Take advantage of templates to streamline the creation process.

Content creation can take up a

ton

of time, which multifamily marketers don't have much of. To streamline the creation process, use templates like the ones you can find for free on Canva.

 
Include hashtags and location tags to increase discoverability.

Including hashtags in your description, as well as location tags, ensures that the right audience finds your Reels.

 
Keep Reels under 90 seconds if you want to boost discoverability.

While Instagram started to make all videos under 15 minutes into Reels, it has

also stated

that only videos under 90 seconds will be eligible to be recommended to more people on Instagram.

 
Engage with your commenters.

Be sure to double-tap and "like" each comment to show your acknowledgment. Even better, respond to comments if you've got the time!

 
Remix others' Reels.

With Instagram Reels, you can tap "Remix" to use another Reel as inspiration. You can respond to it or add to it. Get creative!

 

Add a voiceover.

This would work particularly well if you want to give a virtual tour via Reels. You can add a voiceover of you talking through the highlights of each unit.

 
Here are 7 examples of engaging, apartment-specific Reels (that don't involve a trendy dance routine)
1. Hop on a trend
Still Waters in Austin hopped on the "She's a 10, but…" trend with this humorous Reel that also shows off its apartments.
2. Celebrate a holiday
Zella Apartments in Seattle made this Reel real fun by adding audio from the movie "Elf" and showing its Christmas decorations.
3. Highlight a nearby attraction
Using a close-up video paired with music, Circa in Los Angeles draws attention to a dining option that's just steps away from their property. It's a great way to highlight why someone should consider living in your community.
4. Show off your amenities
Couple your video with graphics and motion to highlight your amenities, like Seventy1Hundred in DC does to show off its gym here.
5. Share helpful home maintenance tips
Gainesville Place Apartments does a great job of making its content helpful by asking one of the maintenance team members to show how to unclog a drain (a common maintenance request!).
6. Give them a short video tour
A virtual video tour like the one L Seven in San Francisco does here is an engaging way to draw in prospective tenants. Don't forget to include that call to action at the end to get people to contact you and book tours.
Still looking for ideas? We've got you covered.
Sometimes it feels like social media can change overnight. But one thing has been clear since 2020—short form video is here to stay. So if you're looking to increase your engagement fast, get started with Reels.

We know content creation can be tiring, that's why we've collected more than 60 unique apartment marketing ideas to help your community shine on social media.

Check out our Multifamily Roundup here.