We all know the days of paper flyers and classified ads for your vacant apartment are in the past. Now, Search Engine Optimization is king. But did you know organic revenue accounts for 44% of all revenue across industries like retail and e-commerce, real estate and technology?
This is why continuously optimizing SEO for your apartment community is crucial if you want to rent out empty units fast. 
Want to learn more? Continue reading for best practices, tips & tricks and a few lesser-known places where you can optimize your apartment SEO that you may not have thought about before.
Let's start with the basics.
What is Search Engine Optimization?
Search engine optimization, or SEO, is a strategy to increase your website traffic using keywords or key phrases that are highly searchable. By improving the SEO of your apartment website, you can stand out from the pack when future residents search for apartments in your area. Your ranking, or placement on search results, improves when you include certain words and phrases on your website.

For example, if a person is looking for a rental in Miami, Florida, they will likely open Google to search for apartments with specific keywords like:

cat-friendly apartment in Miami

Apartment in Miami with an indoor pool

3-bedroom apartments in Miami


Google will then provide a list of apartments that meet that criteria by scraping the apartment website for those same keywords.

This is where SEO comes in.

By being mindful of what your potential prospects might be looking for, and actively including keywords and phrases into the content on your website, you will increase your visibility and raise your rank in search results. 

If you are on the top of the list when a future resident hits 'search' for a new apartment, prospects are more likely to call and visit your community.
Can I improve the SEO for my apartments fast?
Unfortunately there are no magic words to improving your SEO overnight. It is a long game that requires regular and consistent work. 

Some strategies will allege their shortcuts will guarantee an improved ranking in a short time; but those boosts are only temporary, and could put your SEO efforts at risk if Google flags your website as spam. 

However, just because you can't improve your rank overnight doesn't mean there aren't things you can do today to give your SEO a lift.
Optimizing your website, posting content that targets specific keywords, and building a network of external links are just a few ways you can boost the SEO for your apartment website. 

How do you do that?

There's lots of conventional advice out there, such as writing a weekly blog, making sure your website is mobile-friendly, and registering your business on websites like Yelp and Apartments.com.

But we are going to talk about some places that can help boost your SEO that you likely haven't thought of before.
One of the best things you can do for your SEO is to commit to writing regular blogs. Blogging helps Google to associate your apartment's website with the keywords you are trying to hit.

Let's say you are looking to lease-up a cat-friendly apartment in Miami.

But how do future residents who are looking for a cat-friendly apartment in Miami find you?

Making sure that phrase is on your website will help, but writing blog articles about living with cats that use the keywords you are targeting will give you an extra boost.

Having a blog page and frequently updating it provides many benefits when it comes to SEO: 

It increases the frequency of keywords on your website. This teaches the Google bots that your website is relevant to specific keywords.
Blogging keeps your website fresh. If you are updating your blog regularly, it lets Google know your site is active.

It provides opportunities for other websites to link to yours. If you write a blog that someone else uses as a source for their blog, it counts as an external link which gives your overall SEO score a boost.

Blogging also helps with internal linking. This is when you link your website pages to other pages on your website. Make sure the linked text uses the keywords you are targeting to help Google understand what the blog is about.

It also helps you bring traffic to your website while increasing the amount of time users stay on your webpage. Both of these things boost your SEO.


If you aren't blogging yet, you should definitely look into it as a way to boost your SEO for your apartment website ranking on page one of Google.

Okay, back to the list of unconventional methods you can use to boost your SEO…
What are backlinks, and how do they help SEO?
Increasing external links to your apartment website is a great way to boost your SEO. An external link is a link on somebody else's website that directs traffic to content on your website. Links will have varied weight, depending on the authority of the external website (aka how well they are performing in SEO). 

Ideally you want to get your website linked on sites that are established and well-known more than websites that are just starting out.

For example, Medium is a blogging website that has worked hard to have a great domain authority, which means sharing a blog on their website is a great way to give your SEO a boost and your brand a little street cred.

However, posting duplicate content on sites like Medium and your own may negatively impact your SEO if Google considers it to be too similar, and therefore spammy. 

The great thing about Medium is they have a user-friendly solution to avoid receiving a negative SEO report from Google. 
Upload your blog to Medium. Then click the three dots in the top right hand corner and go into settings.

Choose SEO settings from the left-hand menu.

Scroll to Advanced settings and click the button to customize a canonical link. Paste the URL of the original blog in the text box and save.

If you do this successfully, when you publish the article Medium will make sure that Google knows it is a verified copy from you.

Click through the slides below to see how to save a canonical link.
Why is this important?

Medium has invested heavily into its SEO and therefore have (has) a lot of clout, according to Google. By posting a blog to a reputable site like Medium, the content is more likely to rank higher on Google than the same blog posted somewhere else.

Basically, you are letting Google know that the copy on your website is the original and that it should rank higher than the Medium copy. Your blog will be indexed first, but you just got a little bit of free SEO juice from Medium.

While ensuring you have other external links for SEO purposes, Medium is a great way to give it a boost that not a lot of communities are using.
Does posting on social media help SEO?
Social media does not have a direct impact on your SEO, according to Google. However, there are a few roundabout ways that social media can help boost your ranking indirectly.
Sharing posts on social media will invite people to visit your website. And when people visit your website, it improves your SEO. Simple, right?

Social media is also a great way to improve the reach of your content through sharing. If you manage to get something shared by someone with a large following, it will translate into high-quality traffic for your website.
Do links on social media count as backlinks for SEO?
The answer to this is a little tricky and debated among SEO experts. Google states that links on social media sites do not count towards SEO or improve upon your backlink strategy.

However, social media posts and pages show up on Google – sometimes on the first page.

This means that optimizing your social media posts while keeping your SEO strategy in mind is a smart idea.
While the mighty hashtag has reigned on social media for years and should still be a part of your overall strategy, it is important to remember that social media platforms are search engines in themselves.

While many people go to Google first when they are searching for apartments, some are choosing their favorite social media site instead, like the following examples from Twitter.

When you share on social media, you should keep a list of SEO keywords handy and make sure you are using them as part of your post's content wherever possible.

3. Other forms of influence
Did you know that social media can indirectly influence your SEO in other ways as well? That's because your social media pages are listed on Google when future residents search for you.

When determining your Local SEO ranking, Google will review your NAP (name, address, and phone number of your apartment community) to make sure it aligns with what you have registered with Google. It will also periodically review the hours you have listed on various platforms and if they do not match up, it will have a negative impact on your score.

Since Local SEO is a critical component of marketing for apartment communities, you should always make sure this is correct.
Does my apartment Google Business Profile increase SEO?
When Google determines what keywords to rank your site for, it takes a variety of factors into consideration. But, unlike social media channels like Twitter and Facebook, your Google Business Profile is obviously a Google product, and has a bigger impact on your SEO.

Specifically, your Google Business Profile has a large impact on your Local SEO. By using keywords and keeping your GBP up to date, you have a higher chance of your community being listed in the top three when locals search for "apartments near me" or other local search terms.

Since many of your future residents will already be local, this is a high-level priority item for apartment communities.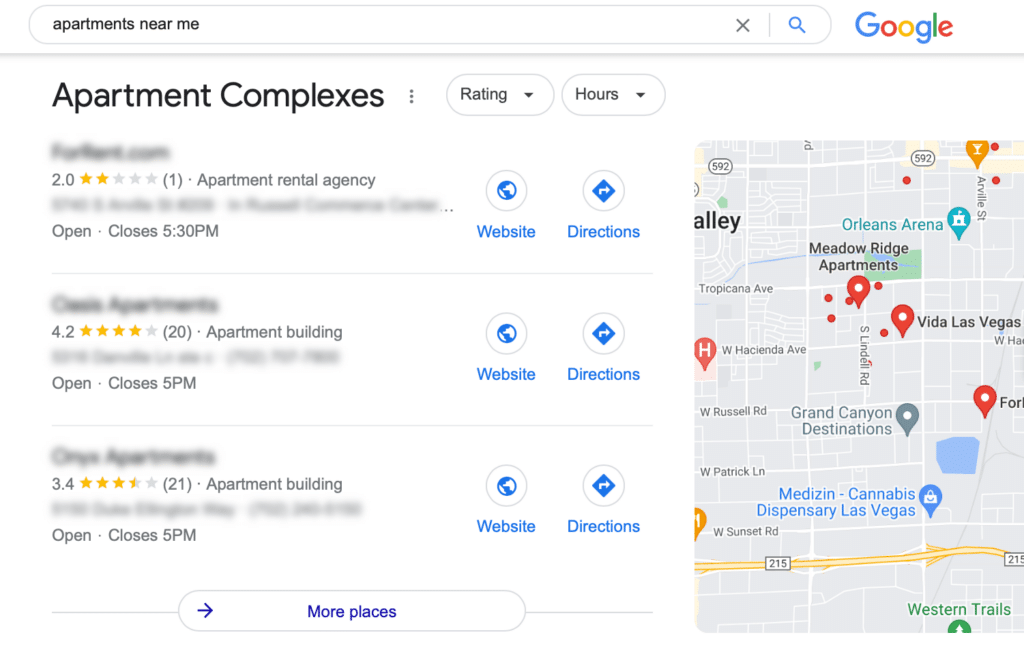 Here are two quick tips to help optimize your Google Business Profile for SEO:
Share posts from social media to your Google Business Profile: Did you know you can post updates to your GBP like you would a Facebook page or Twitter feed? By posting regular updates to your GBP you are not only helping inform future residents about your community, but you are also telling Google that your business is active and engaged – therefore helping your SEO. 

Optimize your GBP posts with keywords: This will give your SEO boost by signaling to Google that your apartments should be associated with the keywords you are using.

(You can learn more tips & tricks about your Google Business Profile here)
Absolutely! In fact, like Google Business Profile posts and activity, Yelp is a strong driver for boosting your Local SEO.

But this also means, like your Google Business Profile, Yelp needs frequent attention to really help drive traffic. 

If you haven't claimed and set up your Yelp listing yet, that should be a number one priority.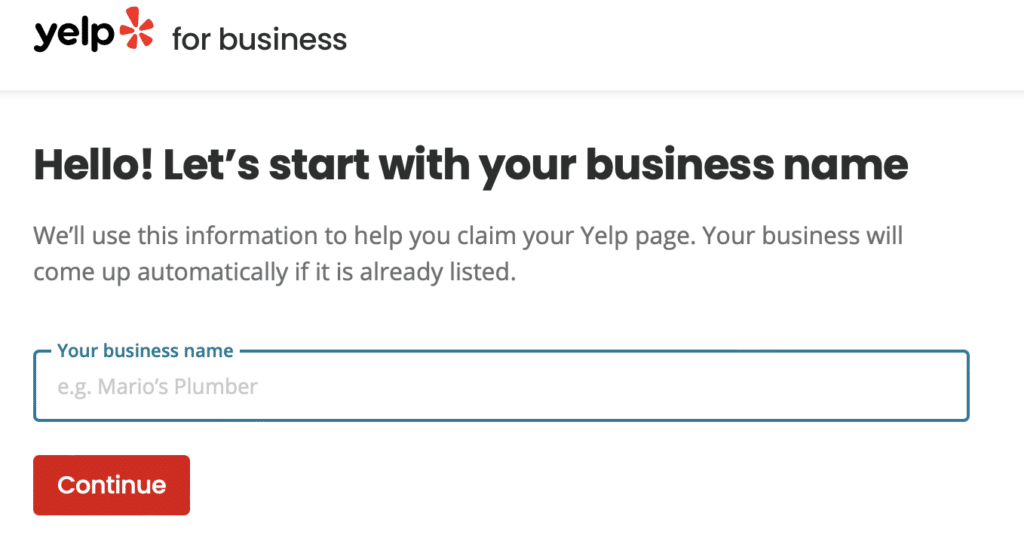 Make sure all of your information is correct, and add images and a keyword-rich description (but don't overdo it on the keywords – that can make it sound disingenuous to your future residents).

Tip: Yelp SEO is also an important consideration as users tend to use Yelp as a search engine. By making sure your Yelp content is keyword rich doesn't just boost your Google SEO, but it will help you on Yelp as well!

Once your page is set up, make sure to create a plan to check in regularly to respond to reviews and update your listing. If your profile is active, you are more likely to get your apartment community ranked high on Yelp and Google.

Some additional ways to make sure you are using Yelp effectively are:

Encourage check-ins: If you have residents who are highly active online and frequently sharing their location, this is a great way to boost your Yelp page.

Put a linkable Yelp badge on your website: Yelp, like Google Business Profile, is highly dependent on reviews. Adding a badge to your website that links directly to Yelp not only lets residents know you are on there, it also encourages them to leave a review every time they visit your website.

Add a link to your Yelp page to your email signature: Just as adding a badge to your website reminds residents to leave a review, adding your Yelp link to your emails encourages them as well.

Yelp SEO by itself is a great tool to gain visibility for your apartment complex, even if it didn't boost Local SEO. But the fact that it does means this is one thing you simply cannot ignore.

A final strategy: target multiple keywords
Not so long ago, the recommended advice for SEO was to target one keyword per blog and limit them to around 300-500 words. Recently, however, that has changed. Currently, articles that are between 1,500-2,500 words are performing better than shorter blogs. 

By writing longer, in-depth content, you have the opportunity to incorporate more keywords and phrases, in addition to answering multiple questions for your readers.

Google shifted its algorithm to improve the overall user experience by focusing on user intent. This means Google is trying to predict what answers a person wants when they type in certain keywords. 

With that in mind, Google emphasizes longer articles that teach and inform their audience, rather than short articles with keyword fluff. Longer articles targeting multiple keywords perform better as they improve the overall user experience. 
Tip for using multiple keywords in your content
After you have completed in-depth keyword research and determined which ones you want to target, look at the list and find keywords that are closely related. Brainstorm possible blog topic ideas from that list of keywords that could easily incorporate those terms.

Once you have a keyword you'd like to focus on, try using different variations of the keyword, rather than simply restating the same word or phrase.
To summarize, if you are looking for some unique places to boost the SEO of your apartment community so that you can help future residents find you on Google, you can do the following things:
If you are writing blogs, share your content on Medium with their easy-to-use canonical link option.

Use social media intelligently by sharing blogs and optimizing posts for your SEO keywords.

Make sure to post on Google Business Profile regularly and use your keywords there as well.

Don't forget to optimize your Yelp profile for keywords and update it regularly.

Target multiple keywords in your blog content.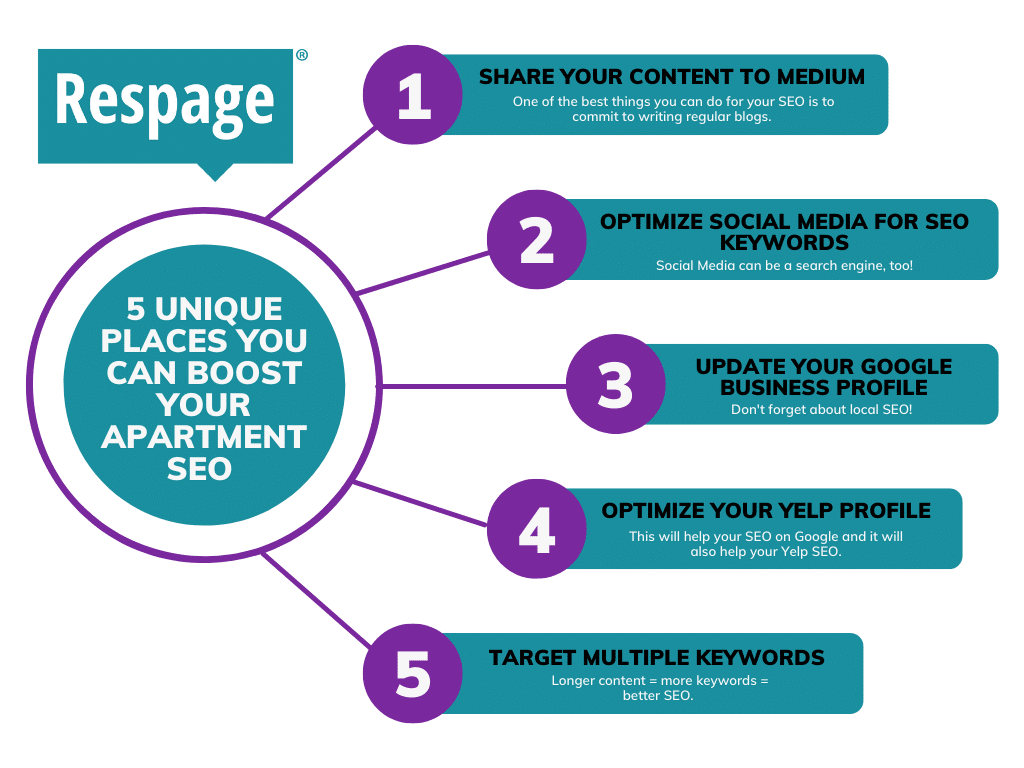 You want to make sure your empty apartments are rented out as quickly as possible with residents who want to live there. Boosting your SEO for apartments will help you generate more qualified leads which ultimately leads to more conversions (aka signed leases).

Still feeling overwhelmed by all of the dos-and-don'ts of SEO? Don't worry! Respage has SEO experts available to help. Click the link below to chat with one today!