A Brooklyn-based moving company received a brutal schooling in online reputation management yesterday after a fallout with Emmy-nominated actor Tituss Burgess.
The actor, who is most known for his role on the Netlix original comedy Unbreakable Kimmy Schmidt, posted the following Yelp review for Frank's Express, a local moving company, late Wednesday:
"My name is Tituss Burgess. Im an Emmy Nominated Actor for Unbreakable Kimmy Schmidt currently streaming on netflix. Thats besides the point. But watch it," the review begins. "These guys are the absolute most UNPROFESSIONAL workers I have EVER DEALT WITH."
Burgess continued:
"I called this man this morning. We chatted. He said he could move my couch at 1pm which was the time I requested. 1:30 still no movers. I called back and he says I will give you a discount…I said ok. He says but you have to post a review on yelp. I said when you complete the job i will complete the review. FOR THE FOLLOWING I HAVE THE ENTIRE TEXT EXCHANGE SAVED. He texts saying no review no show. This went on for about 45 minutes. It Completely threw my entire day. I called him about 9 times but he wouldnt pick up but he somehow was capable of texting. DO NOT USE THIS COMPANY. Im going to post this to twitter to my instagram to my facebook. You messed with the wrong Queen. #franksexpress #Igotcha #lizaminelli #Iamgonnamakeavideoaboutyoubecauseofthedeepangerif­eel #DONOTTHREATENMEIWILLWIN."
Burgess followed up with his threats to post to Twitter and Instagram, where he further accused the business of dropping a homophobic slur against him:
Doing it..He just texted and called me a Faggot. Poor thing doesnt know hell hath no fury like a Tituss scorned https://t.co/IfEGdluqTs

— Tituss Burgess (@TitussBurgess) July 13, 2016
The Other Side of the Story
In defense of the moving company, Frank's Express denies the allegations.
"We never did that," claims Guzel Gurva, one of the company's managers. "I don't know what company [he] did it with, but it's definitely not Frank's Express."
Guvel further asserted that Frank's Express doesn't take reservations by phone, and that Burgess review mentions that he "called this man this morning."
However, a working number that directs callers to a pre-recorded menu does appear on the Frank's Express website.
A Lesson Learned
While it's too early to determine whether or not Frank's Express is telling the truth or simply trying to backpedal, it's clear that they made a mistake. Either they entrusted their reputation with someone who was incapable of handling public relations, or they used their brand to direct Burgess to a third-party vendor.
Whatever the initial mistake, the damage is already done. Although the company's Yelp review currently stands at a mediocre – but not terrible – 3.5 stars, the branded Google search for Frank's Express is fraught with news articles about the story. And that's far worse than any star rating.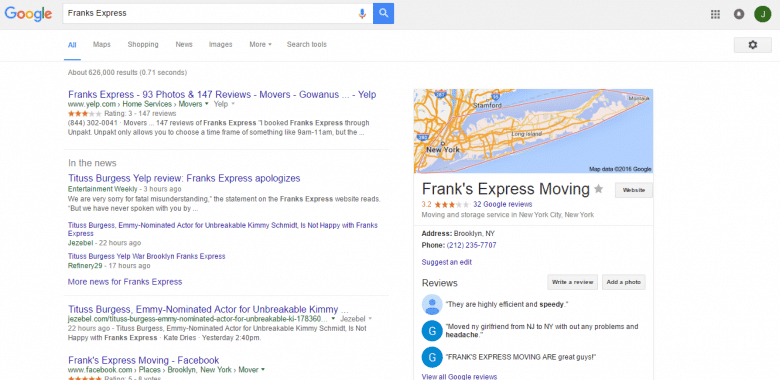 As the actor noted on twitter, "hell hath no fury like a Tituss scorned."
3 Key Takeaways for Apartment Reputation Management
Although Burgess voiced his frustrations towards a moving company, the same vitriol – can be voiced towards apartment companies. And the ensuing online reputation management problems will be the same.
To help you avoid the wrath of an upset customer, here are a few takeaways:
Never Demand a Review: Demanding a review is simply a bad idea. People who are forced to post a Yelp review are going to do so begrudgingly. There are far better ways to get good reviews for your apartment community.
The Customer is Always Usually Right: We can't say that we're 100 percent certain that Titus was cool and reasonable throughout this debacle. If he's anything like the character he plays on TV, it's possible things were a bit more dramatic than they needed to be. However, the comments made by the alleged Frank's Express representative were unacceptable. You should never entrust your community's PR to someone you is not capable of keeping his or her cool, especially since there are cheap review response services for apartments staffed by PR specialists.
Keep Your Website Accurate: Frank's Express claims that they don't take calls, yet they have a number listed on their website and on their Google Business listing. We should also note that these numbers don't match. Had they stayed up to date with maintaining their website and Google listing, this whole incident may have been avoided.