The results of our 2015 Content Survey are in! And they're, well…quite alarming.
By and large, the multifamily industry isn't doing the greatest job at embracing the power of content marketing, which is literally the backbone of advertising in the digital age. In order to shed some light on the problem areas, we pulled the following five facts from our survey results. Check them out to see how your efforts stack up against the competition, as well as how they compare to the industry recommended standards.
Only 12% are Blogging!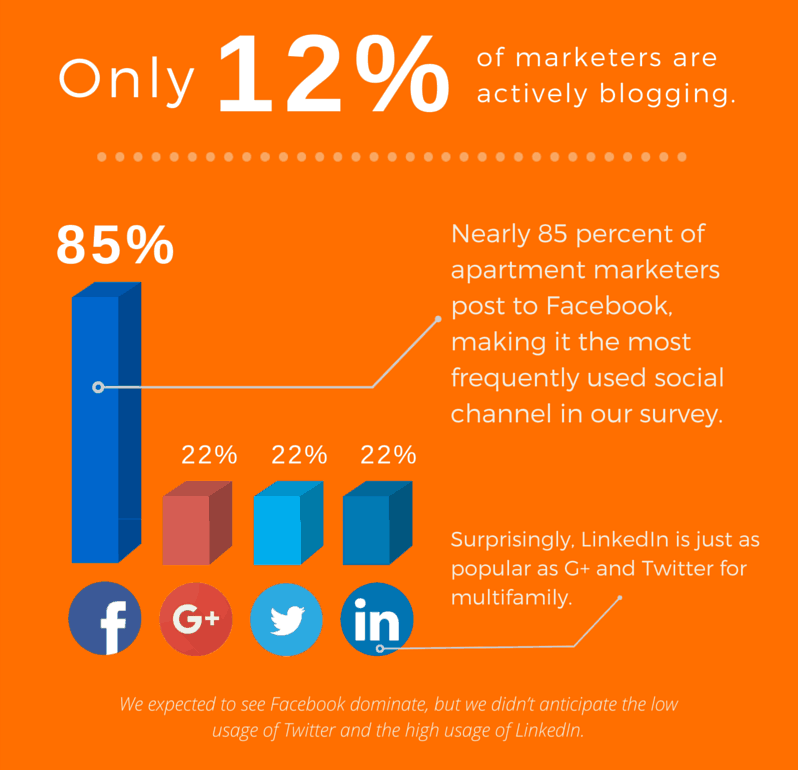 Unless you want your apartment community to hemorrhage hundreds of valuable leads each year, it's completely unacceptable to ignore Search Engine Optimization. And because SEO is greatly improved through blogging and content marketing, the fact that only 12 percent of apartment communities regularly post to their blog is truly unfortunate. Then again, their loss will soon be someone else's gain. This small pond represents a tremendous opportunity for forward-thinking marketers who are trying to get a leg up on the competition.
Approximately 85% Post to Facebook (But Neglect Other Networks)
Nearly 85 percent of apartment marketers post to Facebook, making it the most frequently used social channel in our survey. This is a pretty good thing – for now – as Facebook remains the most popular social media network among 18 – 29 year olds. And because people under 30 years of age represent 51 percent of the total rental market, Facebook posts effectively target the ideal demographic.
While this all seems great on the surface, it's important to remember that social demographics rapidly change. Today's 30 year olds are tomorrow's 40 year olds. And if apartment marketers want to stay ahead of the curve, they'll need to adjust strategies and put some effort into younger channels. It's disturbing, for example, that only 22 percent of apartment communities are active on Twitter, a social network that is quickly becoming the preferred channel among 20-somethings.
LinkedIn Receives Just as Much Attention as Twitter and Google+
Don't get us wrong; LinkedIn is a fantastic social network. But should apartment communities spend just as much time on LinkedIn as they do on Twitter and Google+? Probably not.
LinkedIn is great for connecting with prospective employers and employees. It's not so great for connecting with consumers. Twitter and Google+, on the other hand, reach the consumer market while simultaneously improving your apartment's SEO strategies. And if you're working with limited resources, it's best to focus your efforts on the things that matter.
Roughly 47% Post Too Little or Too Much
There's a "sweet spot" to social engagement. And according to a comparative analysis between our survey results and the industry recognized standards, almost half of multifamily marketers fail to hit it.
In an ideal world, all apartment communities would post new content roughly 1-5 times per week. Although 53 percent of survey participants fall within the Goldilocks range, another 40 percent post 1 -4 times per month, and the remaining 7 percent post multiple times per day. Those below the ideal benchmark risk being forgotten, while those above the ideal benchmark risk being annoying.
An Incredible 90% Try to Do EVERYTHING on Their Own!
Running an apartment community is hard work. But almost 90 percent of our survey respondents make things even harder by attempting to run marketing campaigns on top of their day to day tasks. Let's be frank: This isn't what most property managers were hired to do, and their efforts are better spent elsewhere.
It's reasonable to assume that thin budgets are the main reason that multifamily companies are reluctant to outsource marketing tasks to vendors. But when we account for things like opportunity costs and relative quality per dollar spent, some vendor pricing is actually quite reasonable. Take Respage, for example; our apartment marketing services start at just $49 per month. And our most popular plan – which includes Review Response, Search Engine Optimized content, social posts, and much more – is less than $350 per month.
The Glass is Half Full
Sure, these statistics are distressing. But there's a light at the end of the tunnel for those who wish to look for it. Blogging more often, expanding to social channels beyond Facebook, and outsourcing some tasks to a third party will help smart apartment marketers create a bigger and better online presence going into 2016.
So what are you waiting for? Start now while the competition is low!